La Cruz Community is One Happening Pueblo!
The La Cruz community is really buzzing this February! There has been so many events and more artistic and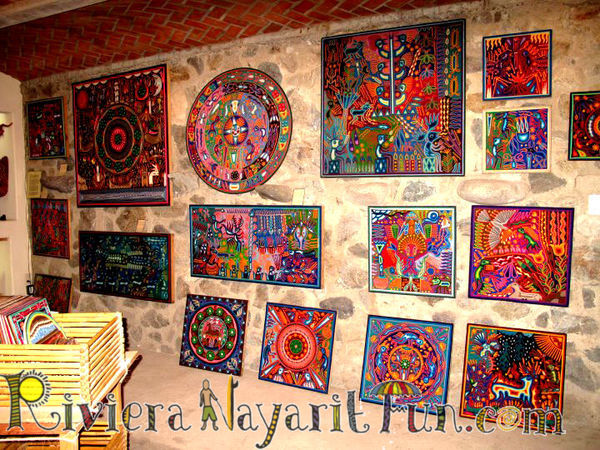 musical performances than ever this season. La Cruz de Huanacaxtle Mexico is spread out a bit, and many terrific La Cruz restaurants and live music events are off of the main street. The cobblestone streets with the shops like the La Cruz Huichol Art Gallery, and other interesting stores and the La Cruz entertainment, makes this authentic Mexican pueblo on the Riviera Nayarit fun to walk around and discover the hidden gems and treasures.
Last Sunday the La Cruz Sunday Market which is held at the La Cruz Marina was overflowing with people. It is the largest market on the Riviera Nayarit, with at least 200 vendors selling everything you can imagine, the La Cruz Fish Mark
et, live music and all with the ambiance of the La Cruz Marina.  As I left about 1:30, there were still a lot of people streaming into the market and cars were parked up the street for a long way, although, there always seems to be a place to park if you hold the intention on the drive over.
The weather in La Cruz Nayarit, and around the Banderas Bay has been hot. and absolutely gorgeous!  It's perfect for whale watching, kayaking, and paddle boarding, or simply lazing on the playa with a good book. The afternoon winds that come up this time of the season are perfect for sailing days that end with an amazing Mexico sunset as you head back into the marina.  This whale photo is one from my patio that I took earlier today!
Enjoy this week's La Cruz Community post. Click on the photos with our RivieraNayaritFun.com logo, as they will take you to our sponsors photo galleries, and click on the links to contact / or find more information. Remember to check out the La Cruz Community Calendar for more classes, live music and La Cruz events and entertainment.
La Cruz Real Estate
The market is really booming, and right now seems to be a great time to purchase a new home along the Riviera Nayarit and Banderas Bay. Whether it be a condo, or a private home, the market is rich with opportunity. If you come here every season, you may want to think about purchasing a vacation home and put that rental money you have been spending into a home of your own!  Take a look at these reputable brokers, who are educated, and up to date on what you need to know when purchasing or selling a property in Mexico.
Royal Club Real Estate
Aaron Fisher / Broker

Magnolia
399,000 USD

3,066 Sqft
3Bed/4Bath
This is a grand unit in Punta Esmeralda, very spacious, big terrace with pool to cool off on those hot summer days. Each bedroom has its own full bathroom and TV room can be converted into a fourth bedroom. This is a turn key deal. Click on the photos to see our photo gallery for more photos of this unit and other Banderas Bay Real Estate for sale.
Contact us here to set an appointment for viewing. 
Pacific Boutique Properties
Victoria Pratt / Broker
Cabo 4  
Bucerias

NOW US$798,000! (M2/US$1,777 or sq. ft./US$165)
Keep Cabo 4 in your radar, this luxury penthouse of 4,831 sq. ft. that just
been reduced from US$828,000 to This corner Penthouse has three bedrooms, four bathrooms, very spacious terrace, kitchen, luxury living and dining room. A private roof terrace with a bar, BBQ area, pool and lounge. Two parking spaces are available and deeded.
Please click here for our easy contact form for this or another property.
La Cruz Restaurants and La Cruz Entertainment
Amigos De La Cruz
Just Desserts "Murder Mystery Play"

With a star-studded local cast and crew this comedic who-dun-it is sure to fill the audience with food and drink, laughter and intrigue.  Even better – we're giving you 4 opportunities to join in the fun.
Just Desserts will be presented on Thursday and Friday, March 6 and 7 and on Thursday and Friday, March 13 and 14 at Octopus's Garden on Calle Coral in La Cruz de Huanacaxtle.
The evening starts at 6:30 in the tranquil downstairs garden with a 3-course dinner of of Aztec Soup, your choice of Braised Chicken Breast with Poblano Sauce OR Spinach Quiche with Salad.  Fruit and ice-cream will be served for desert.  To top it off we're including your choice of one red or white wine, one beer (XX Lager, XX Amber), a Piña Colada or a Margarita.
After dinner we'll move to the upstairs stage area where the real adventure begins.
Get your 250 peso ticket now at Octopus's Garden or through the Amigos de La Cruz at lacruzamigos@gmail.com.
Proceeds from the play will be donated to the Amigos de La Cruz to benefit their environmental programs including street cleaning and recycling.

Masala Bar and Grill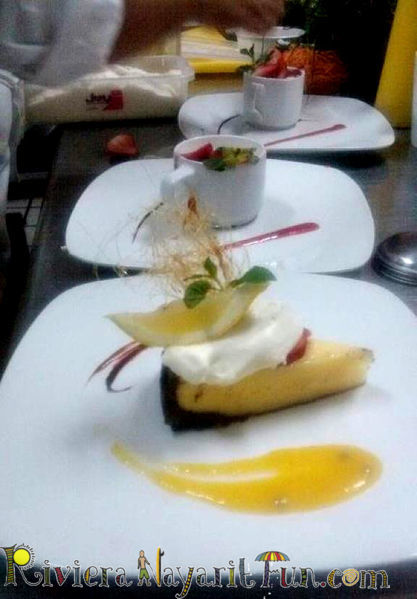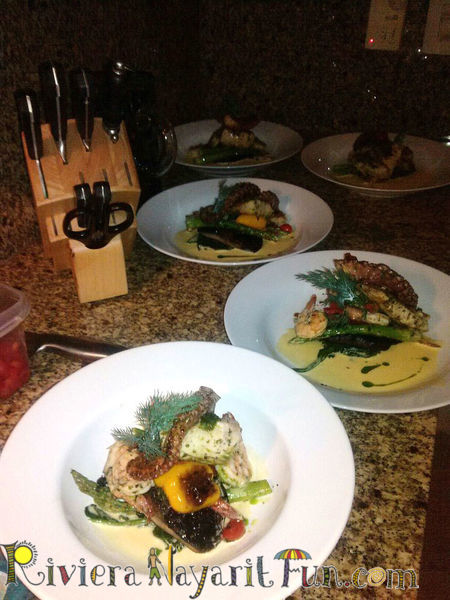 We would like to welcome Masala Bar and Grill's new page on allLaCruz.com ..Welcome! You may go and browse, and feel your mouth water as you look at all of the amazing dishes they serve every week! Their menu is also listed for breakfast, lunch and dinner with their pricing.
Daily Breakfast  and Lunch Specials can be found at Masala Bar and Grill ( open every day but Tuesday!) Come on in and try their special for $65 pesos, which also includes a coffee or orange juice. Everyone also receives a complimentary piece of french toast...and it is delicious!
Every Thursday Masala Bar and Grill has a three course meal special for $250 pesos. This includes an appetizer, your main course and a decadent dessert. Enjoy your meal whilst listening to Tatewari, and amazing guitar trio playing Flamenco and Latin guitar music. These boys were raised right here in La Cruz, and are extremely talented!


Black Forest Restaurant BEER FEST!
Tuesday, February 25th
5:00 pm - 10:00 pm

Join us on Tuesday, February 25th for an evening of classic German delicacies and our proverbial German "Gemütlichkeit".
Your hosts Andrea and Yvonne will serve you in traditional German Dirndls and the beer mugs will be overflowing with ice cold German beer.
Dinner selections consist of hearty German favorites such as bratwurst, red cabbage, sauerkraut, pork schnitzel, dumplings and spätzle, just to name a few.

To make a reservation please call
Black Forest Restaurant at: 01 (329) 295 5203, or click here for our easy contact form.

Ana Banana Bar and Grill

Although there is a lot of La Cruz entertainment,  Ana Banana Bar and Grill  is where the live music all started many years ago. Still thriving today, Ana Banana is a local favorites where folks can get together to eat, drink and listen to good music. Super Wifi...come on in for breakfast...its like old home week as you chat with friends over good coffee.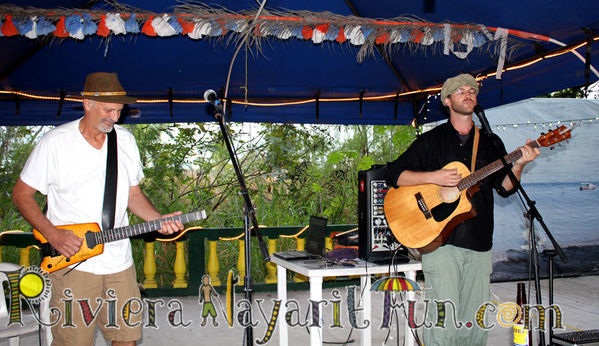 Coffeehouse Friday offers a light battered fish and chips...truly cooked to perfection! While you enjoy your meal, listen to Ben on his guitar, with Dave on lead with that sweet Gibson of his! Easy listening and fun to dance to, Coffeehouse Friday's usually pack the house!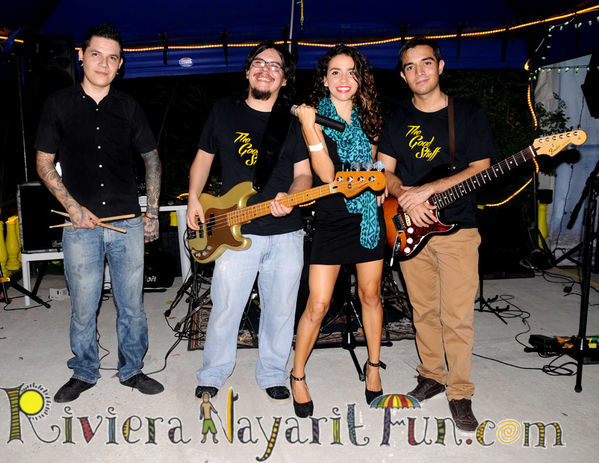 Sunday is Rib Night. Delicious tender ribs that are locally bought, served with all of the sides you love. Dance the night away to the Rhythm Roosters as they play rock 'n' roll.
Monday Meatloaf boasts of a huge portion of homemade flavorful meatloaf, served with mashed potatoes and corn on the cob...delicious! Enjoy yourself as you kick up your heels to " The Good Stuff:" as they play classic rock like Pink Floyd, Zepplin, Eagles and more....a local's favorite!
Stop on  by and say hello.....Eat, Drink and be merry at Ana Banana Bar and Grill!

Octopus's Garden

I'd like to be....under the sea...in an Octopus's Garden with you!
Salsa night with live Cuban salsa  band Habana Wednesday February 19 at 9:00.  The ever popular Hugo and Christina start the evening off with a latin dance dinner show-History of Latin Dance at 8:00 pm. 
Friday Jazz Night, February 21 at 7:30 sees our regular Jazz night with Jerome Phillips and the Guild. On the heels of his stellar Guild appearance at the Valentines Day dinner, Rick Cranston, "rat pack" jazz vocalist returns to sing with Jerome.
Saturday Morning Brunch, February 22, 10:30 am sees the ever popular Tatewari.  Their unique style of electrifying flamenco is delights and thrills.
Golden Kingdom is on Saturday Night, February 22, 7:00  Circus Cabaret Golden Kingdom acrobatic dance, aerial silks and fire twirling brings their spectacular  show back with a new element at an earlier time (7:00 pm)  to allow families to come. Dinner will be available after.
Monday is Film Night ...come and enjoy a movie starting at 7:30.
Please call the Octopus's Garden for reservations at 01 (329) 295-5367, or use our contact form here.
La Cruz Beachfront Rentals
There is nothing better than spending your vacation in a La Cruz rental that is right on the La Cruz beach.  La Cruz beachfront rentals are many, with different pricing, and accommodations and services. Some are all inclusive rental packages, where you can leave the worry about details behind, along with beautiful 2 bedroom rentals condo style, or La Cruz Hotels and La Cruz Marina hotel rentals. What is your preference??
Villa Amor del Mar
Riviera Nayarit all-inclusive vacation at Villa Amor del Mar, or what we loving call our 'almost all-inclusive'.
Introduction to La Cruz, 7 Night Promotion; February 22 – March 1st
We've put together a week that introduces you to La Cruz… great food, magical music and the kindest people ever! All breakfasts and dinners and toys included.
This week's for you if you prefer;
• An intimate La Cruz Boutique Hotel where you can sip cocktails in the infinity edge pool as you watch the sailboats come and go from the world-class marina.
• Knowing you'll always get a poolside lounger. With a maximum of 16 people, your chair awaits you.
• Comfy beds and personalized service; consider us your personalized concierge for all the happenin
gs in town or to coordinate massages/pedicures/etc.
• To sip coffee and enjoy breakfast from your own private deck at our La Cruz Boutique hotel.
• Dining at local gourmet restaurants, at music venues or on our rooftop.
Our mission at Villa Amor del Mar is to assist you to enjoy serenity and rejuvenation at our La Cruz Boutique Inn as you explore our quaint Mexican town of La Cruz de Huanacaxtle.  Let us assist you to create the vacation of your dreams. You may write to us at info@VillaAmorDelMar.com, or click here for our contact form or phone information.

 Gardenia Delight La Cruz Two Bedroom Rental
This La Cruz two bedroom rental, Gardenia Delight, is a colorful and well thought out 2-bedroom beachfront rental.
A condo style rental located on the amazing Banderas Bay between the Mexican pueblos of Bucerias and La Cruz de Huanacaxtle. Guests staying at Gardenia Delight have access to the onsite ocean view restaurant
and eight Venetian-tiled infinity pools scattered throughout  spacious gardens. Amenities also include tennis courts, workout gym and a luxurious spa for massage and body work treatments.
Suitable for small families and groups searching for the perfect Mexican oasis.
The stylish La Cruz two bedroom rental ha
s an open concept living/dining area opening to a spacious patio with gorgeous views of Banderas Bay, the lush Sierra Madres and the distant Puerto Vallarta skyline which is beautiful in the evenings.
The kitchen is outfitted with beautiful stainless steel appliances and everything you will need to prepare gourmet meals.Snacks can be served indoors on the spacious sland counter or outdoors on the patio.The patio also has a gas BBQ, perfect for the fresh catch of the day form the La Cruz Marina Fish Market, with the more formal indoor dining table seats 8 comfortably.
Please use our contact form for reservations or more information.
Than
ks for joining us this week for the La Cruz Community news splash. WOW! The season is flying by so quickly!
Get out there and have some fun whale watching, dancing, listening to some great music or just laying around on the playa reading a good book....enjoy life in the La Cruz community and around the Riviera Nayarit.
If anyone has any comments, questions, or would like to see their business here and on the La Cruz community calendar you may email me at Cat@RivieraNayaritFun.com
Have a super week everyone!
Blessings of Loving Kindness to all,
Cat Morgan
Discover the authentic Mexican Pueblo of La Cruz de Huanacaxtle, 
located on the Riviera Nayarit in Mexico!