Helping a Family in the La Cruz Community
Hola La Cruz community and beyond! WELL….here comes Semana Santa…and so many folks have already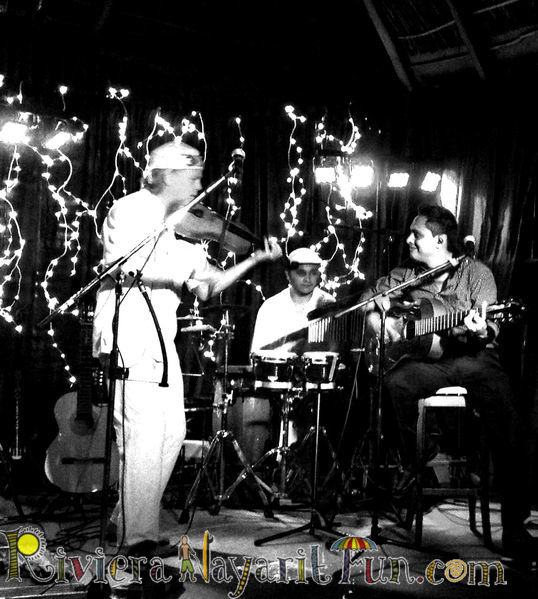 headed back to their homes in Canada and the U.S. Semana Santa (Easter) is the time of year that the Mexican Nationals come to the playa for holiday. Mexico has an amazing family culture where family stays together and plays together!
During Semana Santa, the entire family comes from the youngest of babies to the oldest abuela (grandmother). Folks come by the hundreds of thousands to the Riviera Nayarit and Jalisco. What a party! If you have not stayed here for Semana Santa, it is definitely a Mexico experience to remember!
La Cruz entertainment is very much alive! See below for more information on where the live music is playing.
Luna Rumba played their last Wednesday concert at Philos, but you can still catch them at the Paradise Stage Community Center April 3, and April 17th…200.00 Pesos general admission…a concert not to be missed! 127 Pulpito. Zona Romantica in Puerto Vallarta from 8:00pm-10:00pm Dinner and drinks available, doors open at 6:00pmIf you would like to purchase of their Cd"s, or have any questions, please click here for their contact form.
Helping Those in Need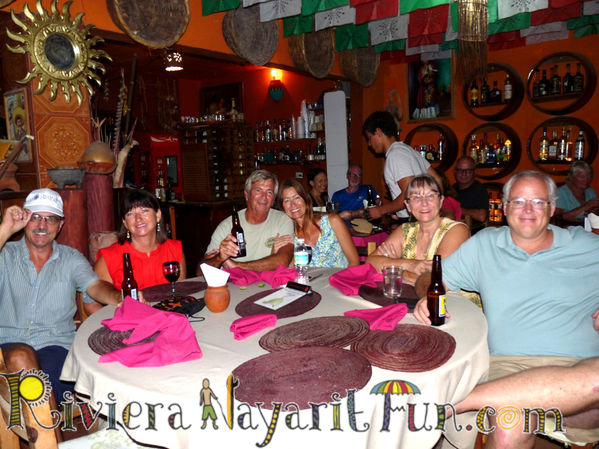 There is nothing better than being able to help those in need when you can. This week the La Cruz community was able to do that for a La Cruz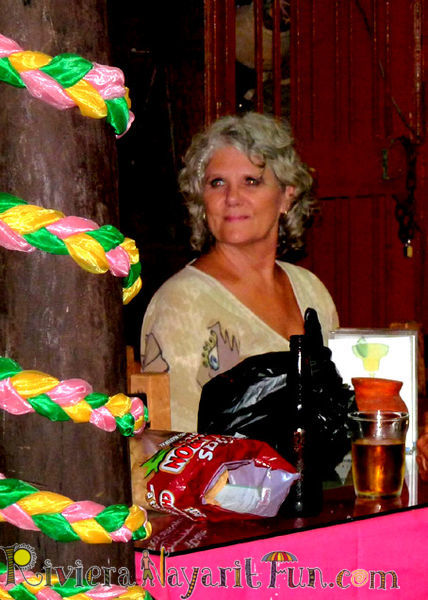 family in need, and the La Cruz community folks came through!
This La Cruz community fundraiser was held at La Cava de las Martinez restaurant, As the story goes Arturo and his wife Isabel had tried for a long time to get pregnant. Finally Isabel was with child! Unfortunately, she became ill with a disease called HELLP, where 1 out of every 100 women become sick.  The baby girl was born on feb 26th (one month early) and unfortunately died on 27th. Isabel was in danger of dieing, and had to stay in the hospital for one month in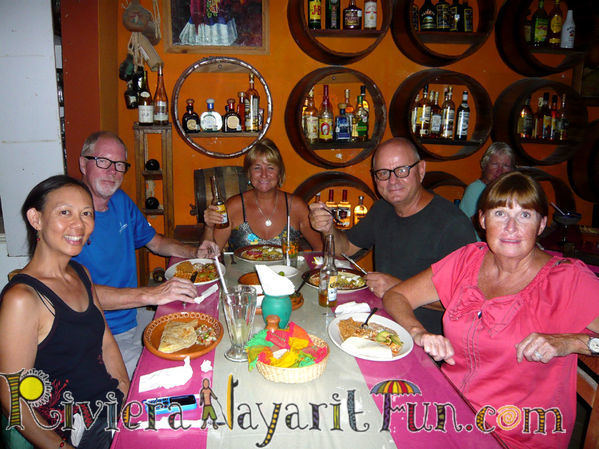 Guadalajara.  Her husband stayed with her, and being unemployed the bills really piled sky high. La Cava de Martinez restaurant, which is located 2 streets up from the Marina entrance across from the main plaza. It was very nice to see the support of many locals and visitors alike. Dinner wa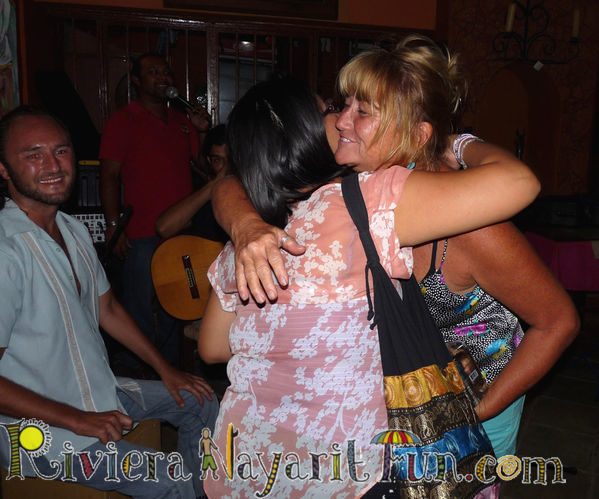 s 150 pesos…and was absolutely delicious! Tatewari with Sonny on percussion played their amazing Flamenco music. They also had a raffle for a bottle of Don Julio 70….and amazingly enough Cat Morgan (me) won! Jajajaja
If you would like to help support this cause, you can stop by the restaurant and ask for Arturo. They may also have other fundraisers, as the hospital bills are extremely high. Thanks La Cruz community people! You guys rock it!
Amigos de La Cruz Happy Hour

If your still here in town…come and join us for another Amigos de La Cruz Happy Hour!  On Wednesday, April 2, we'll be partying at Masala Restaurant on Calle Coral starting at 5:30. If you need further persuasion, the menu is guaranteed to twist your arm!
~ See You There ~All are invited!
Masala Bar and Grill  Yum-YUM!
HAPPY HOUR MENU
20 peso beer — 50 peso wine — 50 peso national drinks
~~~~~~~~~~~~~~~
Bruschetta of tomato, parmesan petals and olive oil - 16 pesos
Fish Tacos with organic greens and chipotle aioli – 20 pesos
Miso marinated beef strips over radicchio  - 30 pesos
Tuna tartare  papaya, avocado and soy ginger sauce  - 50 pesos
Coconut shrimp ball with mango sauce  - 50 pesos
Villa Amor del Mar
La Cruz Weddings and La Cruz retreats, reunions, fishing packages, gourmet weeks, business groups, team
building and birthday parties, or perhaps a private La Cruz Yoga Retreat! … When we decided to build our La Cruz Boutique Hotel we thought of couples and romance, hence the name, Villa Amor del Mar.
We 're getting couples for sure and lately we're inundated with requests for groups, bring it on, we love it!
There is something very special about preparing for a larger group.
There is always value in doing something extra. We've brought in private chefs, musicians, 2-3 piece bands, a fire dancer, a sommelier to teach us about wine and so much more. We've even had custom piñatas made. Serving groups has evolved into something we adore at Villa Amor del Mar, our La Cruz Boutique Inn. Private functions allow for up to 16 people to get together and share experiences, learn together, play together or just hang out and relax poolside watching the boats come and go from the world-class marina. We're delighted knowing that as we serve folks to relax and rejuvenate they get quality time with friends and/or family or to meet new friends.
We take great pride in creating custom packages for a couple or for a group, as per their personal requests. Always, continental breakfast is provided in private guestrooms with Mexican, freshly roasted coffee, fruit (often from our own trees) and special requests as per each guest. When guests book for 7 nights or more for their Mexico vacation, they also receive one brunch by the pool and one dinner on the rooftop.
Consider Villa Amor del Mar for your gathering, we promise to make it magical!
Masala Bar and Grill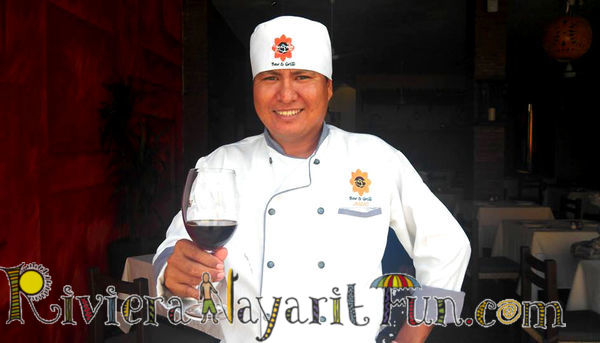 A local's favorite, Masala Bar and Grill serves an interpretation of Modern American / Mediterranean cuisine with an Asian feel.  Using fresh organic foods chosen for the highest quality each day,, each dish is prepared and created with the utmost care, creating a presentation that stands above the rest.
Enjoy our Thursday evening 3 course special for 250 pesos per person, with Tatewari playing flamenco music while you dine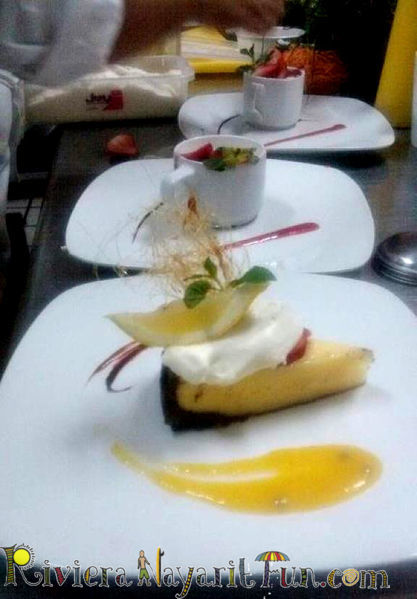 .
What a super testimonial! Thanks Nancy and Rick from Vancouver!
"When we live in a city like Vancouver, filled with many fantastic places to eat, it's hard to believe that our favourite restaurant is in a little fishing village, known to only the lucky few who live there…or visit regularly! Masala is that restaurant. Everything we have ever had, has been incredible. Thoughtfully prepared, beautifully presented, and professionally served. It would be impossible to pick a favourite menu item, because everything is amazing. But when you start your evening with fresh mussels and end it with a Masala coffee, you can be certain that everything in between, will be wonderful. Thank you Julio and Rita for creating this little gem in the jewel of the town that is La Cruz Huanacaxtle. Can't wait to see you next year. Nancy and Rick"
Octopus's Garden

The Octopus's Garden has a lot going on! From the La Cruz Huichol Gallery,  Tee shirts with the Huichol art, Fresh Organic Coffee blends for sale, yoga and exercise classes, dance lessons, live music with Salsa Night, Movie Night and Saturday Brunch….also serving breakfast, lunch and dinner….the Octopus's Garden really has it all!
Stop on by and say hello and check out our calendar.

Ana Banana Bar and Grill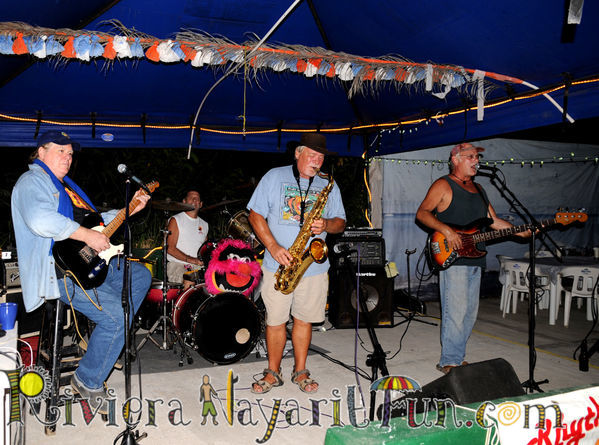 Its always a fun party at Ana Banana Bar and Grill all week long! New live music is always passing through, and Ana Banana has the best variety of music around, combined with tasty food specials!  You just never know who is going to stop by to jam.
Friday's Fish and Chips This week La Cruz on over for Friday's new music with Ference on vocals and guitar, and Dave on lead on that wonderful Gibson guitar he has. There will also be a surprise guest! So stop by and check it all out this Friday and enjoy perfectly prepared Fish and Chips…the best in town!
Sunday Rib Night with the rock and roll band Rhythm Roosters.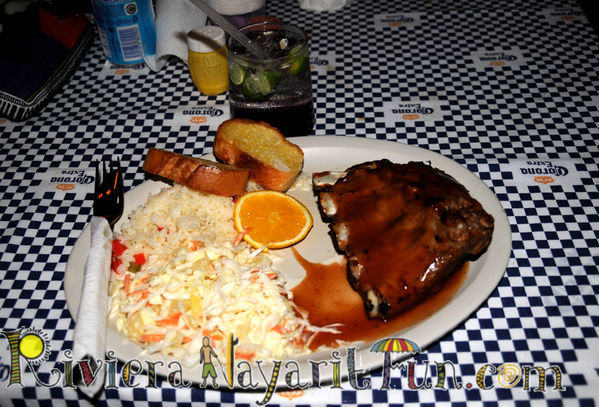 Playing fun dance music, with fall of the bone ribs hot right off of the grill!
Meatloaf Monday's are a huge hit as well with "The Good Stuff" playing all of the favorite classic rock hits. This is one show you will not want to miss out on. They are super "good stuff!"
Wednesdays are Beer Brats, Burgers and Booze Night! Come on in and enjoy some country and blues with the DogTown Quartet, along with affordable and tasty food and drinks. It all starts at 6pm!
The La Cruz Community its still hoppin with La Cruz entertainment and fun! Check out the La Cruz Community calendar for up to date information every week. Click here for reliable and informed La Cruz Real Estate brokers that will help you find the best deal on the Riviera Nayarit and in Jalisco!
Get out and enjoy the rest of the season while you can…..and above all..HAVE FUN!
Many blessings of loving kindness,
Cat Morgan
Enjoy the La Cruz Community and get out for a La Cruzin Fun Time in


La Cruz de Huanacaxtle Mexico!