February Romance in La Cruz Community Air
Hola La Cruz community and Banderas Bay folks! Its been another gorgeous week with the afternoon winds picking
up this time of the season. This makes for a perfect day of sailing and out
on the water whale watching. I had the wonderful opportunity to go out with friends on a private boat. It was so much fun! This boat sailed by; what a beauty! (left)
I had a terrific time out on the water sailing with friends! I have found that most sailors will teach you how to sail, and run the rigging if your interested. Or, just sit back and enjoy!
So get out on the Banderas Bay when you can.
If sailing is not an option for you, it's also wonderful to sit and relax on the beach. Whether you head for Destilederas beach with your things, or rent a lounger / table for 50 pesos each, or go down to the new beach club in La Cruz for a tasty natural non alcohol concoction, beer or margarita the Banderas Bay invites enjoyment into our lives.
Valentines Day is getting closer. If you are the kind of person that likes to celebrate this day, its best to book your plans sooner than later. Check out the La Cruz Community News for updates throughout the week as more specials come our way! Villa Amor del Mar, La Cruz Boutique Beachfront Hotel have a fabulous Valentines Day package available this season in La Cruz Mexico!
Click on the links and the photos for more information!

Luna Rumba will be playing in Punta de Mita on valentines day.  Click here for more information and other concert dates!
Amigos de La Cruz

As a reminder, mark your calendars for the Amigos de La Cruz Happy Hour this Friday, Feb 7th at Roberto's Xoicolatl restaurant from 5:30 – 7:30.
Drinks are offered at 20% off. Also offered are appetizers at 25 pesos each, and for our hungrier amigos a scrumptious dinner menu with your choice of 3 fantastic selections for 195 pesos.
Join us for the fun salsa dancing lessons and entertainment
For more information about the Amigos de La Cruz or contact information please CLICK HERE.
La Cruz Real Estate
Why not purchase a private home or condo for your sweetie (and yourself) for a wonderful Valentine's Day surprise?! No more need to worry about a rental again! Take a look at what these reputable local Banderas Bay brokers have to offer!
Royal Club Real Estate
Aaron Fisher / Broker
Parota 302  : $345,000
2 Bed/ 2 Baths
Sqft 1,718

Please click here for our easy contact form for this or other properties!
Every corner of this home's living space has a vista of the Bay of
Banderas. Glass doors make up two entire walls of the living room and open completely so that the fiesta flows indoors and out. Whether it's a BBQ on the terrace or a quiet night indoors with music or movies, you're sure to have lasting memories of your stay.Enjoy luxury finishes such as marble flooring, granite counter-tops and stainless steel appliances.
Pacific Boutique Properties
Victoria Pratt / Broker
Casa La Kasbah $399,000 USD
La Cruz de Huanacaxtle

Casa La Kasbah, beautiful Moroccan house in La Cruz de Huanacaxtle should be considered for a develop-able lot of 696 m2 with CUC zoning. It is just a few blocks to either of the two marina accesses and within easy walking distance to the town plaza. This single-level home was built with Moorish style detailing
notable in the distinct exotic shapes of window and door frames. The living area has the feel of a Moroccan lounge and exudes comfort and coolness. A large patio and adjoining courtyard with a Cantera fountain form the fringe between the home and the gardens and a large and inviting pool. Nicely designed for easy indoor-outdoor tropical living
Please click here for our contact form for any questions, and also with our website link and telephone number.
Although Valentines Day is not until next Friday, the 14th, its a good idea to book early. Which restaurant will choose to enjoy the magic of each other for your Valentine's Day celebration?
Live music and the energy of love abounds in the La Cruz community. Enjoy!
Black Forest Restaurant
Many people come into your life, but only a few leave traces in your heart! – So book quickly for this Valentine's Day and surprise your sweetheart! This is a very special Valentines Day this year. Our Chef Winfried features a 3 course Menu "Gypsy Passion" for $450 Pesos per couple and our live music with the very talented and special Latcho & Andrea will be performing from 7:30 pm –
our regular music menu is available too. Place is limited and we highly recommend reservations.
Please call 329-295-5203  for reservation, and click here to see our full menu and address.
Ana Banana Bar and Grill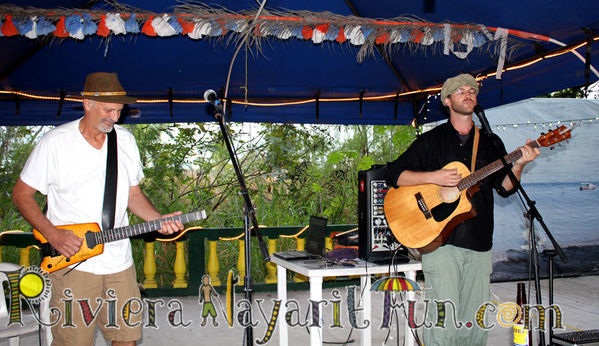 What a fun time at Ana Banana's! The week starts off with Meatloaf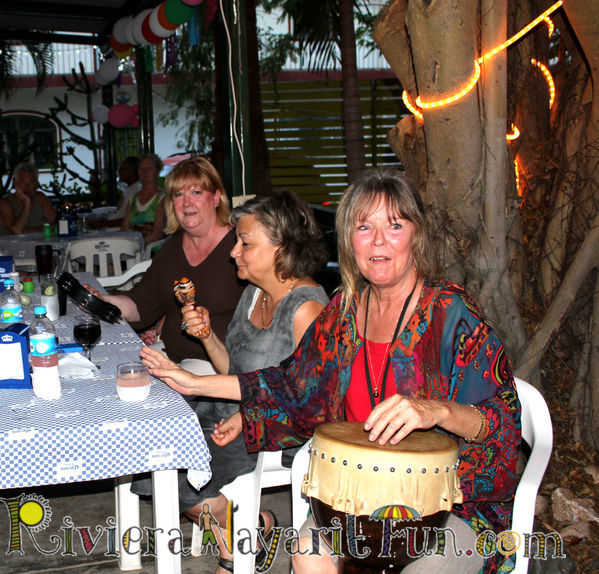 Mondays with "The Good Stuff" classic rock and roll band. They are hot!
Delicious and perfectly prepared Fish and Chips special on Coffee House Fridays with Fish and Chips, with " Ben and Dave" on guitars. Ed on spoons chimes in, along with these gals on drums, shakers and tambourine.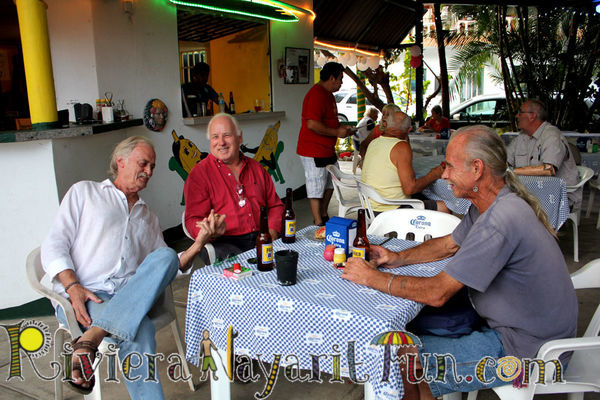 Come on in and bring your drum or a fun backup instrument, or your guitar and play during the breaks for fun!
Sundays are Rib Night with Rhythm  Roosters playing good 'ol Rock N Roll. Join the party where the music in La Cruz all began at Ana Banana Bar and Grill! and have some fun hanging out for dinner and a few beers or cocktails!
Masala Bar and Grill
We serve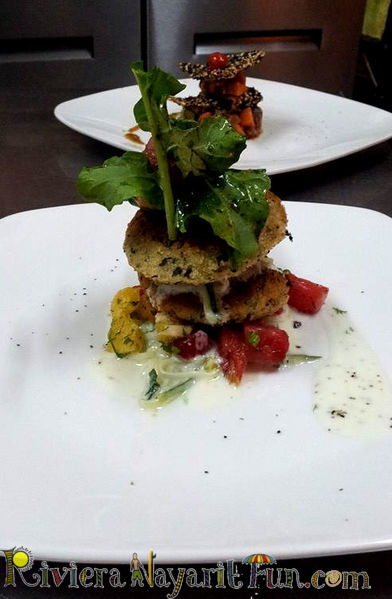 breakfast, lunch and dinner every day, (except Tuesdays,,our day off) Come and discover our daily breakfast specials for 65 pesos, which include a coffee or orange juice.
Thursday evening dinner special
Enjoy our special menu of of a three course meal every Thursday night beginning at 6pm. Tatewari will be plaing their amazing flamenco music this week.
250 pesos per person
Appetizer: Tuna tar~ tar with Soy Ginger .
Main Entree:  Marinated jumbo Prawns over Jasmine Rice and Grilled Asparagus.
Dessert: Passion fruit Panacotta with strawberry Coulis..
We look forward to serving you! Reservations please call:  322-101-8884
Octopus's Garden
There is always a lot going on at the Octopus's Garden! Check out their page for classes as well as
the Saturday Brunch menu and Bar menu. You may also see their classes and events on the
La Cruz Community Calendar.


Thanks for checking out the La Cruz Community News. Our sponsors send in information, so click oh their
links and find out more about whats going on! Be sure to check out the La Cruz Community News Calendar chocked full of events and classes. If you have any La Cruz community news that you would like to share, or would like to see your business specials and news on this page, please drop me a line at Cat@RivieraNayaritFun.com
Have a super week and weekend!
Many Blessings of Loving Kindness,
Cat Morgan