La Cruz Community Opens Doors for Season
The La Cruz Community is getting back into the swing of things and the businesses and restaurants are preparing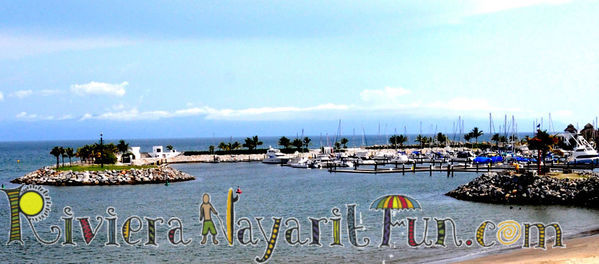 for high season
on the Riviera Nayarit. Restaurants are starting their re-opening, and the energy is starting to pick up! Its an absolutely gorgeous day today, (Sunday 9-29).
The rains have let up, for at least today, the sun is shining and the bluebird Riviera Nayarit skies are always amazing.
Looks like a great day for the beach, or a day out boating on the amazing Banderas Bay!
For everyone's question about when the La Cruz Sunday Market opens, they start on the first Sunday in November. You can also check out the La Cruz community Wednesday La Cruz Tianguis... every Wednesday. I found a few cute shirts for only 10 pesos a piece! The La Cruz Marina Fish Market is open 7 days a week for the Fresh catch of the day.
Check out our Hotel Rentals, Vacation rentals, Real Estate and Restaurants, and stay tuned in for the weekly La Cruz Community news for specials and events.
Click on the links for more information, and click on the photos that take you to the photo galleries.
Everyone from the Riviera Nayarit Fun Regional Netowrk, and allLaCruz.com would like to give a warm welcome to "Charlie's Place"
(The original Charlie's Place) to the LaCruz community news fun!
Their page will be up soon! Charlie's is having a Free Taco Night in La Cruz is during Monday Night Football with Miami Dolphins and the New Orleans Saints starting at 7:30 this coming Monday!
What a fun sports bar! Come on in and watch the football and hockey games on their big flat screens. I was in the other day and tried their wings….Oh they were deelicious and spicy! Just the way I like them! He also made his own home made Blue Cheese Dressing; I am a Blue Cheese FREAK!
Good food and good times at Charlie's Place!
Black Forest Restaurant Now Open!
Hooray! End of Vacation!
We are happy to announce that we will return to work after our vacation. So starting this

Sunday, September 29th. The Black Forest Restaurant we will be open at our regular hours:
Sunday to Friday from 5 pm to 10 pm, Saturdays closed.
After 4 weeks of exploring Mexico and relaxing at the beach we again realized that running our restaurant is our passion.
To share this passion with you we will offer this fall our Chef's Selection Menu, a special 3-course menu for 199 Pesos. Our Chef Winfried will select a special menu with two different choices of appetizers, main course and desserts according to the daily fresh options of our farmers markets or local suppliers.Our regular menu is also always available. You can view the entire menu here.
So come in and enjoy some very fresh delicacies while we share with you our experience of traveling in Mexico.
Happy Fall
Your Black Forest Restaurant
Andrea
OSO´S OYSTER BAR FISH MARKET RESTAURANT
Oso's Oyster Bar is a hidden jewel located in one of the most beautiful spots in Bahia de Banderas at the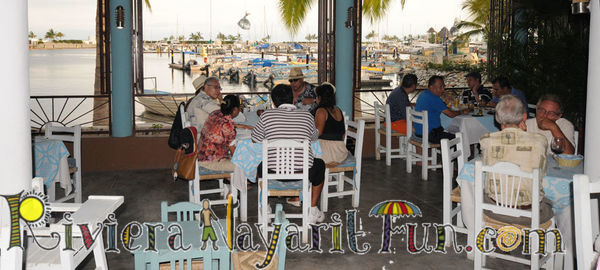 Marina Riviera Nayarit in La Cruz de Huanacaxtle. One of the favorite restaurants of the locals and tourists too.
Oso's offers you a very creative menu in harmony with the spectacular Marina View. Oso (Chef and Owner) takes care of choosing every day the freshest catch of the day. Offering great service, original recipes that combines the traditional cuisine with a modern touch that makes every dish with personality.
Also offers good meat and chicken dishes.
Open every day all year for Breakfast, lunch, and dinner from  9am- 10pm
Some recommendations:
Egg Benedict Oso´s served on an English muffin with poached poached spinach and chipotle,
smoked salmon, hollandaise sauce, capers and caviar.
Yellow Peppers filled with sea food.
Lobster Chile Relleno on black bean sauce
Tuna tartare, Oyster Rockefeller, Diabla or La Cruz.
Wood grill Red Snapper Sarandeado, Crispy Octopus, Coconut Shrimp and a delicious variety of dishes and reasonable prices.
Live Music Wednesdays at 7:30 pm Deep River Band. Oldies but Goodies
Octopus's Garden Restaurant and Bar
The Octopus's Garden Restaurant and Bar will be open starting in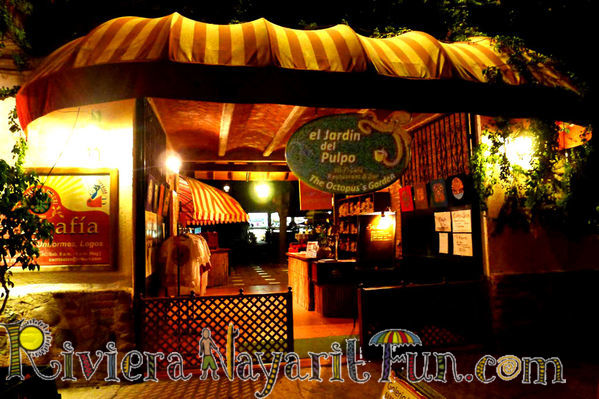 October. Classes are being held upstaris on the new dance floor. You can check them out on the La Cruz community calendar for dates and times.
Stop on by for organic coffee, ground or whole beans. Come by and take a look at the La Cruz Huichol Art Gallery.
GET FIT! Have fun and feel great! Strength Training Classes in La Cruz at the Octopus's Garden. This class is for men and women of all ages and all levels of experience, beginners and seniors too. We will use resistance bands to tone and strengthen your entire body. Strength training builds muscle, burns calories, raises the metabolism, promotes bone density, prevents injury and makes you feel good. Classes are fun and motivating. It is never too late to start a better fitness program. You will see and feel the difference. Starting this Monday, September 30, classes are Monday and Friday from 9 am to 10 am. Class is 100 pesos. Resistance bands are provided, please bring water and a mat. Please contact Bev, Certified Personal Trainer at 322 140-3148 if you have any questions.
La Cruz de Huanacaxtle Real Estate
Royal Club Real Estate
Commercial Space
This La Cruz de Huanacaxtle Real Estate commercial space  is an entrepreneur's dream come true. Situated
on the first "round about" on Calle Langosta, this piece of Real Estate is already well established for restaurants and shops and receives exposure to all the traffic heading towards the marina. Built to the highest standards this restaurant comes with vaulted ceilings featuring an old world "abovedado" hand made brick cupula. This property also comes with zoning for up to 4 condos on the roof and includes a set of architectural plans.
Contact us to find out more details.