Hola La Cruz Community and Banderas Bay!
Its time for the weekly La Cruz Community News Splash, and as usual, there is always something new every week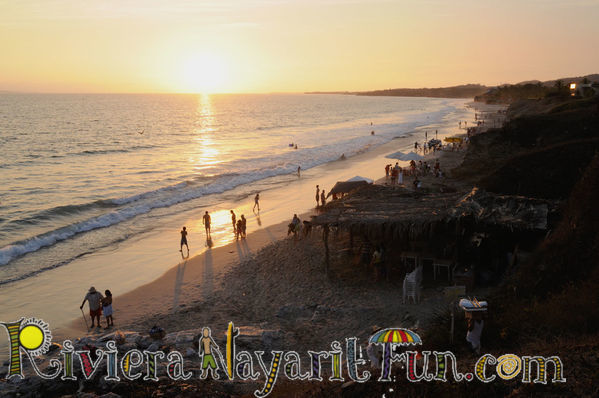 to check out and to get on your calendar.
This photo (left) is one of my favorite beaches…Destilederas Beach. There are three restaurants there daily, and they close at 6pm. You can rent a table with umbrella, or a lounger, each for 50 pesos if you like and order beers and food. …all with free parking up on top.
OR, you may also do what I like to do…carry my little folding lounger and umbrella, along with a small chest with a few beers and cruz past the beach restaurants to find a quiet spot to myself when I feel like relaxing…ahhhh, perfect for my day off!

Just Desserts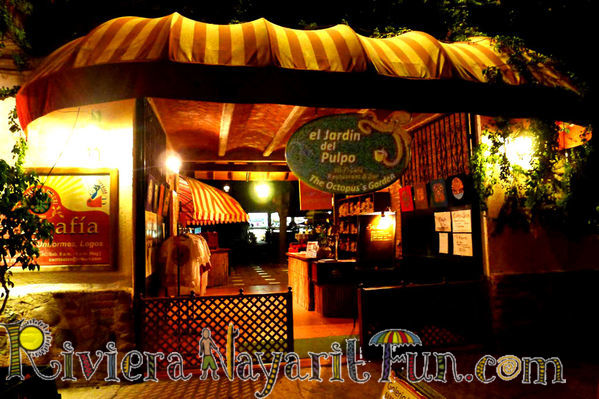 One event coming up is a Amigos de La Cruz bake sale, with a fun play called "Just Desserts".  There will be four shows on March 6th, 7th, 13th, and 14th at the Octopus's Garden. It will be a dinner / play with twists and turns, and a bake sale! More info to come on what is going to be served as well as the pricing..so stay tuned! Its going to be a lot of fun for everyone in the La Cruz community and folks around our beautiful  Banderas Bay area.
Remember to take a look at the La Cruz Community Calendar for classes, La Cruz live music, movie night and more! Check out the top menu banner on the webpage for information on the La Cruz Marina or La Cruz Real Estate. You can click on the photos that have the RivieraNayaritFun.com logo to go to our sponsors galleries with more fun photos. Enjoy the weekly La Cruz Community News post!
Luna Rumba Band
Luna Rumba Band is already pretty well known in the La Cruz community, and they have some fun concerts coming up. If your headed out to PV, why not catch them at the Paradise Community Center as their next couple of shows there are on Jan 30th, and February 6th. You can order your tickets at www.paradisecommunitycenter.com
As everyone k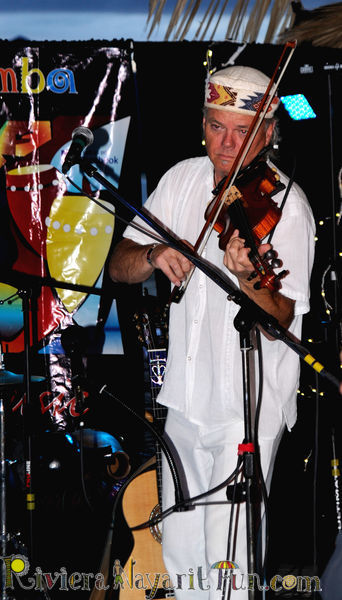 nows, Valentines Day is approaching and will be here before you know it! Perhaps the best way to find Love Street is through beautiful music and a romantic ambiance whilst dining. 
Nothing enhances a mood better than the right music! Why not celebrate your love with a romantic; outdoor concert under the stars?
The Luna Rumba Valentine's Day Concert will take place at Serendipity Restaurant & Mezcaleria in Punta Mita on Friday, February 14, 2014. The concert starts at 8:30 p.m. and the restaurant opens for happy hour at 6:30pm, with a three course dinner being served from 7:15pm-8:30pm. During dinner Cheko Ruiz (Luna Rumba vocalist/guitarist) will be playing and singing for you, while being serenaded by maestro Geo as he strolls from table to table with his violin. Dinner concert is 450 pesos. Space is limited.
Please call early for your reservations at 322-198-6675 or email: Serendipity_puntamita@hotmail.com
Live music with Bryan Savage happens every Thursday evening for Oso's Oyster Bar, located at the La Cruz Marina (where the La Cruz Sunday Market is located) Oso's Jazz Night, Bryan plays amazing jazz music from his 7 top-charting CD releases, and other favorites.
The live music begins at  7:30pm and Bryan performs until 9:30pm.
Bryan plays sax and flute like no other as he climbs the charts with his "Soul Temptation" CD, which are also for sale that evening.
Enjoy a beautiful dinner on the La Cruz Marina while listing to one of the top jazz sax and flute players on the music scene today.


Amigos de La Cruz

LA CRUZ AMIGOS HAPPY HOUR AT ROBERTO'S XOCOLATL
Friday, February 7 from 5:30 – 7:30
Don't miss this great opportunity to watch the colors of the La Cruz sunset from the best view in the La Cruz community, then kick up your heels to polish your skills at Salsa Dancing. All this while drinking and dining with the AMIGOS. You don't have to be an Amigo to join the fun.
What could be better?
Roberto's Xocolatl is at the corner of Monte Calvario and the
mountainside lateral. If your coming in from Bucerias, It's the last street to the right before the light. It's the one that goes waaaayyyy uphill. What a view, and a very nice restaurant for those who have not yet discovered this gem!
Drinks are offered at 20% off. Also offered are appetizers at 25 pesos each, and for our hungrier amigos a scrumptious dinner menu with your choice of 3 fantastic selections for 195 pesos.
Don't miss the salsa dancing lessons and entertainment
"Mi casa es su casa" …..Roberto
For more information about the Amigos de La Cruz or contact information please CLICK HERE.
Villa Amor Del Mar

Some people love traditions and holidays others… not so much. For me, (Cindy), Valentine's is one of those special days to take advantage of the LOVE that's in the air! Roses, champagne, chocolates and all things love surround us. Not ones to think that one day a year we share our love, Chris and I created Villa Amor del Mar 
a La Cruz Boutique Hotel, because we believe in the power of love, romance and rejuvenation.
Let us pamper you and your love during this special week.
Valentine's Day in Paradise ~ 3 day weekend near Puerto Vallarta

Let us handle the details as you and your sweetie relax and rekindle your romance at beachfront Villa Amor del Mar!
We pamper the two of you with:
Champagne and chocolates in your room.
Romantic dinner on your private deck or on the rooftop with other guests.
Continental breakfast in your room everyday and
one breakfast by the pool during your stay.
 ~ 3 day rates starting at $425.00 per couple ($212.50 per person)
 ~ Book 7 days; rates start at $995.00 per couple
($497.50 per person)
Or take advantage of our 'almost all inclusive' promo that week; our Introduction to La Cruz.
All inclusive 7 Day Promotion Package
This new testimonial:
"My husband and I just visited Villa Amor del Mar; it just oozes style, lovely calm energy, service and attention to detail. This is truly beyond 5 star in any country. We want to come back very soon!"
Alison Hendren, Vancouver
Villa Amor del Mar; a beachfront dream vacation located in La Cruz de Huanacaxtle, Mexico.
La Cruz Restaurants
Octopus's Garden

Through the week the Octopus's Garden Café is open for breakfasts, with our own roasted Nayarit organic coffee, and WiFi from 9am. and the
Huichol Gallery with a wide range of brilliant art and crafts from the indigenous people of Nayarit and Jalisco: Exercise and Dance workshops are running in the salon upstairs through the day.  At 6 pm. the kitchen opens for dinner and the bar upstairs comes to life!  You can find the schedules for classes and events, as well as the Saturday Brunch menu and the bar menu 
by clicking here.
Salsa Night every Wednesday with the Cuban group "Habana Band" playing from 8 pm. Hugo and Christina, the well known Latin dance pros will start the evening off with a demo and dance class at 7.30 pm. the cover for the evening is only $50 pesos. Come and enjoy dancing on the only sprung dance floor in the North of the Bay! 
On Friday nights "the Guild" is playing in the bar from 7.30 pm. "Seriously good music" from Jerome Phillips and Christian Gómez and guests, playing some new genres, new arrangements of the Beatles, and great jazz; dinners are served from 6.30 pm.
This Saturday for Brunch we have Tatewari playing at 10.30 – these three young musicians are the new generation of flamenco in la Cruz, and Sonny, the Canadian accompanies them.
Saturday night is Show Night, this week with the extraordinary Circus, Cabaret, Dance show "The Golden Kingdom" performed by the dance troupe of Hugo López. This show starts at 8 pm, the entry is $100 pesos, however there´s a dinner special for only $180 pesos with dinner served form 6.30 pm. in the patio to give plenty of time before the show. We recommend making reservations as soon as possible.
Please click here for our page with a contact form, phone number, and link to our website.
Ana Banana Bar and Grill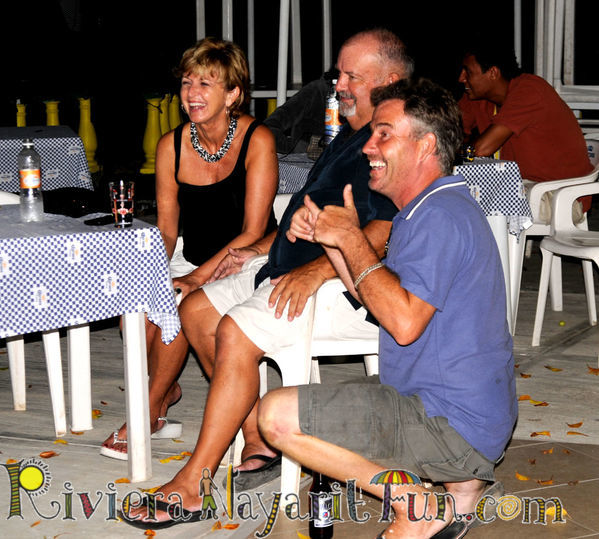 Everyone always has a good time at this La Cruz community bar and restaurant! Coffeehouse Friday at  at Ana Banana's starts at 6:30.  Enjoy Ben and Friends with sailor Dave on lead guitar as Ben sings fun favorite songs. You never know who is coming to join them! Ed on spoons is usually there to join in.
Sunday is the Rhythm Roosters with Baby Back Ribs with the fixins'…..delicious tender local ribs!
Meatloaf Monday has some of the best meatloaf you have ever tasted! with mashers and corn on the cob too! The Good Stuff plays rock 'n' roll classics, and is a favorite band around the Banderas Bay!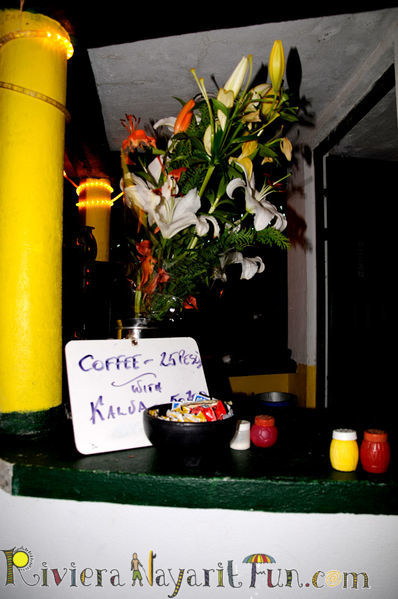 Drop on by for breakfast and coffee. The Kahlua is always available too! . Bring your computer and check your messages…..or just enjoy the company!
Ana Banana is a local's favorite. Easy going where a person can be themselves and enjoy a meal……a dance or two….and a few cocktails!
Masala Bar and Grill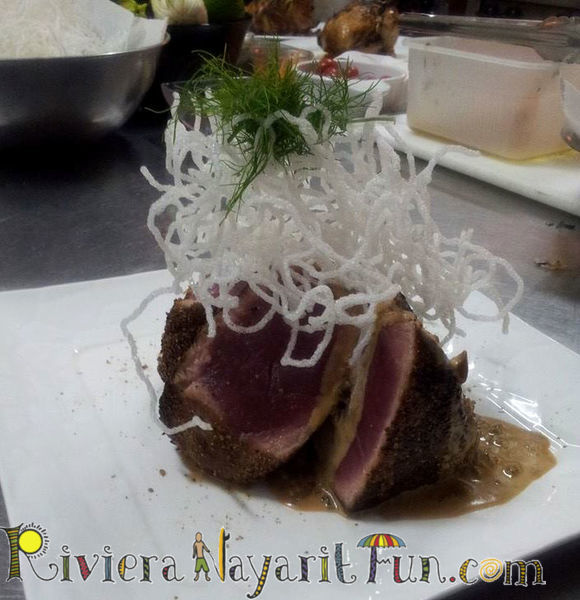 Come and and enjoy our delicious layered flavors with our menu for Thursday evening.  Tree corses for 250 pesos plus live music with Tatewari trio in concert.
The appetizer is a  fresh tuna tar_tar with soy ginger salsa.
Our Main Selection is a fresh whole red snapper with cherry tomato sauce and fresh basil.
Delicious Dessert.. triple chocolate cake with rum caramel sauce.
WOW!  Enjoy yourselves in our restaurant with delicious prepared fresh food, professionally trained wait staff, and a beautiful ambiance that sets the stage.
For reservations please call  295-1331.
Thanks La Cruz Community and beyond for visiting our page this week. I hope you take advantage of the top musicians that play live music around town. Our sponsors work hard to get this information out for you every week…so click on their links for more information. CLICK ON THE PHOTOS with our RivieraNayaritFun.com logo to see their photo galleries! If you would like write a testimonial, please do so on their page! or you may also email me at Cat@RivieraNayaritFun.com . Thanks!
Have a super time, eat, drink..and take a cab…jajajaja… if your not within walking distance!
In Loving Kindness,
Cat Morgan