La Cruz Community Spring Fun on Riviera Nayarit
Hola La Cruz Community! Wow..what a fun week and weekend…and there is a lot more La Cruz community fun
coming your way. The season is NOT over yet! and as long as folks are coming out for fun the La Cruz Sunday Market, restaurants and bars will stay open for YOU! The winds have picked up and the sailors and wind surfers are loving it! Its wonderful to watch from the beach, or perhaps where your staying has a great ocean view, like the La Cruz Boutique Inn Villa Amor del Mar. Muchas gracias for this photo Cindy! (owner of the La Cruz Boutique Inn)..What a fabulous view from their place!
Click on the links for more information, and also click on the photos with our RivieraNayaritFun.com logo..as they take you directly to the photo galleries for lots of fun La Cruz community photos! Enjoy!!
Joann celebrated her birthday, (as she puts it her 39th birthday!) at Ana Banana Bar and Grill last week and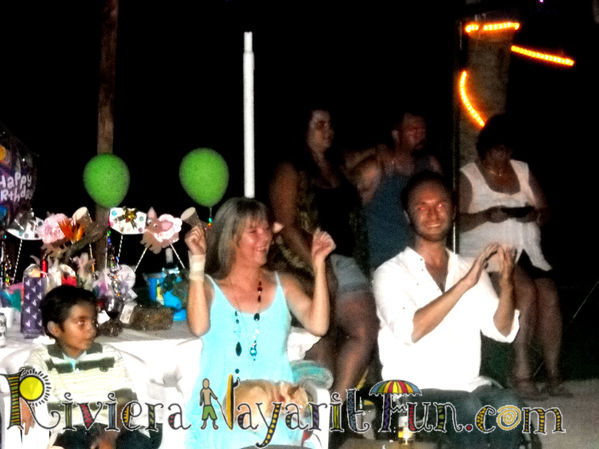 what a fun party! Her husband Al set up a surprise birthday party for her, but I think she figured it out when she saw all of the parked cars!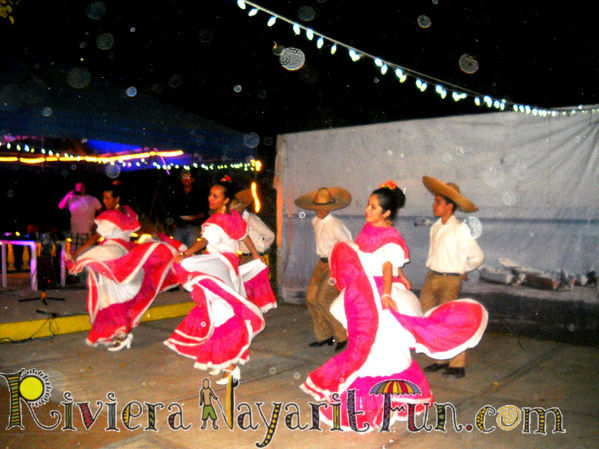 Traditional Mexican dancers were there to help celebrate the fun event along with live music with part of the Dog Town Quartet.  Delicious tacos were for the feasting and Ference brought in 5 cakes!  I had the carrot cake, which was delicious! If you don't know Joann, she is the cute gal who is always playing her drum along with the bands at Ana Banana. A fun time was had by all! Click on the link for more fun photos!
Happy Birthday Joann!
Daylight Saving Time Starts April 6th in Mexico

Mexico, except for Sonora and 12 Mexico-USA border municipalities, will begin DST on April 6 and ending a week earlier on October 26.
Clocks in areas that follow DST in the USA & Canada (including some areas in Mexico) will be returned to Standard Time on November 2, 2014.
The areas in Mexico that observe USA DST rules are the state of Sonora and the 12 border municipalities of Tijuana, Ensenada, Mexicali, Tecate, Ciudad Juarez, Ojinaga, Ciudad Acuña, Piedras Negras, Anahuac, Nuevo Laredo, Reynosa, and Matamoros. There are also some remote villages that do not change their clocks.
In Mexico, Daylight Saving Time is known as the "horario de verano" (summer schedule). It has been observed since 1996 throughout most of the country. The four weeks in the spring before Daylight Saving Time begins in Mexico, and one week in the fall after Daylight Saving Time ends in Mexico, makes Mexico one hour out of sync with the corresponding US and Canadian time zones.
Also keep in mind when traveling past Lo de Marcos, (pueblo past San Pancho) the time changes to one hour earlier! This is good to remember when making your Mexico travel plans to visit Puerto Vallarta and farther north on the Riviera Nayarit.
Ana Banana Bar and Grill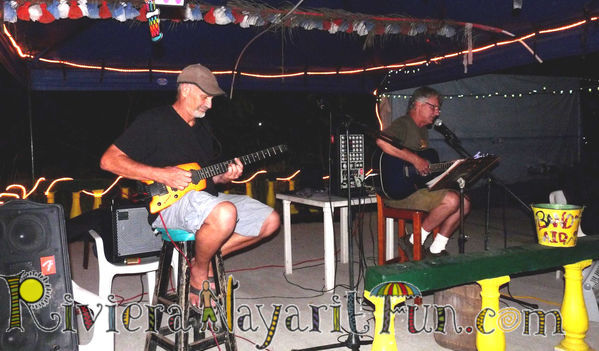 You just never know who is going to be playing at
Ana Banana Bar and Grill! Ana Banana does have set live music schedule, however, Ana Banana is known as the place where all of t
he La Cruz live music began way back in the day, and just about every band around the Riviera Nayarit, and even down to Baja has played there! Musicians stop by to say hello, and usually end up sitting in for a song or three! This last week music with Ference on vocals and guitar, and Dave on lead with that wonderful Gibson guitar.  Paul Bullock sat in with some funny and very entertaining poetry! Check him out here: Never Say Never  and we hope to see much more of Paul next season, as he is leaving very soon! Thanks for the laughs Paul!
Live Music and Food Specials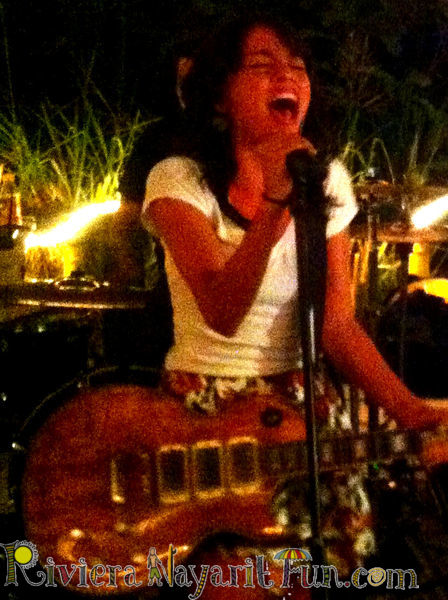 Wednesdays are Beer Brats, Burgers and Booze Night! Come on in and enjoy some country and blues with the Dog Town Quartet, along with affordable and tasty food and drinks. It all starts at 6pm!
Friday's Fish and Chips Enjoy live music this Friday.  Come on in and enjoy perfectly prepared Fish and Chips…the best in town!
Sunday Rib Night with the rock and roll band Rhythm Roosters. Playing fun dance music, with fall of the bone ribs hot right off of the grill!
Meatloaf Monday's are a huge hit as well with "The Good Stuff" playing all of the favorite classic rock hits. This is one show you will not want to miss out on. Andra is amazing for her lead vocals…this band rocks the house! See you at Ana Banana!!
Octopus's Garden

Join us at the Octopus's Garden for events all week long! Visit our La Cruz Huichol Gallery...one of the largest around the bay!
Tonight Wednesday April 2, Salsa Night at the Octopus's Garden. Come dance on the only sprung dance floor on Banderas Bay.  Music from 9:00 with the Salsa DJ "German" , ever popular with the Salsa dancers of the Bay. Music at 9:00.Cover only 25 pesos.
Saturday April 5th Brunch 9:00-2:00. 
Enjoy our popular Brunch menu in the tranquil courtyard by the fountain.
Funky Jazz Saturday night 7:30 on.  As the season winds down,Funky Jazz heats up.   Playing to packed houses Jerome Phillips, Bay area keyboards, Aussie Damien on Sax and Canada's Rat Pack
Crooner Rick Cranston have been wowing the crowd. Reserve to be sure of getting a seat.
Monday April 7th - Movie Night .. The Act of Killing - Academy Award nominee for Best Documentary of the year. Rotten Tomatoes audiences give this an 86% approval rating.
Masala Bar and Grill

Dining every evening at Masala Bar and Grill is always exceptional! (closed on Tuesdays) During this time of the year they offer their
3 course meal for only 250 pesos. every evening. Thursdays, however, the Tatewari Trio will play their magical Flamenco music whilst you dine.
The three course meal includes a delicious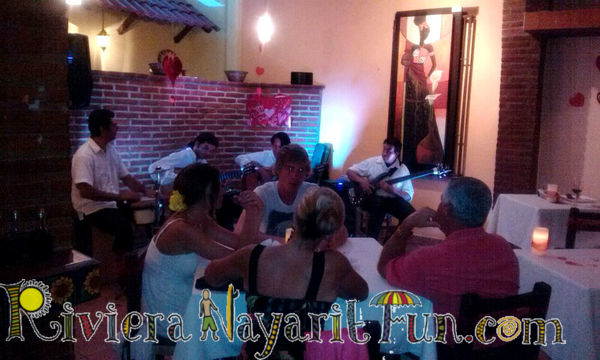 appetizer, entree and a very special dessert that you may want to par up with an order of their special  Masala Coffee.
All dishes are created with a layered flavor that you will not only enjoy eating, but also enjoy looking at. The presentation is amazing, along with the impeccable service!
Take a look at their full menu here. Masala is easy to find. Take a right at the light, and a right at the Glorieta (round a bout) and they are two block down on the right. Enjoy Life....Masala Bar and Grill.
La Cruz Rentals are many with different locations and pricing. Spring time is a wonderful time of the year for a
vacation, and actually is also perfect for a La Cruz beach wedding!  Before or after Semana Santa is perfect! It does not start raining until July, so you get the perfect weather! Also as most of the snowbirds leave before Easter, you practically have the playa to yourself!  If your interested in finding a rental for a week or two, or for a longer term rental send me an email. Rentals can go quickly for high season, so it may be prudent to book in advance.
I am happy to help you find the right rental! Cat@RivieraNayaritFun.com

Villa Amor del Mar
¡Primavera Feliz! Happy Spring!

Springtime at Villa Amor del Mar, our La Cruz Boutique Inn, and around the Vallarta Bay is a time of delight. Winds and surf are up bringing those 'who love the wind and the waves' to our beachfront. Sitting in the 'sofa' of our infinity edge pool guests have been enjoying watching the kite sur
fers take off, up, up and away! Sailors release their Jib and Genoa sails often with a flash of color encouraging photo enthusiasts to grab their gear. Spring break brings competitions for the young ones on their lazers and optimists. Surfers arrive board in hand on our beach and hit the water waiting to catch the perfect wave. Not to mention power boats, windsurfers, fisherman and more. (click on the photos for more fun photos!) Spring is perfect for water sports on the Bay of Banderas! Enjoy the complimentary stand up paddle boards, boogie boards and kayaks at our La Cruz Boutique Hotel or let us introduce you to the various instructors of wind craft if you're like many these days… inspired by the wind. info@VillaAmorDelMar.com
La Cruz Real Estate
Pacific Boutique Properties
Broker Victoria Pratt

Known for listing quality properties in a variety of price points, locations and styles, we can provide you a comprehensive list of what fits your criteria. Ask for a no-obligations consultation and run-down on the market opportunities. Victoria has access to all MLS listings. She is also a development specialist with many years of experience working for a major area developer, so is indispensable at representing buyers who want impartial representation for pre- or post-construction development offerings.If you are seeking a property of any kind in Puerto
Vallarta, Nuevo Vallarta, Bucerías, Sayulita and San Pancho.

La Cruz: Casa La Kasbah
PRICE REDUCED!!
Excellent corner lot for investors and developers with potential for building  6 floors and condos or a one great residence. "Location location location" well this house locates just one block from the beach and a couple from the world recognized Marina in La Cruz de Huanacaxtle.
Please contact us for more information.

La Cruz Energy Medicine / Energy Works! Vibrational Healing / New Energy Consciousness

Catherine is a vibrational Energy Medicine Master Healer, certified in many healing modalities, such as a Dual Reiki Master and Instructor, Hypnotherapy, Healing Touch International, Access Consciousness Bars work, and much more. Specializing in trauma release and clearing and integrating energetic patterns of mental and emotional triggers, chronic illness and disease allowing one to create more joy, ease and grace in life. There has been a lot of shifting within relationships and power struggles.
Are you ready to let go?
Click here to see some of her clients testimonials
For more information, or to make an appointment, please click here.

Thanks so much for joining us for the La Cruz community news! The high season is not over yet! Semana Santa is going to be crazy as usual, as Easter is on April 20th. Many folks have taken flight, and the sailors sailed away to other distant lands, but La Cruz is still hoppin with live music and the restaurants still have their doors open.
Remember about daylight savings time coming up on the 6th and spring forward. I love this time of year!
Check out the La Cruz community Calendar for La Cruz fun and see you next week!
In Loving Kindness,
Cat Morgan
Come on over to La Cruz de Huanacaxtle Mexico and enjoy the La Cruz community
fun on the Banderas Bay in Mexico!