Celebrating Easter in the La Cruz Community
Hola Banderas Bay and La Cruz Community! With Easter only a few days away, and Semana Santa kicking into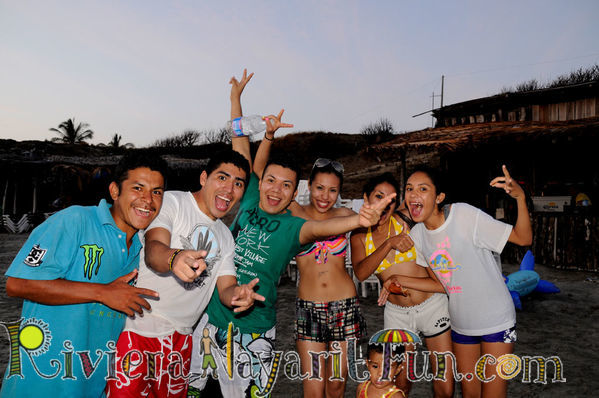 gear, Mexican nationals are filling up the beaches and towns celebrating with family, and friends.  Although some of the La Cruz restaurants will be closed for the holiday, many are serving a delicious Easter dinner, with a variety of menus to choose from. Check out the menus below and make your Easter dinner reservations!
La Cruz Days starts on April 25th, so the Semana Santa party will continue right into La Cruz Days, which will end with the town's big fiesta. What a party! May 3rd is the town's big finale fiesta, and is the day of the holy cross, by name "Santa Cruz" who is the patron of the construction workers. La Cruz Days is a 9 day annual La Cruz community event.The fair people are now setting up the rides and game booths for grown ups and children. There will be fun rides, music and dancing.
So far there are at least 129 vendors with food and deserts. There are also daily La Cruz community parades in the morning, and also in the evenings. ending at the church with mass. Bottle rockets and fireworks will be going off all hours of the night and wee hours of the morning, I have heard both sides, that these rockets bring in the spirits, and also chase them away! The dogs go crazy barking all over town all night long.  Many snowbirds that reside in the La Cruz community for 6 months plan to leave (and have left!) before Semana Santa and La Cruz Days for these very reasons! Many do however enjoy and love the Mexican national culture and community spirit; celebrations of life, and join in on the La Cruz community festivities! Viva La Cruz!!
La Cruz Restaurants / Easter Supper Menus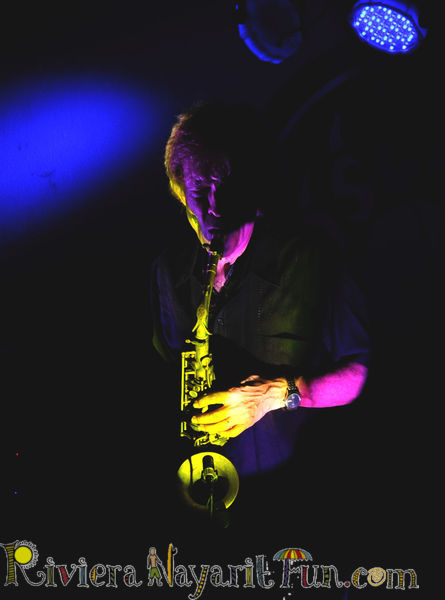 Oso's Oyster Bar & Fish Market
This Thursday, April 17th is the last Thursday for Bryan Savage this season. Come on down to the La Cruz Marina and enjoy delicious and fresh seafood whilst listening the to one of the best jazz musicians around as Bryan Savage plays his original music on Sax and Flute.  The views of the marina create the perfect ambiance for romance!
Oso's is open for breakfast lunch and dinner, with specials every day!
Join us Thursday evening to celebrate a wonderful season with Bryan Savage.
See you at Oso's Oyster Bar and Fish Market.
Black Forest Restaurant Easter Special

Join us for a special Easter Supper this Sunday at Black Forest Restaurant.
Homemade Tomato Soup with Gin
***
Roasted Leg of Lamb
Marinated in red wine, Served with Jus
accompanied by a bouquet of green beans with bacon
potatoes dauphinoise
275 Pesos
Reservations are recommended  01 (329) 295 5203
Octopus's Garden Easter Menu

This is our Easter and Pascuas (the week after Easter) menu, and are open every day with breakfast, lunch and dinner. This is traditionally a time for lots of seafood, and of course we will have plenty of shrimp, good music and great smoothies and cool drinks. View our new lunch menu.
Maybe you need a break from the beach, a shady spot to rest and recover and satisfy your appetite, here at the Octopus´s Garden we will be expecting you!

Saturday Night we have Jazz with "The Guild" – it´ll be Jerome on keyboard, Demian from Australia on Sax, and Sonny on the "cajon" starting at 8 pm. On Wednesday everyone's invited to Salsa Night here with DJ German playing everyones favourites for a night of dancing. Only $25 pesos cover gets you into the bar and onto the spring wood dance floor, come along for a spin! Call us for more information and reservations at 01-329-295-5367
El Jardín del Pulpo te esta esperando con un menu de pescado y mariscos para los días de fiesta. Durante Semana
Santa y Pascuas vamos estar abierto de 9 am. a 9 pm. todos los días con desayuno, lonche y cena. Este Sábado tenemos música Jazz en vivo con el grupo "the Guild" – Jeronimo en teclado, Demien en Sax y Sonny en el cajon, de 8 pm. Estas invitado al salon de baile y el bar del árbol este Miercoles para la Noche de Salsa con el DJ German tocando tus favoritos – cover sólo $25 pesos. Informes y reservaciones: 01 (329)29 55 367.
Masala Bar and Grill

Enjoy our Masala Bar and Grill Thursday Evening Special this week.
Special Thursday night 17th April  Three course Menu with:
Appetizer tiradito de pescado perico marinado con ajo y genginbre fresco.
Entree': Homemade lamb ravioli with Merlot reduction sauce / mango ginger salsa

Dessert: panacotta with strawberry couli. Plus live music by Tatewari Trio flamenco with guest drummer Sonny, beginning at 7:30 pm.
Click here to check out a video of Tatewari ! SIMPLY FABULOUS!
Please make a reservation to cell phone. 322-101-8884

Easter Dinner Menu will be a Mexican Fiesta! With chile relleno an chicken fajitas, as well as a seafood salad Mexican style. (right)

Ana Banana Bar and Grill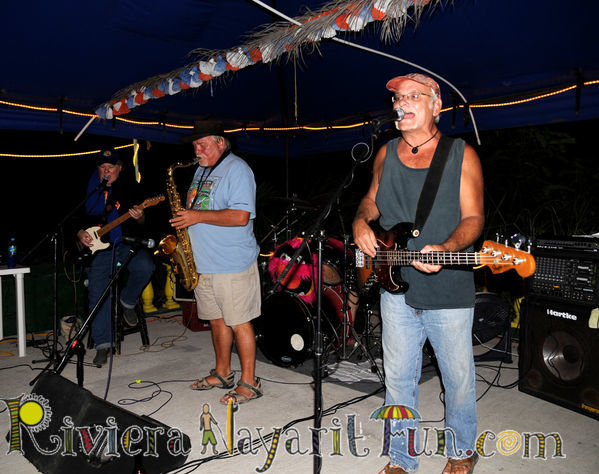 Ana Banana Bar and Grill is open all year around, and will have weekly live music into May and during the summer as well!
Coffeehouse Friday serves up delicious Fish & Chips with a variety of live music..you just never know who is going to show up! Bring your instruments and come to play!
Sunday is Rib Night with the rock and roll of the Rhythm Roosters! Enjoy tender fall off the bone ribs hot off the grill, and dance the night away.
Meatloaf Mondays are "HOT" with "The Good Stuff" playing classic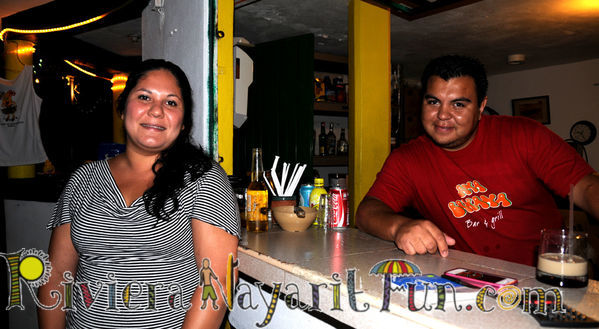 rock…and they DO rock the house! playing all of the favorites!
Come on into Ana Banana and check out the variety of live music, with special guests sitting in…Music, food, fun and friends…The staff is fun, friendly and offers great service!
Open for breakfast all week long with good Wifi!
See you at Ana Banana Bar and Grill!
Villa Amor del Mar / La Cruz Boutique Hotel

This week and next are busy in La Cruz with Semana Santa/Easter celebrations followed by La Cruz days where we celebrate the Patron Saint of La Cruz. Festivities culminate on May 3rd when the town becomes much quieter after the busy high season.
In my mind, there is a special vibe about La Cruz de Huanacaxtle around this time. Poolside and beachfront is the place to be at our La Cruz Boutique Hotel. In town, prices reflect fewer people, 2 for 1 and Happy Hour specials are plenty. Folks have more time to share their experiences, practice the language, dance moves or songs and generally lend a helping hand. The weather is perfect with nice breezes for poolside lounging and sipping a cold one. One of our guests who vi
sited last year in the shoulder season told us she loved how, with fewer folks in our music mecca of a town, she felt like she was getting a private concert everywhere she went.
This is a great time to book a gathering; wedding, retreat, reunion or other as rates are lower and there is more availability. Gift a mom with a vacation and we'll give her the gift of a pedicure by the pool for Mothers day. 
Villa Amor del Mar is perfect for those from closer destinations booking 3 – 5 day get-a-ways. Our La Cruz Boutique Inn is perfect for romance, so if reacquainting with the one you love is on the list, ask me how I can make it special! Info@VillaAmorDelMar.com

La Cruz Real Estate / A Buyers Market!

Royal Club Real Estate
Aaron Fisher / Broker
Punta Esmeralda
Huanacaxtle 201
Price: 595,000
Sqft: 2,636
For more information for this and other spectacular property click here!



This four-bedroom, den and four bathroom condominium is located in the Huanacaxtle building. Situated on the second floor this unit has an enormous terrace with amazing linear views for great indoor-outdoor living.
Pacific Boutique Properties
Victoria Pratt / Broker
La Cruz de Huanacaxtle Penthouse
Huanacaxtle 502 – 3+BR / 4+BA -
Located in the 20-acre Punta Esmeralda residential resort, it benefits from the extensive amenities of eight pools, beach club, spa, gym and tennis and 1,500 feet of beach frontage as well as a superb location between the two towns of Bucerias and La Cruz.  For more information on this amazing penthouse and other Banderas Bay properties please. Click Here for our EASY contact form.
This corner penthouse has 270-degree views that span the vast stretches of beach of Bucerias and Nuevo Vallarta, the Puerto Vallarta horizon, Marina La Cruz and the Sierra Vallejo cordillera. It lives like a spacious villa with over 4,600 square feet of indoor-outdoor living distributed on two levels. A beautiful gourmet kitchen adjoins an outdoor kitchen, bar and dining room. Over 1,100 square feet of terrace is beautifully laid out and laden with comfortable outdoor furniture.

Sleep up or sleep down! The main level has a junior master bedroom and a large media/flex room, both with en-suite bathrooms, while the second floor has a master bedroom with romantic palapa and a third large guest room. All bedrooms have ocean views. Design details include a shower with a view and a sunset patio.
Every inch of this home has been upgraded with custom marble, granite and carpentry. Being sold turn-key, the price is far below real value for the real estate itself, let alone the quality interior and exterior furniture, fixtures, window coverings and electronics that are included (art and artifacts excluded) This amazing penthouse benefits with eight pools, beach club and beach restaurant, full service spa, gym and tennis courts with 1500 feet of pristine beach frontage as well as the excellent location between the two towns of Bucerias and La Cruz de Huanacaxtle, on the Riviera Nayarit in Mexico. Contact us today for more information!
Thank you so much for reading the La Cruz Community Easter and Semana Santa news. I wish you and your families a very happy Easter celebration.
Get out and enjoy Semana Santa, and La Cruz Days. Enjoy the La Cruz Community! Click on the La Cruz community post photos that have our logo RivieraNayaritFun.com , as they are linked to the photo galleries for more fun photos.
If you have any questions, or comments please fill free to email me at Cat@RivieraNayaritFun.com
Many Blessings of Loving Kindness
Cat Morgan
Enjoy life in the

La Cruz Community

this Semana Santa and during La Cruz Days

in Mexico!