La Cruz Community Spring News 2014
Hola La Cruz community and beyond! The weather is certainly warming up, with a lovely breeze making it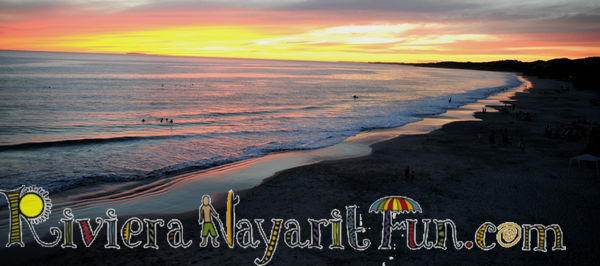 perfect to be hanging out on the beach, or having some water fun out on the Banderas Bay. So get out there and enjoy!! Amazing Banderas Bay sunrises and sunsets…La Cruz community live music and events…friends and fun…that is what makes life worth living here on the Riviera Nayarit!
The markets are in full swing, with the La Cruz Sunday Market located down on the La Cruz Marina being the best around the Banderas Bay, and one of the largest mark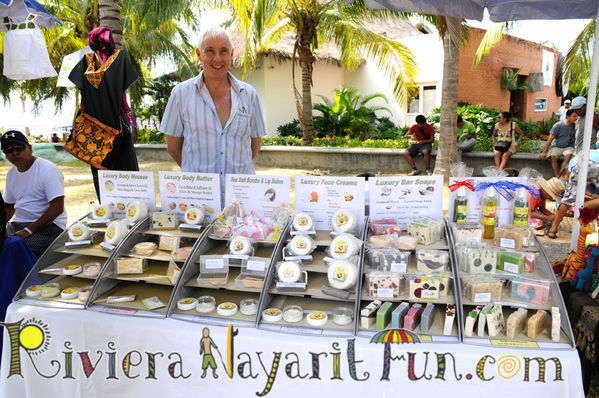 ets (next to the La Penita Market on Thursdays) on the Riviera Nayarit. If your ever out to Sayulita way..they also have an amazing Sayulita Mercado on Fridays!!
The La Cruz Sunday Market serves up delicious and nutritious gourmet foods, all of which are homemade. This is one of the requirements of the Sunday La Cruz Market! That all of the products are made or grown by the vendors, and not per-purchased to only be re-sold at a higher cost. This counts for the high quality of products/ produce and art and jewelry, and soap and lotions like at Oxnard's Country House Soaps (right) at this amazing market on the marina.
As usual, there is a lot going on in La Cruz de Huanacaxtle!

Today, March 5th is the Amigos de La Cruz Happy Hour at Tres Palapas…starting at 5:30.  Las 3 Palapas is on the beach on the east side of the Zanzibar Restaurant.
Receive20% off all drinks, and pick your choice of two Tapas for 50 pesos of Wonton skin with smoked marlin,  Crab cheese puff,  Fish ceviche in tortilla baskets,  Guacamole & chips,  Spring rolls or Baby back ribs….deeeelish!
"Just Desserts" Amigos fundraiser play at the Octopus's Garden starts this Thursday and Friday, with a full house! It will be a fun time with audience participation for the this week, and the following Thursday and Friday.
La Cruz Rentals / La Cruz Beachfront Rentals
Now is the time to be booking for your next season's vacation, as well as a spring vacation for this season. Many X-pats leave before Semana Santa (Easter week), leaving the beaches with hardly a soul around! During the spring is one of the best times to come for a La Cruz and Banderas Bay vacation. Rates can go down, and the living is easy! Contact Cat@RivieraNayaritFun.com for more information on Riviera Nayarit Rentals.
La Cruz Beachfront Boutique Hotel
Villa Amor del Mar

We're enjoying serving groups at Villa Amor del Mar, our La Cruz Boutique Inn. We've had fishing groups, family groups and gatherings of friends who book the Inn for private functions. We're getting lots of interest from business groups and for team building and other retreats. There is ample room for 16 'heads in beds' or if it is a singles week we can accommodate 9 people each in their own bed. As we assist others to plan such weeks we're delighted knowing that as we serve them they get quality time with others.
We take great pride in creating custom packages for guests as per their requests. Always, continental breakfast is provided in private guestrooms with Mexican, freshly roasted coffee, fruit (often from our own trees) and special requests as per each guest. When guests book for 7 nights or more they also receive one brunch by the pool and one dinner on the rooftop.
Recently, we included in the group package, a wine tasting and food pairing and a private fiesta on the rooftop, which included local music sensation Tatewari. Next week, it's all girls at the Inn… I can hear the laughter already!
If a gourmet week excites you consider our Culinary Week; Margaritas and Mole or Tequila and Tacos; no need to choose you'll learn to taste and create as the week unfolds. We're bringing in a local Mexican chef and creating a foodie week. Consider that here; http://waldentoursculinaryandwine.wordpress.com/la-cruz-culinary-experience/
Click here to contact us and to view our page, connect to our website, phone number, our facebook and YouTube pages, or leave us a message with the easy contact form.
More guest reviews have allowed us the honor of #1 in La Cruz on Tripadvisor. Guests revel in the views, the privacy and the comfort of Villa Amor del Mar coupled with the ease of getting around and kindness of the people in La Cruz de Huanacaxtle. Let us share all that is La Cruz with you.
Octopus's Garden Weekly Events

Ana Banana Bar and Grill

Ana Banana Bar and Grill is the perfect place to go for a good time. Barry and Ana always make sure you feel right at home, and are their to greet you when you come in, and say so long when your ready to leave. A casual and entertaining La Cruz restaurant, they have fun all week long!

Wednesdays are Beer Brats, Burgers and Booze Night! Come on in and enjoy some country and blues with the DogTown Quartet, along with affordable and tasty food and drinks. It all starts at 6pm!
Coffeehouse Fri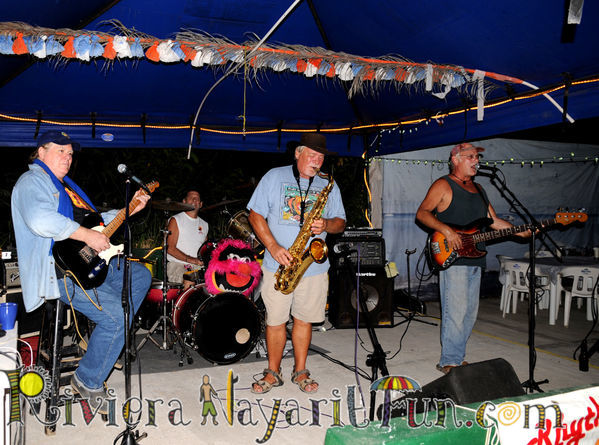 days serves up Ben on his Guitar with Dave on lead with that cool Gibson of his. Enjoy perfectly prepared fish and chips that evening. The place gets packed, and its fun to see your friends and enjoy a cocktail together!
Sunday is Rib Night, with the Rhythm Roosters playing rock and roll.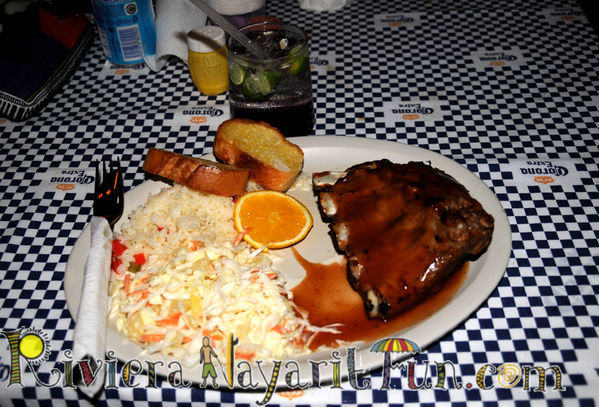 They start out with some blues (left) and move into fun dancing music. The ribs are fall of the bone tender! with Terry manning the BBQ, served with rice and Cole Slaw.

Meatloaf Monday's serve up homemade and very flavorful meatloaf, served up with corn on the cob and mashers…..a huge portion will be sure to fill the largest of appetites!
See you at Ana Banana Bar and Grill!
Masala Bar and Grill

One of the nicest places to go out for a meal in La Cruz is Masala Bar and Grill. A local's favorite, Masala Bar and Grill serves an interpretation of Modern American / Mediterranean cuisine with an Asian feel.  Using fresh organic foods chosen for the highest quality each day,, each dish is prepared and created with the utmost care, creating a presentation that stands above the rest.
Thursday Three Course Special
Thursday Menu
Appetizer: Grilled Vegetables with Blue cheese dressing.
Entree: Pan seared Fresh Tuna over caponata and wasabi Ginger sauce.
Dessert: Key Lemon pie with passion fruit coulis. 250 pesos per person plus live music by Tatewari Trio Flamenco.music, with the magic all starting at 7:30pm.
Black Forest Restaurant March Party!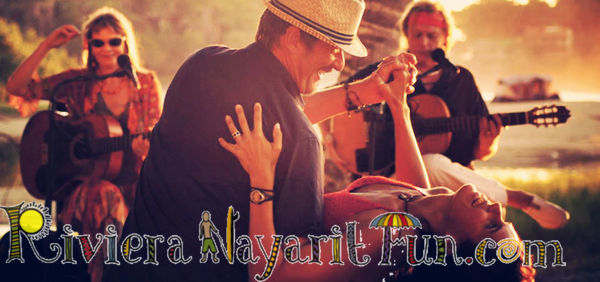 Every Friday Latcho & Andrea Live Performance 7:30 pm at the Black Forest Restaurant in La Cruz . Reservations are recommended.
Have you made your reservations yet for German Delights? 
Because of popular demand we are having our German Beef Rouladen on Sunday, March 16th. This very traditional German dish is an all time favorite of the extended Black Forest Family. Bacon, onions, mustard and pickles are wrapped in very thinly sliced top round steak then we saute the rouladen.
"Gemütlichkeit"

Get ready for our next German Evening here at the Black Forest on Tuesday, March 25th. So join us for an evening of classic German delicacies and our proverbial German "Gemütlichkeit". Your hosts Andrea and Yvonne will serve you in traditional German Dirndls and the beer mugs will be overflowing with ice cold German beer. Dinner selections consist of hearty German favorites such as bratwurst, red cabbage, sauerkraut, pork schnitzel, roasted ham hocks (should be per-ordered), dumplings and spätzle, just to name a few.
We also will serve Roasted Ham Hocks.
We highly recommend reservations for both events at reservations@blackforestpv.com
or you may call 329-295-5203 .
Oso's Oyster Bar and Fish Market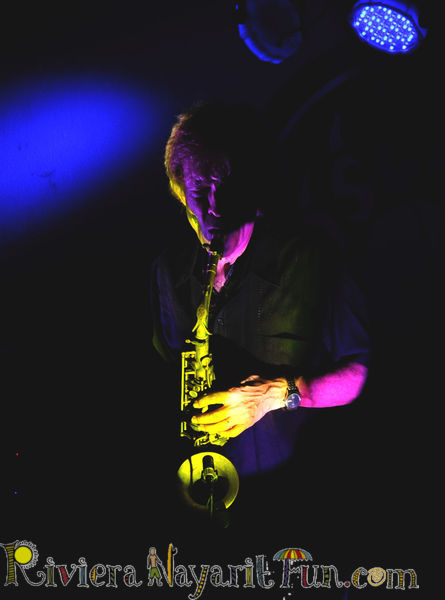 Every Thursday at 7:30 Bryan Savage plays jazz on Sax and Flute.
A professional musician who has opened for Bonnie Raitt, Mick Fleetwood, Santana, Glen Frey, Eddie Money, Journey, Gary Burton, Rick Braun, Chuck Mangione, and also played many others…a show to be remembered! A favorite here in the La Cruz community!
Enjoy the ambiance of the La Cruz Marina while enjoying a delicious dinner and listening to Bryan Savage every Thursday at Oso's Oyster Bar.
You can also catch "The Traveling Band Duo", playing classic rock 'n' roll favorites every Friday, starting at 7:30. Come on in and enjoy our live music, dance a few songs, eat, drink and be merry at Oso's Oyster Bar.
La Cruz Real Estate
Its a buyers market…have you considered purchasing a property this year? Consider lower taxes, no more rentals, with a possible income stream! See these quality brokers and listings below.
Royal Club Real Estate
Aaron Fisher / Broker
Grand Venetian 802
450,000 USD

1905 Sqft
2Bed/2Bath
A lovely two bedroom 2 bathroom oceanfront/beachfront
condo with amazing views of downtown Puerto Vallarta and beautiful western views. Grand kitchen with high end appliances, nicely decorated, neutral tones through out.This also has an impressive balcony with Jacuzzi tub.
Please click here for our easy contact form for more information on this and other properties.
Pacific Boutique Properties
Victoria Pratt / Broker
Casa La Kasbah $399,000 USD
La Cruz de Huanacaxtle
Casa La Kasbah, beautiful Moroccan house in La Cruz de Huanacaxtle should
be considered for it's developable lot of 696 m2 with CUC zoning. It is just a few blocks to either of the two marina accesses and within easy walking distance to the town plaza. This single-level home was built with Moorish style detailing notable in the distinct exotic shapes of window and door frames. The living area has the feel of a Moroccan lounge and exudes comfort and coolness. A large patio and adjoining courtyard with a Cantera fountain form the fringe between the home and the gardens and a large and inviting pool.
Nicely designed for easy indoor-outdoor tropical living.
Please click here for our easy contact form for more information on this or other properties.
The La Cruz Community has it all! Whether your looking for La Cruz entertainment, dinner with live music, fabulous La Cruz restaurants, Spanish lessons, dancing lessons (salsa, ballroom, Hawaiian) dance shows, La Cruz Yoga and workout classes, free dance expression classes, Karate classes, Ariel classes…gosh! the list goes on! Check out the La Cruz Community Calendar for upcoming events, classes and schedules and La Cruz community fun! There has also just been added a Didgeridoo concert coming up on the 20th at the Octopus's Garden….Yea!
Thanks so much for checking out the weekly La Cruz community news. Click on the links to view their pages, menus etc., and also click on the photos with our logo, as they take you to the photo galleries.
I am will be acting in the "just Desserts" play for the next two Friday's in the role of "Scooter Thomas" . …my very first play! WOOO-WEEE!
Have a super fun week and weekend, and see you around the La Cruz community!
In Loving Kindness,
Cat Morgan