La Cruz Community …..Where the FUN is!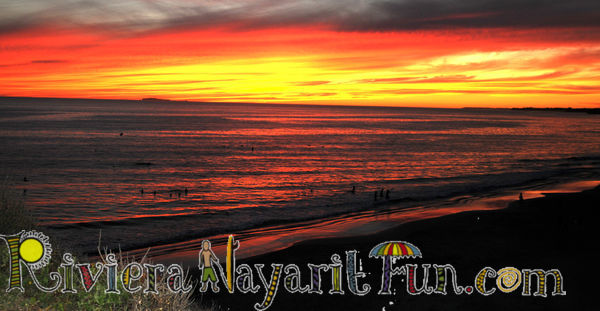 Hola La Cruz Community, Banderas Bay and beyond! Whew…the heat is ON as we are heading into the spring equinox…and right into summer weather! The ocean as never felt sooo good! And as always..I love a great sunset!
As we come into the middle of March 2014, many people are getting ready to move on, such as the sailing folks that are headed back, or taking off to do more world sailing.  Some of the entertainment will also be starting to slow down as well. If you would like to catch Latcho and Andrea at the Black Forest Restaurant, this will be their last "every Friday" event there. (see below) and only two more evenings at Philo's for Luna Rumba…3-19 and 3-26!
Tonight (Wednesday) is also Salsa Night at the Octopus's Garden! Come dance on the new sprung dance floor the dance pros love to dance on!  Dinner show at 8:00 with the ever popular Hugo and Christina. See their spectacular History of Latin Dance ….then…Live Music at 9:00 pm with Tino y Su Rumba Caribeña.
If your looking for honest and reputable Banderas Bay Real Estate Brokers click on the link!
Whatever you are deciding to do…just get out and do it!

There are also many new events on this Month's horizon! Luna Rumba's violinist/guitarist Geo Uhrich will be having one of his dreams come to realization as he will be playing with the Luna Rumba band in concert with the PV  Chamber Orchestra!
They are also up for best album award…and you get to vote! A note from the band:
"Luna Rumba is excited and pleased at being nominated for the 13th Annual Independent Music Awards and is calling out to its fans to vote for us in the IMA Vox Pop Jukebox category. Please cast your vote before July 18th!" Register and then go to the Latin Album Category and click on all of the stars to vote….and that's it! Gracias!!
Click Here to Register to VOTE FOR LUNA RUMBA Best Latin Album! Thank YOU!
Anot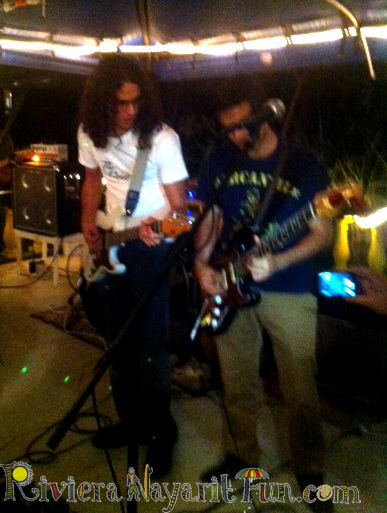 her La Cruz community fun venue still happening is at Ana Banana Bar and Grill. The have live entetainemnt throughout the week…however… Monday's with "The Good Stuff" playing rock and roll…WOWOW!  T
They did the most amazing and authentic rendition of "Free Bird" I have ever heard. The two guitarists play extremely well and and both did the lead…together….they were very tight! And the female lead singer really ROCKS IT! as they play all of the favorites. It's really worth stopping by to hear these guys play! (see more details below)
Locals Chris Bouchard (from Boutique Hotel Villa Amor del Mar) and also local Alan (both singers) as well as Rock and Roll Donnie stopped in and and joined the band for a few tunes! You never know who is going to show up and play!
A Spring Equinox Beach Meditation (free entry) will be held at Destiladeras Beach on March 21, 5pm.
Dress in neutral or white clothing and bring a cushion or blanket as some will be seated in the ground.
Come to celebrate spring equinox with a group meditation and didgeridoo playing.
if you´re interested in attending, or you may email pita.hache@gmail.com
Also, see below for a Didgeridoo event at the Octopus's Garden!
LUNA RUMBA  and the PV Chamber Orchestra
Luna Rumba presents a series of concerts with the Puerto Vallarta Chamber Orchestra


Three original compositions from Luna Rumba's award winning CD will be specially featured during two special concerts of the PV Chamber Orchestra: March 23rd and 24th. The March 23rd concert will take place at the Teatro Vallarta starting at 3:00 pm and the 24th will be presented at the Harkness Institute Hall in Paradise Village, Nuevo Vallarta at 8:00 pm.
The collaboration between Luna Rumba and the Chamber Orchestra began in January when members of the orchestra heard Luna Rumba perform live at the Paradise Stage in PV. An invitation
to meet and discuss a possible collaboration ensued. The meeting concluded with a plan to perform three of Luna Rumba's compositions as part of a Latin music program for the Chamber's spring concert series. The three songs chosen to present are: Junto a Ti (composed by Cheko Ruiz), Time to Fly (Cheko Ruiz) and Espiritu de Amor (Geo Uhrich)
Luna Rumba's violinist/guitarist Geo Uhrich funded the development of orchestral scores and arrangements by Jonathan Salas Orcañas, a talented musician and arranger from Monterrey. Jonathan has created music for the
Faculty of Music of UANL, and the University of Tamaulipas Symphony, among others.
"The sound of the orchestra playing these arrangements of our songs really blew us away", said Geo Uhrich of Luna Rumba. "There is nothing like a live orchestra to breath life into a song!. We are very excited to present these songs with this group of amazing musicians!"
Advance tickets are available at the Teatro Vallarta ticket office and through the Chamber Orchestra by calling Daniel at 322-105-8344. Tickets are also available at the door.
About Luna Rumba-

Luna Rumba comprises of Cheko Ruiz (songwriting, vocals and rhythm guitar) originally from Mexico City,
Geo Uhrich from Canada (songwriting, lead guitar, 5 string violin, mandolin, background vocals) and various guest musicians including Chas Eller (keyboards) from the USA and Alez Gonzales from Guadalajara on drums and percussion.
Their first CD – Without Borders was recorded in January of last year and has received multiple international awards including the John Lennon International Songwriting Contest, The USA International Songwriting Contest and the Independent Music Awards (IMA) nomination for best Latin CD.
Masala Bar and Grill

Although Masala Bar and Grill is closed now for breakfast and lunch, you can still take advantage of their delicious dinner menu! Globally influenced, also with fresh local fish from the La Cruz fishermen, Chef Julio Delos Santos, along with partner Chef Oslo Rita Ramirez Sanchez allow the natural products to speak for themselves with an amazing presentation along with impeccable wait service.
Check out this weeks specials….
Thrusday 3 Course Special with music by Tatewari Trio 
This week;s menu will be:
Appetizer: Fish Cake With Arugula Salad,
Main Course: Fried Coconut Shrimp with Mango Ginger Sauce over Jasmine Rice,
Dessert: Triple Chocolate Cake with Strawberry Coulis
250 per person
Saturday Special is Fresh Black Baja Mussels in a Delicious wine sauce...115 Pesos
Accompany those mussels with 2 x 1 Margaritas ….80 pesos.


Ana Banana Bar and Grill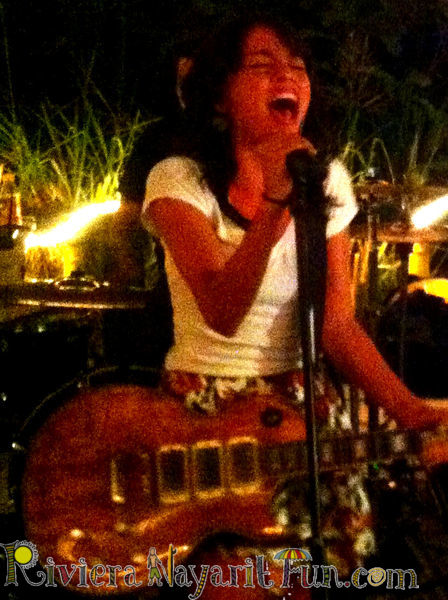 Ana Banana is one of the best venue's around for dancing to some great rock 'n' roll! "The Good Stuff " really takes it up a notch for Meatloaf Mondays..playing the best rock and roll around! Their lead female singer is very good, and fun to watch!  WOW! What a terrific show and amazing guitar music! The best jammin around!! Th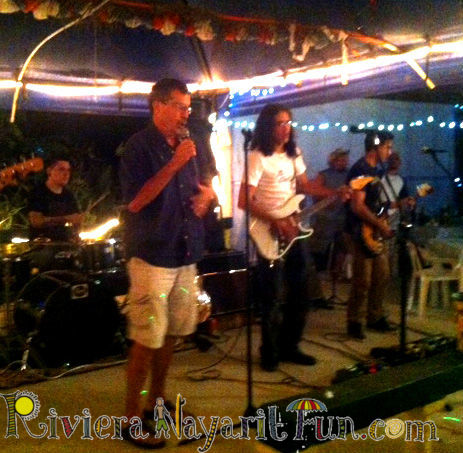 ey ALSO played the best "Free Bird" rendition I have ever heard, and I have heard many versions over the years…..SUPER WOW!
They also host in guest players and singers, like guest singer Chris Bouchard (from Villa Amor del Mar) stepped in and sang "Run Around" by Blues Traveler. Also, guest on vocals and guitar with Rock 'n' Roll Donnie putting out some Chuck Berry jams. Alan, a local musician / singer also stepped in and sang "Sunshine of Your LIfe" …Monday night was super fun! You just never know who is going to show up at Ana Banana Bar and Grill!
They also have Coffeehouse Friday with live music and delicious Fish and Chips and
Sunday is fall off the bone Rib Night with the Rhythm Roosters playing classic rock.
See you at Ana Banana Bar and Grill!
Octopus's Garden
The Octopus's Garden always has something going on, from exercise classes, workshops, yoga, dance classes, dinner and live music, Amigos fundraisers and lots of things for the local children. Serving and selling their own roasted organic coffee beans, and T-shirts with the Huichol Gallery images, the Octopus's Garden is a place to stop by for breakfast, lunch or dinner and all around fun! Be sure to check out the La Cruz Community Calendar!

Wednesday March 19 Salsa Night
Come dance on the sprung dance floor the dance pros love to dance on
Dinner show at 8:00 with the ever popular Hugo and Christina. See their spectacular History of Latin Dance
Live Music at 9:00 pm with
Tino y Su Rumba Caribeña
Cover charge for both show and dancing 50 pesos
Thursday March 20th
Special Digeridoo Concert
Welcomes Spring. Edgar Ventura and his son invite you to participate in a ceremony of love through energy vibrations transmitted by his Digeridoo.
7:00 pm in the Salon
Cost: 150 pesos
Friday March 21
Breakfast Lunch and Dinner available in the courtyard of the Octopus's Garden
Saturday March 22
Tatewari will thrill with their flamenco virtuosity at our regular Saturday Brunch.  Music starts at 10:30. Reservations recommended.
The Guild Plus- 7:30 pm Jerome is joined by internationally acclaimed Aussie Sax player Damian  and a surprise guitarist. Once again we will be graced by the "rat pack" crooner vocals of Rick Cranston. ….Damian is amazing!!
Movie Night Monday ~ March 24
The Dallas Buyers Club winner of three Academy Awards is our film offering for Monday nights.
IMBD describes The Dallas Buyers Club in this way: "In 1985 Dallas, electrician and hustler Ron Woodroof works around the system to help AIDS patients get the medication they need after he is himself diagnosed with the disease. 7:30 pm Tips gratefully accepted, gracias.
Black Forest Restaurant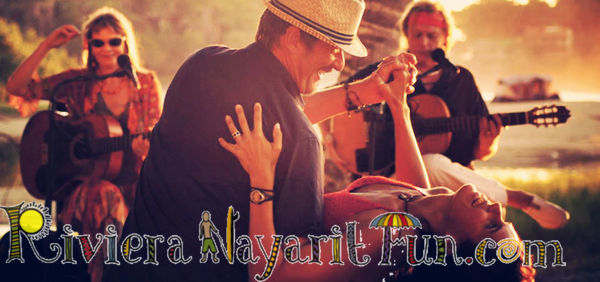 Last weekly Concert – Latcho & Andrea March 21st,  and German Beer Fest March 25th!
On Friday March 21st you can enjoy their untamed gypsy flamenco music here at the Black Forest Restaurant and experience the Gypsy way of celebrating. Their lively and then sometimes melancholic tunes reminds us of Flamenco in the Gypsy Caves of Sacromonte (in Granada, Spain), of campfire romantic where songs and dances replaces the storytellers. 7:30 pm – 10:00 pm
Reservations.are recommended. Please call 01 (329) 295 5203
German BeerFest – March 25th

Join us on Tuesday, February 25th for an evening of classic German delicacies and our proverbial German "Gemütlichkeit". Your hosts Andrea and Yvonne will serve you in traditional German Dirndls and the beer mugs will be overflowing with ice cold German beer!!
Dinner selections consist of hearty German favorites such as bratwurst, red cabbage, sauerkraut, pork schnitzel, dumplings and spätzle, just to name a few.
Please reserve your table by calling 01 (329) 295 5203
La Cruz Energy Medicine / Energy Works! Vibrational Healing / New Energy Consciousness

Catherine is a vibrational Energy Medicine Master Healer, certified in many healing modalities, such as a Dual Reiki Master and Instructor, Hypnotherapy, Healing Touch International, Access Consciousness Bars work, and much more. Specializing in trauma release and clearing and integrating energetic patterns of mental and emotional triggers, chronic illness and disease allowing one to create more joy, ease and grace in life.
Are you ready to let go?
Click here to see some of her clients testimonials
For more information, or to make an appointment, please click here.
Namaste
Thanks so much for stopping by to check out the La Cruz community weekly news. Our sponsors send in the information weekly  so you can find out what's going on!  Click on the links as well as the photos, as they are linked to their photo gallery, and there are always new pics going in. Remember to check out the La Cruz Community Calendar, as many events are coming up, and under way. If you would like to contact me for a new listing, other La Cruz community news or comments please write to me at Cat@RivieraNayaritFun.com
Come and visit La Cruz de Huanacaxtle Mexico for a wonderful La Cruz vacation. You'll be happy you did!
Have a super sunny day, and many blessings of loving kindness,
Cat Morgan