La Cruz Community Summer Fun
Everyone from the staff of the RivieraNayaritFun Regional Network, and the allLaCruz.com pueblo website welcome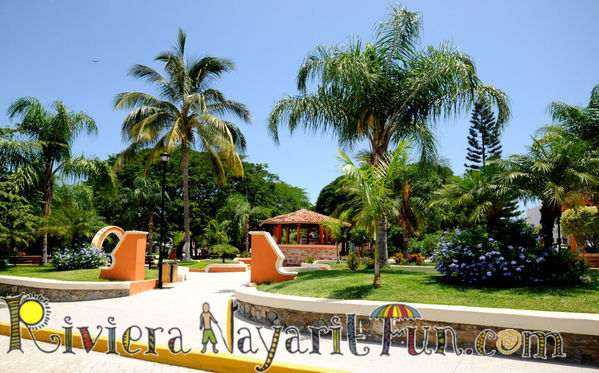 you to our newest town site and the La Cruz Community.  Our posts will help to keep you informed of the specials, classes, live music and events happening in the La Cruz community.
The pueblo of La Cruz de Huanacaxtle is a small, authentic Mexican pueblo; a very special town with so much to offer visitors and locals alike.  All of the towns along the Riviera Nayarit have their own flavor and energy, so to speak, and the La Cruz community has an easy, relaxed and authentic Mexican pueblo feel.
The La Cruz Marina also adds "flavor" with the La Cruz Fish Market, and the La Cruz Marina, which  brings in the energies of fun sailing folks that cruise into a La Cruz Marina slip for the winter season.  The La Cruz community is also a family style town, with most La Cruz community businesses being family owned and operated.
Many of the restaurants and businesses are off of the main street, so you may not have heard of some of them!  Check out our La Cruz Calendar of events to see whats going on. Summer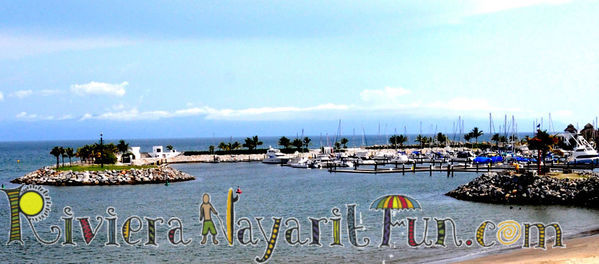 time on the Riviera Nayarit and in the La Cruz community is a slower time of the year, and many businesses take their vacations during this time. As we continue to roll into the high season, the La Cruz calendar will come to life!
This La Cruz Mexico site, allLaCruz.com, is here to help you locate and contact the businesses of La Cruz de Huanacaxtle Mexico, and allows you and easy way to discover the magic of the La Cruz community on the Riviera Nayarit in Mexico!
On A Personal Note

I would like to personally welcome our sponsors and all of our viewers to the
allLaCruz pueblo site.
We enjoy making it easy for folks to find what your looking for. We LOVE to link!! Click on the links that lead to more information on classes and events, and photos that have our logo for more fun pics, as they guide you to the Riviera Nayarit photo galleries.
I am always available to contact for more information or questions at Cat@RivieraNayaritFun.com
Many Blessings, and have a terrific summer on the Riviera Nayarit. I know I am!
Cat Morgan / RivieraNayaritFun Regional Network.
Villa Amor del Mar Hotel
Folks
desiring privacy, tranquility and oceanfront calm will love Villa Amor del Mar Hotel for a very special vacation. Relax by the pool, stroll along the beach or discover our quaint Mexican fishing village of La Cruz.
With a focus on R, R and more R, hosts Chris and Cindy provide the venue for Rest, Relaxation and Rejuvenation for all who visit their little "peace" of paradise.
Whether you desire pool time all the time or long walks on the beach, sailing or sightseeing consider us your concierge to create the vacation of your dreams.
Black Forest Restaurant
It;s vacation time for the Black Forest Family!
Thank you for another great season here at the Black Forest Restaurant. Thanks also for your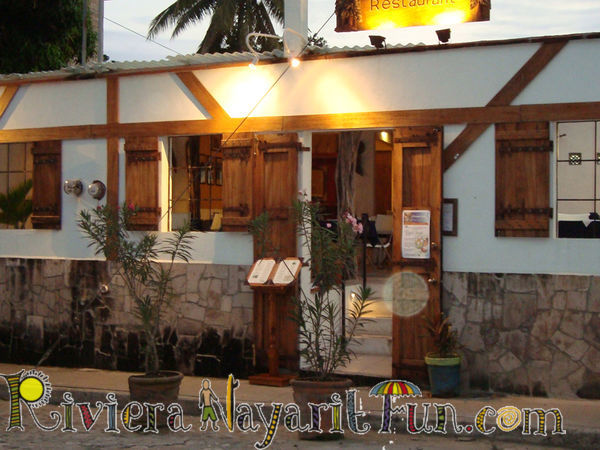 continuous support and your friendship. We are preparing for our vacation, and want to offer you a special before we go!
Summer Special Schnitzel Madness
at the Black Forest Restaurant
Nothing beats a good Schnitzel! So enjoy our Schnitzel 2×1 offer for the last time before we go on vacation/
This Sunday, Au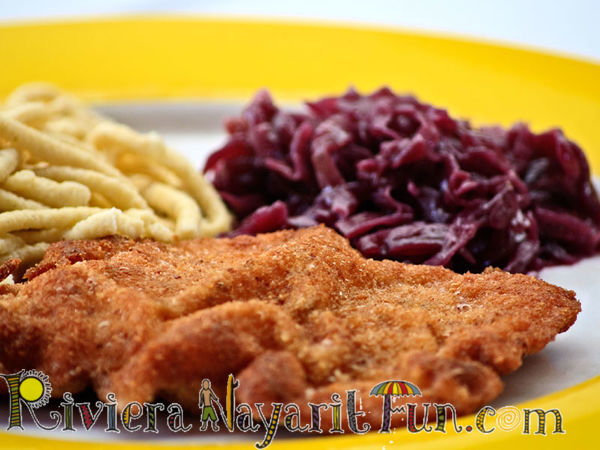 gust 25th try our Schnitzel Baden-Baden! Our famous Schnitzel! Pounded and breaded pork loin
Pan fried and served with homemade gravy, accompanied by Spätzle and red cabbage, 155 pesos.

Buy one and get one free!
We will be on a well earned vacation from Sunday, September 1st til Saturday, September 28th. We return on Sunday, September 29th with new energy and new dishes. Wishing you a beautiful summer.
See you soon!
Your Black Forest Family
Royal Club Real Estate
La Cruz de Huanacaxtle Real Estate
Commercial Space
This La Cruz de Huanacaxtle Real Estate commercial space  is an entrepreneur's dream come true. Situated on
the first "round about" on Calle Langosta, this piece of La Cruz real estate is already well established for restaurants and shops and receives exposure to all the traffic heading towards the marina.
Built to the highest standards this restaurant comes with vaulted ceilings featuring an old world "abovedado" hand made brick cupula. This property also comes with zoning for up to 4 condos on the roof and includes a set of architectural plans.
Click Here to Contact us and find out more details.
La Cruz Huichol Gallery at the Octopus's Garden Restaurant
Hello Folks!
It´s been pretty hot in la Cruz so we´re opening the upstairs Palapa Bar at the Octopus's Garden Restaurant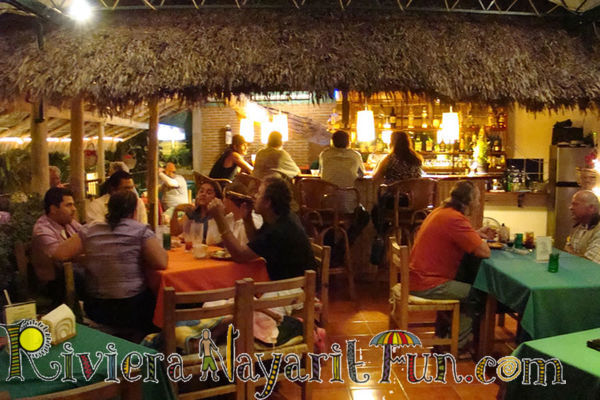 in the evenings from 7 -11 pm. on Thursday, Friday and Saturday till the end of August. Come on over and enjoy the cool breeze and very cold beers! On Sat. 24th music and on Sat. 31st of September.
La Cruz Community Salsa Dancing Classes and Yoga Classes
We will have Salsa Intermediate Classes with Hugo López continue on Thursday and Saturday from 7 – 8 pm to
the end of August.
Yoga Classes are from 9-10 am.  Tuesday, Thursday and Saturday, and these will continue through September.
The Hikuri T-shirt business is open on weekdays till 4 pm. and Saturdays till 12 midday. View the La Cruz Calendar for more details.  Our freshly roasted Organic Nayarit Coffee is always available.   The La Cruz Huichol Gallery is open. Come and view the amazing Huichol art.
If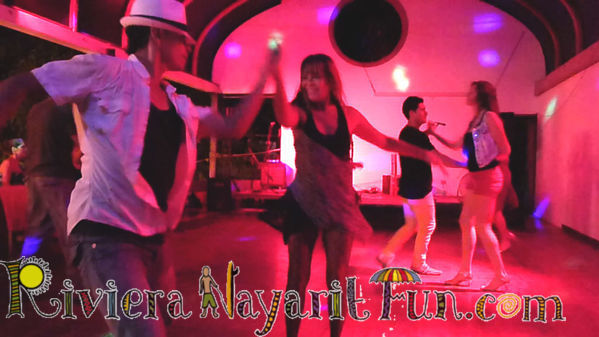 you have a special event, a birthday party or conference or meeting, and would like to book the hall or bar space through the month of September, please do contact us.
The Bar will be opening again in October with a new schedule of live music and events and breakfasts will be served starting in November.The Salsa DJ German will be here with his selection of dance st we´re having an end of season party before closing for a month´s break in September.
Oso"s Oyster Bar
Oso;'s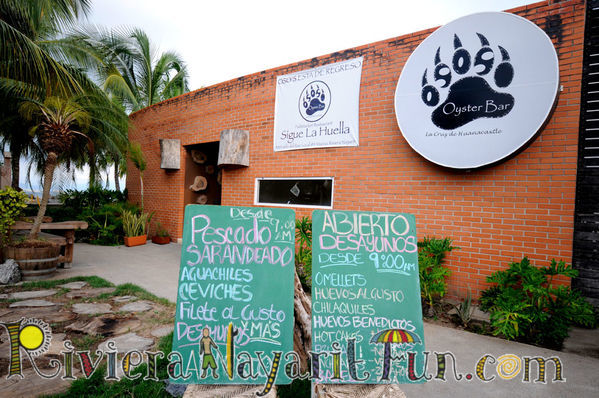 Oyster Bar, located on the La Cruz Marina is open all year long, serving breakfast, lunch, and dinner. Its a beautiful view while dining.
Open from 9am to 10pm daily, enjoy the fresh catch of the day, and oysters prepared regular, or with a spicy Mexican twist. Oso's Oyster Bar has breakfast and dinner specials every day!
Live music every Wednesday with the Deep River Band breaks up the summer week for some fun out and about in the La Cruz community.  A fun dance band, playing all of the favorite rock songs, starting at 7:30pm.
Amigos de La Cruz

Wait till you see what the Amigos has up its sleeve for this year's Welcome Back Party. Whoo whee – are we going to have fun! For now we're going to tease you with a "save the date" but more details will follow as they are confirmed. November 22 folks – keep your calendar open!
At the recent business meeting we made the decision to cancel the September dinner. Why? Because no one is here! Karen is gone, Philo is gone, I leave next week, Chris and Cindy are gone, Oscar is going, Duncan is gone…. But we'll be back in October with exciting new plans.
Please stay tuned for our allLaCruz sponsor page coming soon!