La Cruz Community  New La Cruz de Huanacaxtle Queen
Hola La Cruz Community and Banderas Bay people! As Semana Santa ended, La Cruz Days began. Whew! This coming weekend is also the Bucerias Classic!! (see details below)  I love to watch all of the kite and wind surfers!
Its getting Summer HOT..and the breezes are blowin….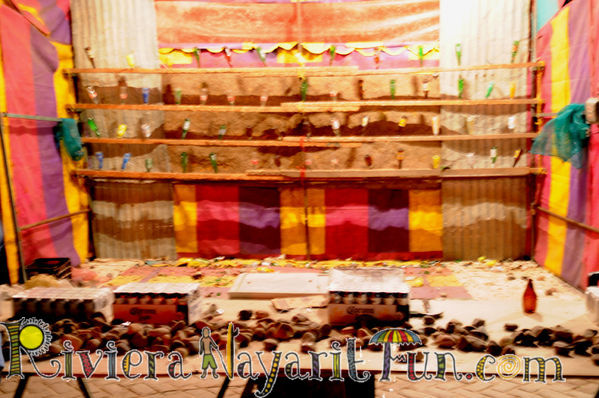 La Cruz Days started on April 25th, with the town parade, and will end with the town's big fiesta on May 3rd.  What a party! May 3rd is also the "Day of the Holy Cross", by name "Santa Cruz" who is the patron of the construction workers. La Cruz Days is a 9 day annual La Cruz community event, as are most of the town fairs. I must say out of all of the games, my favorite booth is the throwing roc
ks at beer bottles to win beers! jajajaja..only in Mexico! and I love it!
Saturday's La Cruz Community grand event was the Miss La Cruz de Huanacaxtle, with 5 leading contestants showing their talents and poise for the 2014 crown. It was quite the show, with three of the previous Queens from the early years also present, as well as last
years 2013 Queen Edna. The girls had several costume changes with my favorite being their cultural tribal costumes. Amazing!
The contest lasted until 12:30 pm, as the judges could not decide on the winner!
They were all very beautiful and graceful, however, Vanessa was the final choice for La Cruz de Huanacaxlte 2014 Queen, (In purple) and also chosen for best cultural costume; an elegant and beautiful young woman.  (Click on the photos)
Here is the placing:
Vanessa Queen and best cultural costume.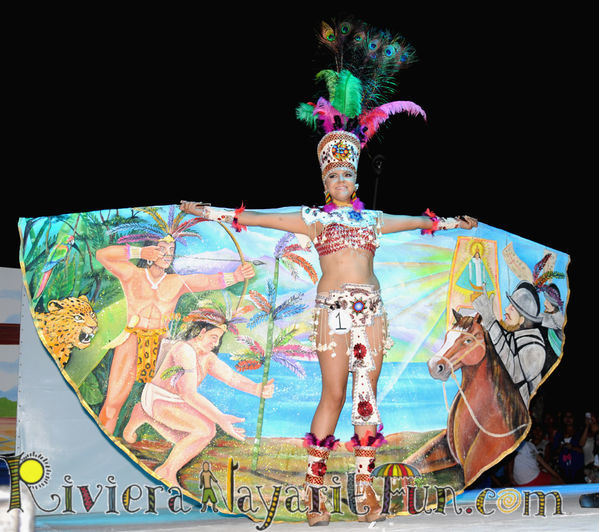 (in purple)
Leticia was runner up for Princess (in green)
Alondra won for most photogenic
Cassandra won for most amiable
Brisa placed 5th (in black)
Edna was the beautiful Queen from last year, 2013.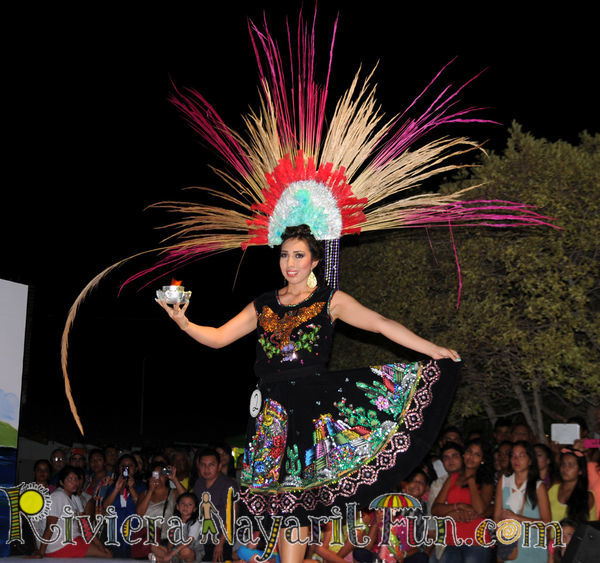 All of these young women were quite beautiful, poised with beautiful costumes, dresses and grace.
Click on the photos to view all of the fun pics! (go to the end of the gallery and view pages)
Congratulations Queen Vanessa! (Right)
Summer Season Fun
Although the high season is coming to a close,  there are some restaurants staying open all year around for us crazy La Cruz locals, like the Octopus's Garden, Black Forest and Ana Banana. Other restaurants are staying open throughout May, such as Masala Bar and Grill.
Bucerias Classic Triple Header Champion Racing is also coming up on May 3rd and 4th! (photo courtesy of Villa Amor del Mar..gracias!)
It will be a fun filled
weekend for SUP's, Windsurfers and Kiteboarding..let the races begin!!
There will be Giant Slalom, Course Racing and Big Air for each category.
This season is opening the race course to all disciplines:
Raceboard, Foil, and TwinTip with 3 entries classes will be judged and also ranked.


Saturday May 3rd
9am – 10am – SUP, KiTE & WiND registration
10:30 am – SUP FUN RACE – age groups under 17, 18 – 35, 36 – 50, 50+
11 am – SUP ELITE RACE – age groups under 17, 18 – 35, 36 – 50, 50+
12:00 – PRE RACE MEETING CASA BLANCA – KITE & WIND
13:30 – KiTE and WiNDSURF racing (FOIL, RACE BOARD, TWINTIP, age groups under 17, 18 – 35, 36 – 50, 50+)
16:30 – GIANT SLALOM DOWNWINDER from La Cruz Marina- ALL FORMATS – SUP, WIND, KITE
Sunday May 4th
10am – SUP 10km Distance Race
11:30 am – SUP RELAY RACE
2:00 – PRE RACE MEETING CASA BLANCA – KITE & WIND
13:30 – KITE & WIND RACES
16:30 – GIANT SLALOM DOWNWINDER (wind check SAT) / BEST TRICK (twin-tip SUP wave)
19:30 – Awards Dinner and closing party at EVA MANDARINA beach club in La Cruz de Huanacaxtle.
There are great prizes and raffles this year so  come on down and join the fun!

Mothers Day is approaching!
Treat your mom to something special… or if you are a mom…treat yourself!! Check out te Mother's Day specials
at Villa Amor del Mar or the Octopus's Garden!
(please see detailed information below)
The La Cruz Sunday Market will be having its last market of the season this Sunday, May 11th. Come on over and support our local Banderas Bay vendors for one final Sunday! Everyone from the The La Cruz Sunday Market thanks you for a terrific season!
Amigos de La Cruz Monthly Happy Hour

La Cruz Restaurants Summer Season / La Cruz Entertainment

Octopus's Garden,..Open all Summer!

Ana Banana Bar and Grill

Ana Banana is open all year around. Right now, every Friday you can find John Driver singing and playing amazing riffs on his guitar, all starting at 7:00 pm. Ana Banana will be serving their regular menu, along with a full bar for your liquid refreshment needs. Casual, fun and a great place to be hanging out for the summer with their covered patio in the shade, and out of the rain! They will also be having open mike nights..so stay tuned.
Stop on by and say a "hello" to Ana and the gang! A La Cruz community favorite!
Masala Bar and Grill

Masala will be remaining open throughout the Month of May.
(We are also closed this Wednesday, April 30th)
We are also running a special for the entire month of May this season with the "Three Course Meal" for only 200 pesos, as well as shrimp tacos for 35 pesos each and 25 pesos each for fish tacos. Beers are 20 pesos and 50 pesos for delicious
homemade margaritas. Come and celebrate a wonderful season with us!

Black Forest Restaurant

The Black Forest Restaurant is starting the hot season with a new menu this coming Sunday, May 4th. This summer menu consists of some lighter meals and the German Bratwurst as a new regular addition. Additionally we start with our summer opening hours from Sunday to Friday
6 pm to 10 pm.
We are closed, as always, on Saturdays.
Mama Chula
The Black Forest Restaurant is jumping right into the season on Friday, May 9th with the participation of the Event "Mama Chula" an homage to all the mothers which is taking place in Nuevo Vallarta at the Malecon.
Come join us on Sunday, May 11th for an evening of classic German delicacies and our proverbial German "Gemütlichkeit". Your hosts Andrea and Yvonne will serve you in traditional German Dirndls and our Chef Winfried is preparing some typical German Specialties like a Bratwurst with Sauerkraut, Sauerbraten or a Farmers Platter among others. As always we'll serve our ice cold German Hofbrauhaus Weizenbier.
Please reserve your table, Telephone 01 329 295 5203 or reservations@blackforestpv.com
The Black Forest Restaurant will be open during the summer. We will close for a short vacation September, exact dates will be published in time. Hope to see you soon!
La Cruz Beachfront Rentals
Villa Amor del Mar / A La Cruz Beachfront Boutique Inn

Breezes are blowing and the weather is fantastic at Villa Amor del Mar. As it heats up we're blessed to be on the water where the ocean winds keep us cool. May and
June are the perfect months to visit our La Cruz Boutique Hotel. Rates are lower, the town quieter and poolside and beachfront is the place to be.
May = Mother's day. Pamper your Mama or the Mama to your babies at Villa Amor Del Mar. Book 3 nights and she'll receive a poolside pedicure as she sips sangria or a margarita. Book 7 nights and she receives a poolside pedicure AND manicure with her cocktail of choice.
La Cruz Real Estate
Its a buyers market right now for Riviera Nayarit Real Estate! Check out these trusted La Cruz community brokers who have La Cruz real estate, as well as other Banderas Bay properties in Mexico.
Royal Club Real Estate
Arron Fisher / Broker
Commercial Space with Condo Potential

This La Cruz de Huanacaxtle Real Estate commercial space is an entrepreneur's dream come true. Situated on the first "round about"
on Calle Langosta, this piece of Real Estate is already well established for restaurants and shops and receives exposure to all the traffic heading towards the marina. Built to the highest standards this restaurant comes with vaulted ceilings featuring an old world "abovedado" hand made brick cupula. This property also comes with zoning for up to 4 condos on the roof and includes a set of architectural plans.
Contact us to find out more details.
Pacific Boutique Properties
Victoria Pratt / Broker

"I warmly invite you to contact me for your real estate needs as you plan and
carryout your investment in bricks and mortar and coastal living in on the Bay of
Banderas.
Here, on the Pacific coast of Mexico, I will work to find you the most suited
property for your budget and your lifestyle and ensure that you are
represented with integrity from the dream to the deed."
Casa La Kasbah $399,000 USD
La Cruz de Huanacaxtle

Casa La Kasbah, beautiful Moroccan house in La Cruz de Huanacaxtle should be considered for it's develop-able lot of 696 m2 with CUC zoning. It is just a few blocks to either of
the two marina accesses and within easy walking distance to the town plaza. This single-level home was built with Moorish style detailing notable in the distinct exotic shapes of window and door frames. The living area has the feel of a Moroccan lounge and exudes comfort and coolness. A large patio and adjoining courtyard with a Cantera fountain form the fringe between the home and the gardens and a large and inviting pool.
Please Click Here for more information, thank you. 
Thank you for checking out the La Cruz Community News. We will be slowing down the posts to two times a month during the summer season. Check out our Facebook Page and give us a LIKE to stay on top of the weekly events and Mexico news. 
It already feels like summer is here with temps in the 90′s..nice breezes and it actually sprinkled at my casa the other day! This time of the year is really a perfect time to visit, as the crowds are gone and you practically have the playa to yourself! Keep an eye on the La Cruz Commuity Calendar for fun events.
See ya on the playa!
Many Blessings of Loving Kindness
Cat Morgan