Cruzin' at the La Cruz Tianguis on the Riviera Nayarit
La Cruz de Huanacaxtle is located on the Banderas Bay between Bucerias and Punta de Mita.
Every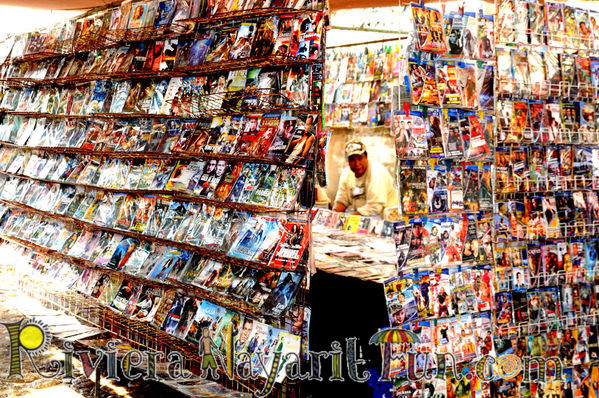 Wednesday there is the La Cruz Tianguis which hosts many different items from local vendors. Many of these vendors travel to sell their wares at other local Tianguis, like the Bucerias Mercado.
This guy is literally surrounded by movies!
Click on the links for more information., and the photos to see the La Cruz Tianguis photo gallery.
I was not aware that La Cruz had a tianguis until recently! I continue to discover many fun facts about this charming Mexico pueblo

Wednesday's La Cruz Tianguis All Year Around
Visiting the tianguis during the off season was quiet surprising, as there were more vendors than I had anticipated. How do you get there?
La Cruz is nestled down off of the Punta de Mita Highway, which is located off of the 200 road.
To find the La Cruz Tianguis, take the exit off of the 200 road towards Punta de Mita and the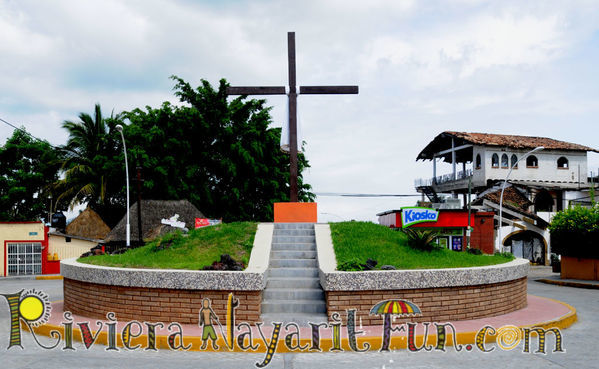 La Cruz Marina. There is only one light in the town of La Cruz.
Take a left at the light, and go around the Glorieta. (round-a-bout.) and continue down the street.  The next street down is where you will find the La Cruz Tianguis, with booths lined on both sides going down the street, which has been blocked off to traffic.
The name of the street is called, Sierra.  All of the La Cruz town street names are named after fish!"Huachinango calle" is another street in La Cruz.  Huachinango is the Spanish name for Red Snapper, as you have probably seen this on many a menu. Deep fried Red Snapper, with garlic or other spices, and is one of my favorite dishes here
Walking into the La Cruz Tianguis I experienced the vendors to be very friendly. There were not very many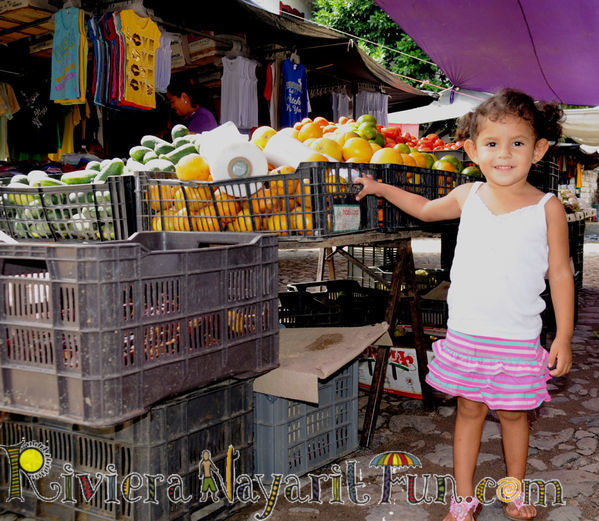 English speaking vendors, which gave me a good opportunity to practice my Spanish. Meeting and talking to the locals really made my day! It's super fun for me to take their photos and put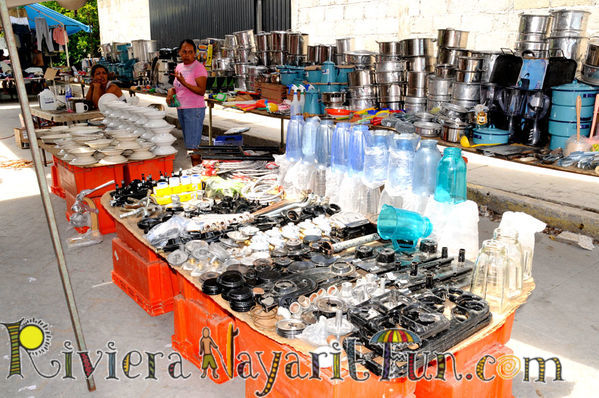 them online, so they can have see themselves online! I also took several shots of the cutest kids! Dang, those kids are cuties!
There were the usual tianguis items of clothes, shoes and belts, pots and pans, movies, perfume and hair goodies, natural remedies, and fresh fruit and veggies. Also, a very large selection of stove replacement items that I have not noticed before elsewhere.

Shopping Fun
I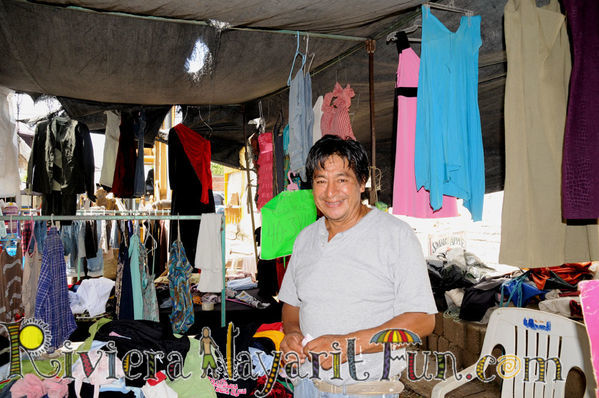 looked through some clothes and purchased a few cute shirts for only 10 pesos apiece. Wandering down the food market section I purchased a ripe pineapple for 12 pesos.
La Cruz Cariceria Kenny Butcher Shop
There is a carniceria called Kenny Butcher Shop on Huachinango calle. They are open from 7am to 4pm daily.
I cruised on in and met the owner Marta. She spoke some English, and she was very informed about her meats! She of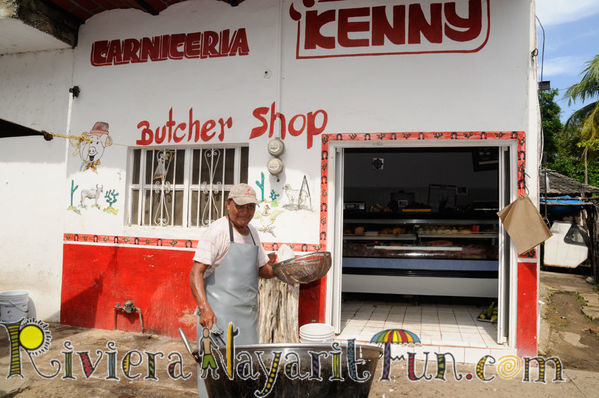 fers beef, lamb, chicken, and pork in every cut you can think of.  She offered me a Filet Mignon (to try for free) which I thought was very nice of her, which was also quite unexpected! Just look at the love in her eyes! What a beautiful woman!
I cooked the Filet Mignon for lunch today, medium rare; cooked to perfection.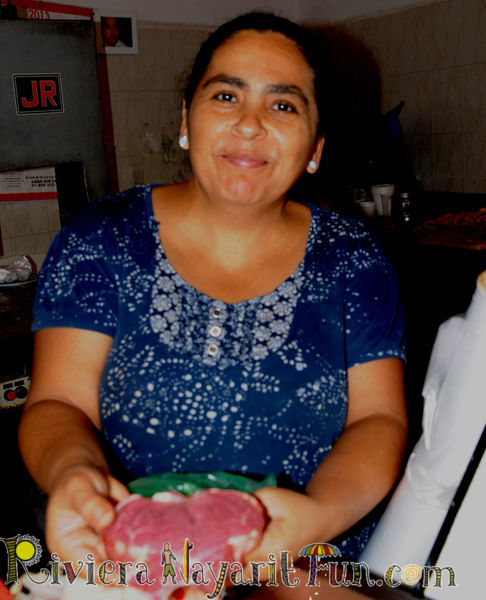 Okay…the truth? I could cut my steak with my fork! This cut of Filet Mignon was tender and delicious!  I am going back for more.
Marta also makes fresh daily fried pork skins. Now, I remember these as a kid and I loved them. As an adult, I myself do not eat a lot of fried foods anymore, but I had a little nibble..and oh they were so crunchy good! Thanks Marta and Kenny Butcher Shop! Absolutely Delicious!

Fresh Green Coconut Juice Anyone?
As I was ending my experience at the La Cruz Tianguis,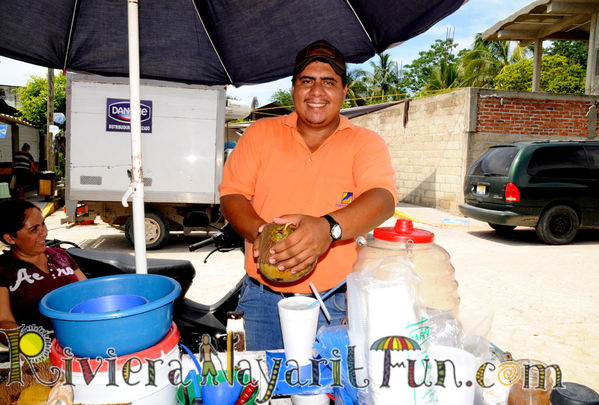 I knew that I needed to go back to the fresh coconut guy, who was in the front.  As I walked up, he was smiling, as practically everyone was here today.
His name is Edwardo. He harvests his coconuts off of his land. He ha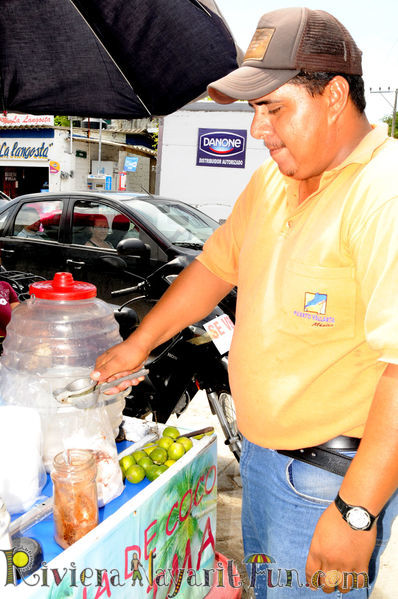 d a large container of fresh green coconut juice, no sugar added. Nice!
When I ordered a cup, he cut three fresh green coconuts and put them in a large to go cup with coconut pieces in the bottom…all for 20 pesos! I try to drink a green coconut a week to keep my digestive track clear and healthy. Thank Edwardo! I wlll see you next Wednesday!
It was a fun day meeting folks and La Crusin around the La Cruz Tianguis.
They open early in the mornings, and close about 2pm every Wednesday all year long. Check out more fun photos in the RivieraNayaritFun.com photo gallery at
http://www.rivieranayaritfun.com/galleries/thumbnails.php?album=161.
You will also find a list of almost all of the tianguis / markets on the Riviera Nayarit, with fun photos, in the Riviera Nayarit Photo gallery.