La Cruz Mexico…the best of La Cruz Entertainment!
Although the season is just getting under way, La Cruz entertainment and the La Cruz restaurant specials are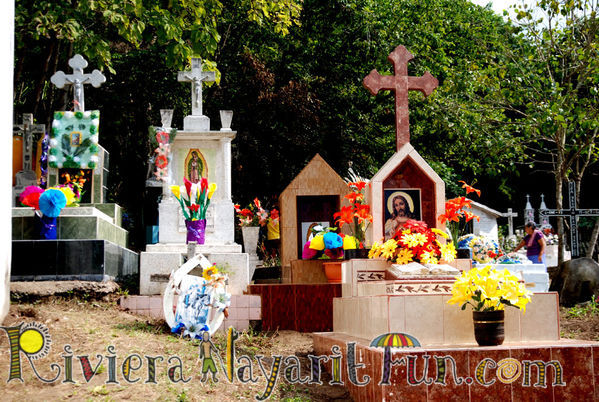 kicking the new season into gear! Thanks for tuning into our post! There is always something new going on! As the season unfolds we will do our best to keep you updated here on the site, as well as our Facebook page RivieraNayaritFun . Why not click on the link and give us a like?  We post Mexico news as well as local non profit news and specials, and Banderas Bay events coming our way.
This year is looking like its gong to be a busy one, filled with fun, great food and good friends. Its still pretty hot here right now at the end of October. The rains have stopped:it has seemed for now, but we may get another storm or two. People that are arriving now are acclimating to the heat. Be sure to drink plenty of water!
Catrina arrives by Panga at La Cruz Marina 
Day of the Dead, or Dia de los Muertos  is the next national holiday coming our way on November 1st and 2nd. Altars are created and folks decorate the graves of their loved ones at the cemeteries, preparing for the visit all day and into the evening. Many dress up as Catrinas and death faces, some very elaborate!.
This Saturday, November 1st there is a special show at the La Cruz Marina where the Sunday La Cruz Mercado is being held. At 7 pm, La Catrina will arrive on a panga to the La Cruz Marina, and with children following her she will visit all of the decorated altars for Dia de los Muertos. There will be plenty of food and drinks.
The following Sunday, November 2nd addresses the adults for the two day celebration and there will be another Dia de los Muertos show for the  first La Cruz Mercado of the season. La Catrina will once again arrive on a panga at 12:00 noon. Its fun for the entire family.
With Halloween on he 31st, most nationals do not recognize this holiday, and the children do not go door to door, ans shout Happy Halloween! but do gather in groups and visit businesses. If you would like to give the kids some candy stop inat  Philo's on Friday with a bag of goodies for the 200 kids or so that come through. Dress up if you like! Geo Uhrich (from Luna Rumba) is back in town and will be jamming with the band that evening. SWEET! Great La Cruz entertainment! Luna Rumba has some special surprises for us this season!
Pub Britannia has the OPEN MIC NIGHT every Tuesday starting at
6: 30 pm. Come Jam or sing, or both! with "The Turn" or just enjoy the music and good food!
Dinner Specials are Creamy Chicken Curry & Rice 90 pesos and Cheese Burger & Chips 65 pesos. Margarita's 40 pesos. Wednesdays is BINGO that starts at 3pm to 5pm, with portions of the monies going to charity. When is the last time you played bingo? Come on over and enjoy some cocktails and play some Bingo!

The Octopus's Garden has their new Roof is finished! As the cool weather approaches dance and exercise classes are starting up again, and we are roasting organic Nayarit coffee again – French (dark) or Full City (medium) roast, ground to your taste! Stay tuned for the class schedules!
The Black Forest Restaurant has the final days of  the October special with 15 % discount on all food and beverages This promotion does end this Friday, 31st of
October so come on in! Starting Sunday, November 2nd all pre-dinner drinks and national beers 2 x 1 at the newly built bar.
Join us on Tuesday, November 11th for an evening of classic German delicacies and our proverbial German "Gemütlichkeit".Your hosts Andrea and Yvonne will serve you in traditional German Dirndls and the beer mugs will be overflowing with ice cold German beer.
Dinner selections consist of hearty German favorites such as bratwurst, red cabbage, sauerkraut, pork schnitzel, dumplings and spätzle just to name a few.
We also serve barbecued pork knuckles (as long as supply is enough or pre-ordered.
Call (329) 295 5203 for your pork knuckles or reservations.
Masala Bar and Grill certainly has some tasty new items on the menu this season. The Sesame crusted yellow fin tuna appetizer is amazing along with Bay Lobster and a few other dishes he has been preparing for the tastings.  Every Thursday evening is the 3 course special for 250, and it is different every week! Tatewari will be playing at Masala's again this season starting in mid November.
Ana Banana Bar and Grill is kicking up their party heels with Wednesdays
live music jam "R&R Hardly Strictly Blues" serving, up Burgers, Brats, Beans and BEER…lots of BEER!
Friday's are with Rock and Roll Donny and 5 Months Blind band playing the fun old style rock and roll! Great La Cruz entertainment and dancing music!  All the action starts at 7om! Monday's will be Classic Rock Night starting later in November this season. Stop on in and say hello to Ana and Barry. They would love to see you!
La Cruz entertainment at favorite La Cruz restaurants just gets better and better every year. Great food; amazing live music. There are so many amazing musicians that come to stay and play in La Cruz de Huanacaxtle and the Banderas Bay area.  Check out each of them. Hop around from one to the other. Find out which will be your favorites for the season! It will be more than one I am sure! Lets Party!
If you are looking for a La Cruz rental, would like to see your business on this page, or have any other La Cruz event information contact me at Cat@RivieraNayaitfun.com Thanks eveyone! Lets go La Cruzin!