La Cruz Restaurants and La Cruz Bars Opening Doors
There are a few La Cruz Restaurants and bars that do stay open all year around, like Ana Banana Bar and Grill.
However, most La Cruz restaurants close down for the summer season as there are not enough visitors to keep them going. Well, its October, and the high season is officially beginning!
La Cruz restaurants are opening their doors and the La Cruz entertainment is revving up for the season! La Cruz de Huanacaxtle is known for their amazing musicians and live entertainment. Keep an eye on the La Cruz Calendar for upcoming events and La Cruz Restaurants Holiday menus and live entertainment.
Amigos de La Cruz is having their monthly meeting this Friday,
October 10th. We are having an Amigos Happy Meal at Charlie's Place.  Dinner is fried chicken at 130 pesos or Caesar salad at 85 pesos.  If you want to attend you need to reply by Wednesday, October 8th so we can notify Charlie's Place of attendees so they can plan for our dinner.  Drinks will be available after 6 PM and dinner around 7 or thereabouts.   All guests will pay Charlie's Place directly. Please email us to reserve your dinner at lacruzamigos@gmail.com . Thank you!
Black Forest Restaurant opened their doors on October the 5th for the 2015 season with a freshly renovated
look for the restaurant. The place was packed, and no wonder due to the delicious food served, the excellent service and their mixed drinks are the amazing! .
Black Forest Restaurant is the creation of Peter and Yvonne Demetz and Peter's sister Andrea Küffner with husband Chef Winfried. Black Forest Restaurant was established 1998 and is a family-friendly La Cruz restaurant offering a full-bar and a traditional European menu with a modern
twist, emphasizing on freshness and quality.
In 2004 the
Restaurant name was changed from Papasito's to Black Forest, to reflect more on the heritage of the owners who have lived in the Black Forest Region in Germany before moving to Mexico. Stop on in and say a hello to Andrea and Chef Winfried this season.
A fun time was had by all at Pub Britannia Tuesday for Open Mike Night, marking the opening of the season
for the La Cruz pub. Every Tuesday they have food and drink specials. Bring your musical talent and come play and sing with the band. Bingo Night starts October 22nd and will be on every Wednesday beginning at 3:00-5:00 throughout the high season. 10% of the pot goes to charity…so its a WIN-WIN!
Game Night is on Mondays, and begins at 8pm. A percentage of the monies helps the charitable organization North Bay Community Charity. Please contact Mandy for more information about Game Night at 329-295-5740. Look for their new page coming soon!
Masala Bar and Grill is scheduled to open their doors for the season October 15th, with some new recipes on
their menu this year. Enjoy the layered flavors of Chef Julio's creations, live music and excellent wines.
Live music every week with dinner specials will be announced.
Click here to see some delicious cuisine.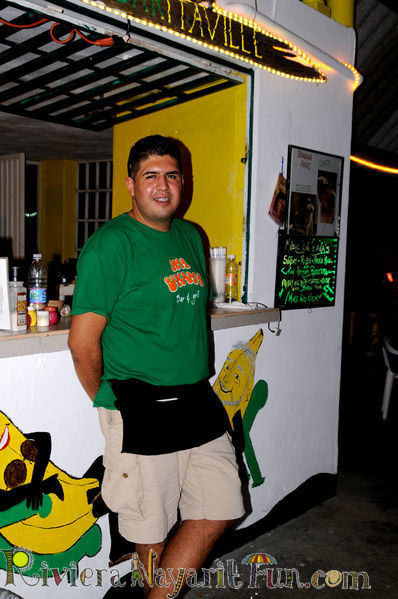 Ana Banana Bar and Grill is currently working out the schedule for the La Cruz Bar and entertainment with rehearsals. Barry and Ana look for the best bands around! We will keep you posted on the scheduling of their events. What a fun place to hang out with friends, dance and enjoy several dinner specials during the week.
Philo's will be open 5 nights a week starting on October 15th for dinner and live music on Thursday, Friday, Saturday and Sunday, with music starting at 8:30 pm. Ribs, pizza and so much more!
There are many La Cruz Restaurants to choose from that will delight your palate as well as great entertainment. Every La Cruz restaurant is a little different.  Make the rounds and experience them all to find which is your favorite place. You will probably have more than one!