Living the La Cruzin Life in the La Cruz Community
Hola La Cruz community and beyond! Lots of crazy fun in La Cruz de Huanacaxtle, Mexico!  Barry's Birthday party was rockin! Happy
Birthday Barry! What a terrific guy! along with a super fun party…. and Ana Banana was packed on Tuesday!  Ference came and played a few tunes to celebrate, along with the country and blues band, "The DogTown Quartet" (who usually plays on Wednesdays for Beer Brats, Burgers and Booze Night! (see info below). Stop by and say a hello to Barry…. I bet he has some stories to tell you, as Ana Banana is where all of the live music began….way back in the day.
La Cruz de Huanacaxtle is a fun little pueblo on the Banderas Bay.
Every pueblo has it's own flavor so to say and La Cruz has a very relaxed vibe.  "La Cruzin" around town is a fun thing to do with many choices of live music and a variety of authentic foods representing many countries at reasonable pricing.

Daylight Savings Time

Our USA and Canada neighbors to the north had Daylight Saving Time on Sunday, March 9, at 2:00 am.
Mexico, except for Sonora and 12 Mexico-USA border municipalities, will begin DST almost a month later on April 6 and ending a week earlier on October 26.
Clocks in areas that follow DST in the USA & Canada (including some areas in Mexico) will be returned to Standard Time on November 2, 2014.
The areas in Mexico that observe USA DST rules are the state of Sonora and the 12 border municipalities of Tijuana, Ensenada, Mexicali, Tecate, Ciudad Juarez, Ojinaga, Ciudad Acuña, Piedras Negras, Anahuac, Nuevo Laredo, Reynosa, and Matamoros. There are also some remote villages that do not change their clocks.
In Mexico, Daylight Saving Time is known as the "horario de verano" (summer schedule). It has been observed since 1996 throughout most of the country. The four weeks in the spring before Daylight Saving Time begins in Mexico, and one week in the fall after Daylight Saving Time ends in Mexico, makes Mexico one hour out of sync with the corresponding US and Canadian time zones. Also remember that when traveling past Lo de Marcos, (pueblo past San Pancho) the time changes to one hour earlier! Keep these time differences in mind when making your Mexico travel plans to visit Puerto Vallarta and farther north on the Riviera Nayarit.

The LA REGATA 2014 beginning this month from  March 16th to 30th this year will compete in the waters of Banderas Bay for position among the best sailors in the world. There will be three venues where the competitions take place Marina Riviera Nayarit in La Cruz de Huanacaxtle , the Oceanic, J24 and Windsurfing classes, in the Vallarta Yacht Club in Nuevo Vallarta, the Laser, Optimist and Club 420 classes, to complete in Bucerias with the Kiteboard Class.
At the Vallarta Marina Yacht Club "Preparation is underway for the WesMex International Small Boat Regatta.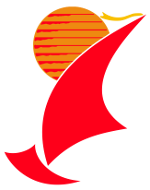 This year's event is happening 27 – 30th March at the Vallarta Yacht Club. It is growing each year – this year we are expecting over 200 Optimist, Laser, and 420 dinghies. We want to make this the best event ever, and to do that, we need your help!"
We are looking for volunteers to:
Man the race course. We will train you! (this is the best seat in the house for watching races)
Serve as Race Committee member – that means 4 days on beautiful Banderas Bay (12:00 pm – 5:00 pm).
Monitor/organize the boat staging area at the parking lot
Organize the support boats at the slips
Coordinate fuel distributed by Opequimar to support boats and coaches, at the foot of the ramp.
The WesMex regatta is always run by volunteers, and we're hoping we can count on you once again to be part of this great event. We appreciate any help you are willing to give.
Please contact: Linda Green chair@wesmexregatta.org 
Luna Rumba Band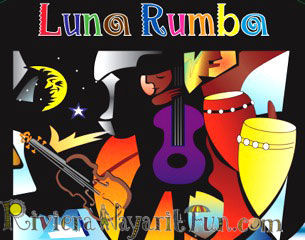 Hey Everybody! Come to the Night of Fire! ………We are doing another road trip to Vallarta March 15…. this time to the El Rio Restaurant by the Rio Cuale. This is going to be a super fun evening, with a road trip, BBQ dinner. Luna Rumba Concert and a acrobatic Fire Show all in a beautiful setting in the mountains by the river Cuale. For information contact Fernanda at fernanda00008@hotmail.com. Tickets are only 300 pesos per person including Rio's famous BBQ dinner, transportation, concert and fire show! The van departure from Los Arroyos Verdes at 6:00pm.We have 5 seats available, (or can have pickup at Oxxo by Bancomer)
Vote for Luna Rumba! 
One of our favorite local La Cruz bands, "Luna Rumba" has been nominated for another award…but this time we get to vote! So get it in now! …VOTE FOR LUNA RUMBA!
From the band:
Luna Rumba is excited and pleased at being nominated for the 13th Annual Independent Music Awards and is calling out to its fans to vote for us in the IMA Vox Pop Jukebox category. Please cast your vote before July 18th! Register and then go to the Latin Album Category and click on all of the stars to vote….and that's it! Gracias!!
Click Here to Register to VOTE FOR LUNA RUMBA!
Thank YOU!
La Cruz Real Estate
Its a buyers market…have you considered purchasing a property this year? Consider lower taxes, no more rentals, with a possible income stream! See these quality brokers and listings below.
Royal Club Real Estate
Aaron Fisher / Broker
Grand Venetian 802
450,000 USD

1905 Sqft
2Bed/2Bath
A lovely two bedroom 2 bathroom oceanfront/beachfront
condo with amazing views of downtown Puerto Vallarta and beautiful western views. Grand kitchen with high end appliances, nicely decorated, neutral tones through out.This also has an impressive balcony with Jacuzzi tub.
Please click here for our easy contact form for more information on this and other properties.
Pacific Boutique Properties
Victoria Pratt / Broker
Casa La Kasbah $399,000 USD
La Cruz de Huanacaxtle
Casa La Kasbah, beautiful Moroccan house in La Cruz de Huanacaxtle should
be considered for it's develop-able lot of 696 m2 with CUC zoning. It is just a few blocks to either of the two marina accesses and within easy walking distance to the town plaza. This single-level home was built with Moorish style detailing notable in the distinct exotic shapes of window and door frames. The living area has the feel of a Moroccan lounge and exudes comfort and coolness. A large patio and adjoining courtyard with a Cantera fountain form the fringe between the home and the gardens and a large and inviting pool.
Nicely designed for easy indoor-outdoor tropical living.
Please click here for our easy contact form for more information on this or other properties.
La Cruz Huichol Art Gallery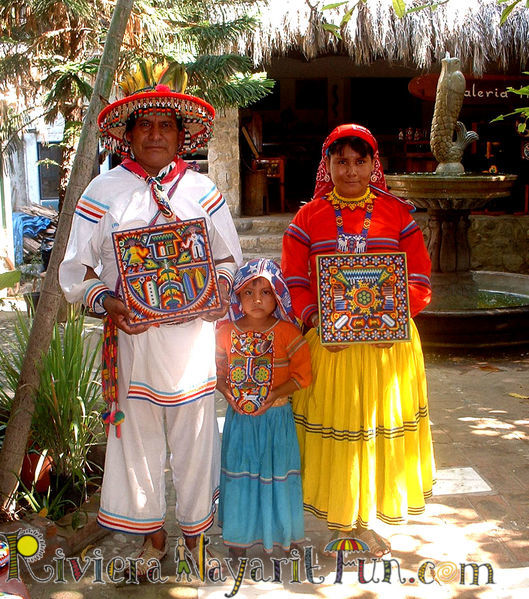 Come and see the unique collection of Huichol Art at the Octopus's Garden.
In the La Cruz Huichol Art Gallery you´ll find examples of many different kinds of artwork that form a part of the daily life of the Huichol people:
The artwork is a way for the Huichol to show the rest of the world their own culture and  o spread their magic vision to others. As we start to read the symbols on the art we come to understand something of their world.
This Week at the Octopus's Garden

Wednesday, March 12 is Salsa Night at The Octopus's Garden. Come dance on the sprung dance floor. Music starts at 9:00 pm with a nominal cover charge of 50 pesos.
Thursday and Friday  March 13-14- Amigos de la Cruz Just Desserts SOLD OUT. Book early next year to avoid disappointment! The play has been absolutely fabulous, and we expect to have many more plays in the future.
Saturday March 15-  Brunch  with  Tatewari
Enjoy our popular brunch
menu while listening to local legends Tatewari in the intimate space of our courtyard.  Music starts at 10:30.
Saturday Evening enjoy "The Guild" performing at 7:30pm and enjoy delicious dinner with homemade chocolate ice cream for dessert!
Monday-March 17- film at 7.30 pm. – Jeremy Scahill´s documentary "Dirty Wars"
For Reservations please call 01 (329) 295-5367


Black Forest Restaurant Celebrates on Sunday

Our specialty for this Sunday, March 16th is the German Beef Rolls. Rindsrouladen is a very popular dish served for a family lunch on Sundays or on a holiday. We like to Serve with red cabbage and mashed potatoes it makes a very savory meal enjoyed by young and old.
In the link above is a recipe for it, but we use a secret ingredient that is not in the recipe. It is also a lot of work, so everybody who would like to enjoy such a special and traditional German dish should visit us on Sunday. 165 Pesos per person
We recommend reservations. Please call us at 01 (329) 295 5203
We look forward to seeing you at the Black Forest Restaurant.
Andrea
Ana Banana Bar & Grill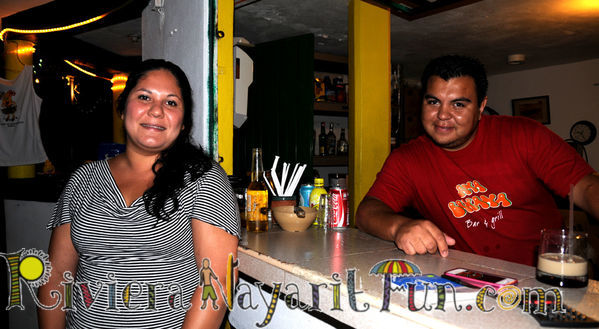 Wednesdays are Beer Brats, Burgers and Booze Night! Come on in and enjoy some country and blues with the DogTown Quartet, along with affordable and tasty food and drinks. It all starts at 6pm!
Coffeehouse Fridays serves up Ben on his Guitar with Dave on lead with that cool Gibson of his. Enjoy perfectly prepared fish and chips that evening. The place gets packed, and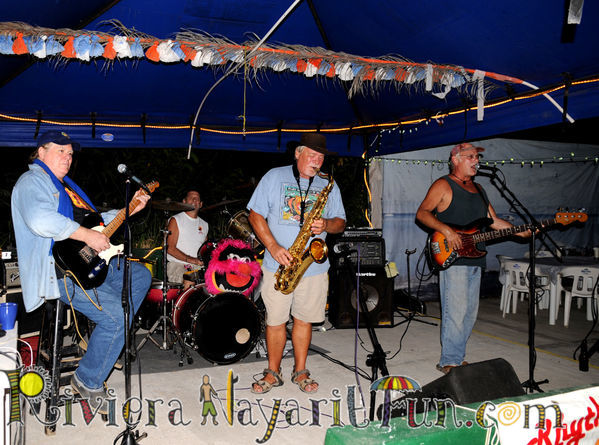 its fun to see your friends and enjoy a cocktail together!
Sunday is Rib Night, with the Rhythm Roosters playing rock and roll. They start out with some blues (left) and move into fun dancing music. The ribs are fall of the bone tender! with Terry manning the BBQ, served with rice and Cole Slaw.
Meatloaf Monday's serve up homemade and very flavorful meatloaf, served up with corn on the cob and mashers…..a huge portion will be sure to fill the largest of appetites!
See you at Ana Banana Bar and Grill!
Masala Bar and Grill

Masala Bar and Grill are now only open for dinner until the end of May. Masala has an amazing Thursday evening special with a three course meal for 250 pesos, with the Flamenco Tatewari Trio band.
Using fresh organic foods chosen for the highest quality each day,, each dish is prepared and created with the utmost care, creating a presentation that stands above the rest…..a locals favorite!
]Oso's Oyster Bar and Fish Market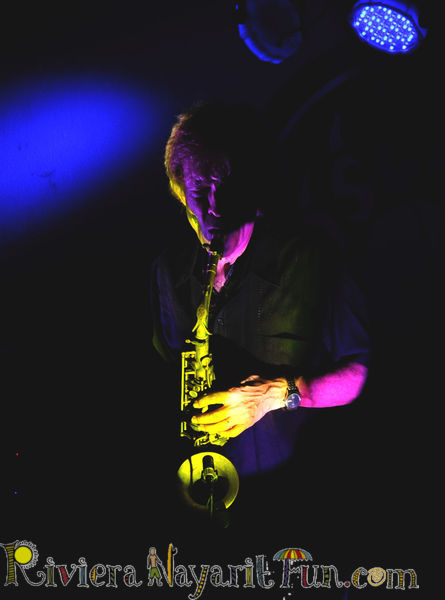 Every Thursday at 7:30 Bryan Savage plays jazz on Sax and Flute.
A professional musician who has opened for Bonnie Raitt, Mick Fleetwood, Santana, Glen Frey, Eddie Money, Journey, Gary Burton, Rick Braun, Chuck Mangione, and also played many others…a show to be remembered! A favorite here in the La Cruz community!
Enjoy the ambiance of the La Cruz Marina while enjoying a delicious dinner and listening to Bryan Savage every Thursday at Oso's Oyster Bar.
You can also catch "The Traveling Band Duo", playing classic rock 'n' roll favorites every Friday, starting at 7:30. Come on in and enjoy our live music, dance a few songs, eat, drink and be merry at Oso's Oyster Bar.
Villa Amor del Mar ~ La Cruz Boutique Hotel Excellence

What a blast of a week… 9 gals and a baby. Dinner on the rooftop this week included a birthday piñata and a fire dance. Serving groups at Villa Amor del Mar, our La Cruz Boutique Inn is becoming a passion. We've had fishing groups, family groups and gatherings of friends who book the Inn for private functions. We're getting lots of interest from business groups for team building and others are booking re
treats, most recently gourmet and yoga retreats are in the works. There is ample room for 16 'heads in beds' or if it is a singles week we can accommodate 9 people each in their own bed. As we assist others to plan such weeks we're delighted knowing that as we serve them they get quality time with others. We take great pride in creating custom packages for guests as per their requests. Always, continental breakfast is provided in private guestrooms with Mexican, freshly roasted coffee, fruit (often from our own trees) and special requests as per each guest.
Click here for a fun video!
When guests book for 7 nights or more they also receive one brunch by the pool and one dinner on the rooftop.
Please click here for our contact information and links to our website and facebook page!
Villa Amor del Mar…for a "very special vacation."  Let us share all that is La Cruz with you.
Another super busy week for the La Cruz Community! Thanks for tuning in..and remember to check out the La Cruz community calendar for events, live music and food specials at the La Cruz restaurants. Get out and have some fun!
Have a happy week and see you around La Cruz!
In Loving Kindness,
Cat Morgan