La Cruz Community Weekly Fun
Welcome La Cruz Community and Banderas Bay people! My lovely friend Fernanda took this amazing photo of the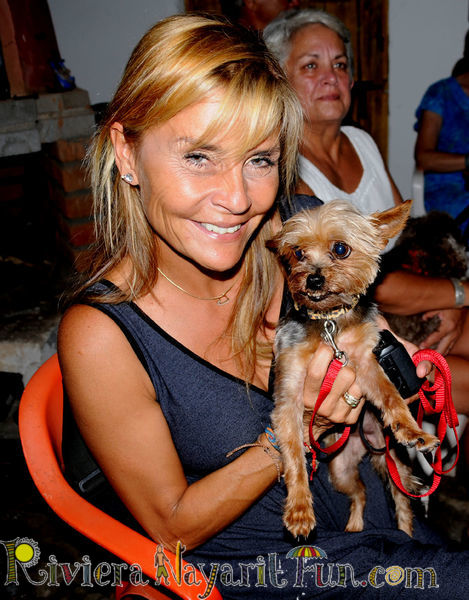 sunset overlooking the anchored boats out in the bay on Jan. 17th…thanks Fernanda for sharing! Super nice shot!! Here she is smiling with Mia…who is also smiling!
Life is always exciting here on the Riviera Nayarit and in the pueblo of La Cruz de Huanacaxtle Mexico. Some of our sponsors send us their information every week so you can see what they offer. Specials and information from La Cruz restaurants, La Cruz real estate and the La Cruz live music scene and more! Click on their links for more information, and you may also Click on the Photos with the Riviera Nayarit Fun logo on the bottom, as they are linked to their photo galleries!
The "Blessing of the Boats" happens every year on January 24th. It is quite the celebration with hundreds of
folks in attendance. This event will take place 2 doors north of Breakers Beach Bar, on Pacifico Ave. This Friday morning people will start gathering about 10am, as the local riders on horseback dressed in their traditional costumes come riding down the playa from the La Cruz community. The women riders have amazing traditional dresses spread out over the horses' backs. The La Cruz fishermen will also be going over to Bucerias [playa about 12;00 noon for the Bucerias and La Cruz community for this "Blessing of the Boats".  Watch as the decorated pangas run their boats up onto the playa! It is quite a sight! Everyone then heads over to the church for the blessing at about  Local dancers dressed in Mayan costumes will also be there to perform.
Teaching English There is a call to teach English in the La Cruz community at the Octopus's Garden for two hours per week from 5pm to 6pm on Tuesdays and Thursdays. No experience is requires. Please contact Sandy at 320-298-1094 for more information. Thank you!
 Free Organic Stretching Class
Would you like to find the body you used to live in? The one that let you do almost anything you wanted to? Join a FREE INTRODUCTORY CLASS at the Pat Henry Studio in La Cruz de Huanacaxtle to experience Organic Stretching New Seven Steps Program on MONDAY, February 3 at 1:30 pm. Please call Pat at 329-295-5289…class is limited to ten participants.
The La Cruz Sunday Market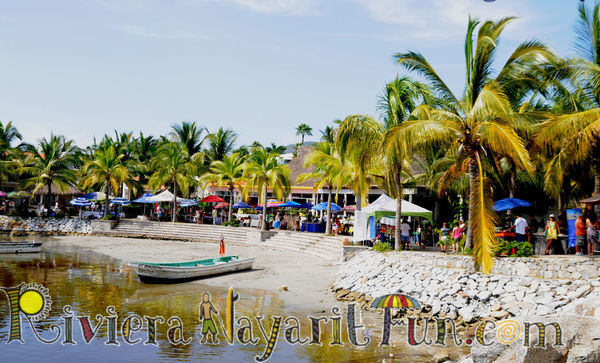 The La Cruz Sunday Market is is full swing,and the largest market on the Riviera Nayarit that I know of! The ambiance of the market is very special due to the La Cruz Marina, and also the live music.
The local La Cruz Fish Market is also on site, which makes it perfect to to pick up your fresh fish, along with your fa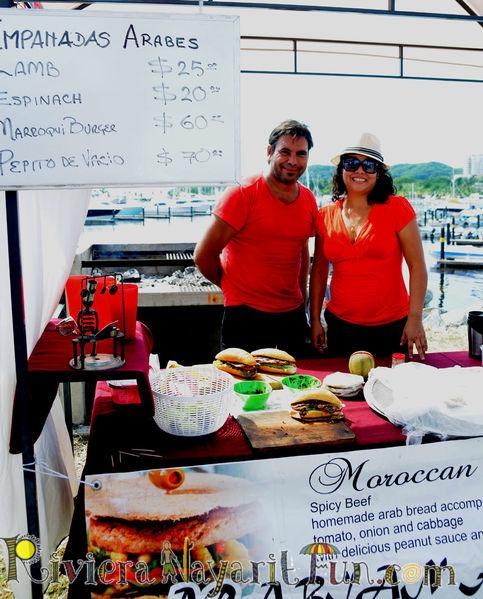 rmers market produce. Just about everything you can think of is at this market with  Metal Art , and jewelry with Chelow, and also Chantal who makes her unique jewelry from spoons! (find them in the middle section across from Cacahuate Carlos, the peanut booth). Wonderful soaps and creams with Oxnard's Country Soaps...very nice; wonderful steak sandwiches and baked goods (find at the end of the jetty) and oh so much more! La Cruzin around at the La Cruz Sunday Market is Fun!

This Weeks Sunday Market Feature is MuyGreen!
Alberto Alv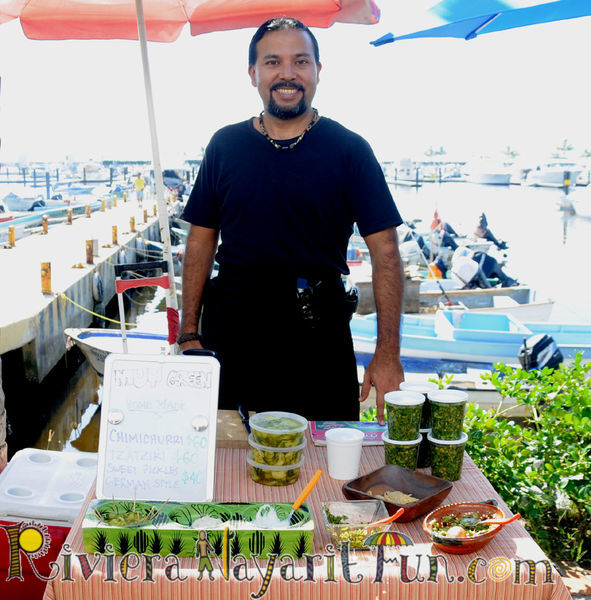 erez Francois the owner and also the creator of the delicious offerings at MuyGreen. MuyGreen started with chimichurri sauce, a recipe from Buenos Aires, and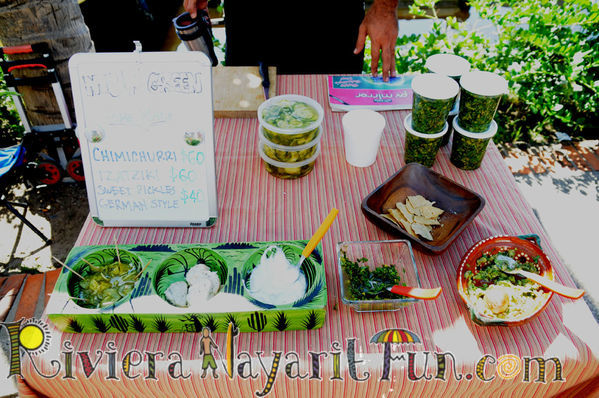 the Sweet Dill Pickles, German Style; a delicious recipe from Hamburg. MuyGreen also incorporated a tzatziki sauce to the products list.
This is a Greek sauce, well known in Athens.
You can find Alberto's MuyGreen booth over in front of the fish market. Why not go over and try a sample and see what you think for yourself!
Oso's Oyster Bar & Fish Market
Every Thursday Evening International Recording Artist/Saxophonist/Flutist Bryan Savage performs a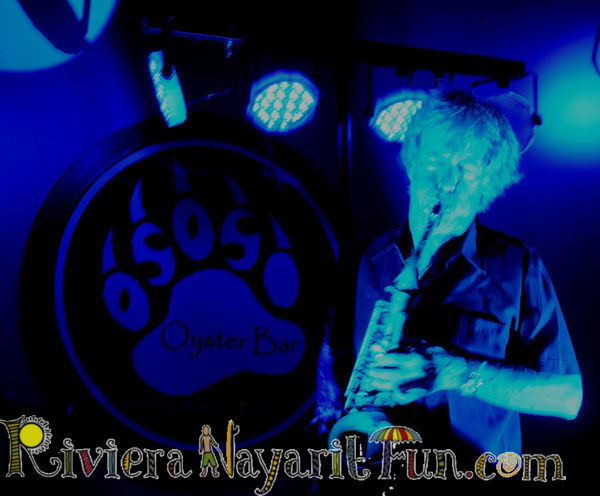 dinner concert at Oso's every Thursday evening for Oso's Jazz Night, playing music from his 7 top-charting CD releases, and other favorites. The live music is from 7:30pm-9:30pm. Recent review in Jazziz Magazine: "Bryan Savage continues his climb into the ranks of today's top contemporary saxmen with the release of his hearty, very satisfying "Soul Temptation" CD, which will go a long way towards establishing him as one of the premier performers of the decade…THIS IS ONE CAT WHO CAN REALLY ROAR!!" Jonathan Widran–Jazziz Magazine. NO COVER CHARGE.Come in for a fresh catch of the day and amazing jazz with Bryan Savage at Osos Oyster Bar, located in the La Cruz Marina at the La Cruz Farmer's Market location. Call 329 295 5426 for reservations. Walk-ins are also welcomed!
Masala Bar and Grill

Our special this Thursday evening!!! With music by Tatewari, the trio flamenco Latino..
Every Thursday we offer a three course meal for 250 pesos per person, includes an appetizer, main course and dessert!
Appetizer
Fresh Black Baja Mussels with fennel Ginger Cream sauce.
Main Course
Fresh filet of Red Snapper Over Grilled Vegetables and Arraviata salsa.
Dessert.
Chocolate Mousse with Fresh Strawberry and Strawberry Coulis
Reservations still available  295-1331 Call now!
Octopus's Garden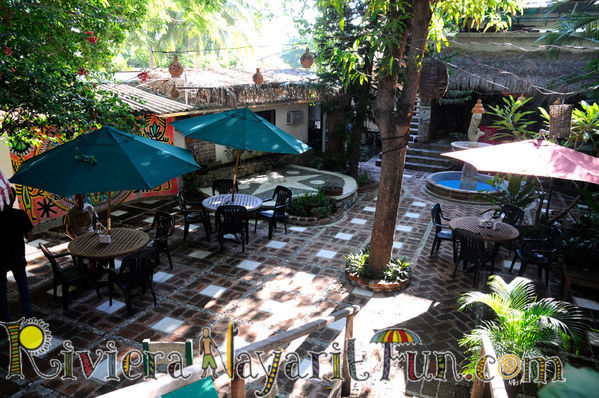 I'd like to be….under a tree…in the Octopus's Garden with you!
Something fun is always happening at the Garden! New music with The Guild is playing, and what a duo! They are playing Every Friday starting at 7:30. Ask abou the dinner specials. Also for Saturday Brunch, from 9am to 2pm with music starting at 10am.
"The Guild" with Chris Gómez, , a double bass and guitar player from León Guanajuato who started his studies with classical guitar, with a jazz bassist professional degree from the National Institute of Bellas Artes (INBA).  He's been in workshops with musicians of the jazz scene such as Victor Wooten, Abraham Laboriel, Chick Corea and Bobby McFerrin to name a few.  Jerome Phillips is a keyboard player from the Bay Area, originally from St Louis. He has played with members of Journey, Steve Miller band, Stevie Wonder and Mitch Ryder.  His current interest are in Cuban Jazz and Brazilian Music.

Friday's can also a bit of a free mike night! You never know who is going to show up for some fun entertainment!
Ready to workout?? Come to the Garden to work out with Bev for strength training…Yoga, Spanish classes, Movie Night, and so much more! Always something new and fun every week! Check the Community Calendar!
Click here for their contact page to make reservations for Saturdays Flamecno Dance show with Tatewari!  or call 329-295-5367.

Black Forest Restaurant
Live Music with Latcho & Andrea are at the Black Forest Restaurant this Friday and every Friday evening!!!

The best of Flamenco and Latin music! Don't miss this passionate duo this Season.
Reservations are recommended.
Marlin #16, La Cruz de Huanacaxtle
Phone: (329) 295 5203
Can you say German Beer Fest??
We thought so!
Join us on Tuesday, January 28th
for an evening of classic German delicacies and our proverbial
German "Gemütlichkeit". Your hosts Andrea and Yvonne will serve you in traditional German Dirndls and the beer mugs will be overflowing with ice cold German beer. Dinner selections consist of hearty German favorites such as bratwurst, red cabbage, sauerkraut, pork schnitzel, dumplings and spätzle, just to name a few. Come and enjoy the festivities and have a few brews with us!
Banana Ana Bar and Grill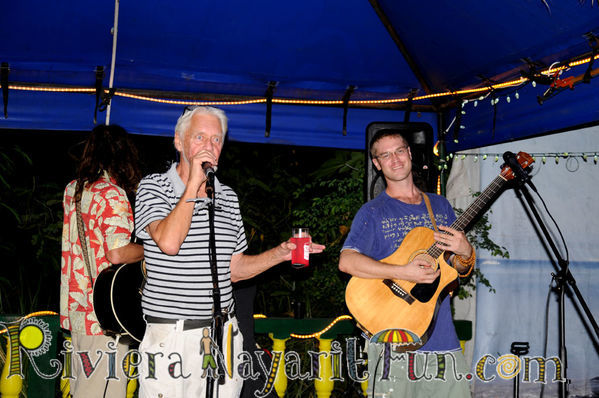 Banana Ana Bar and Grill is a fun place to be, whether its for a good breakfast..and perhaps a coffee and Kahlua, or dinner with live music.
Coffeehouse Friday's, with Ben on his guitar,  and sailor Dave playing lead on that  sweet Gibson guitar along with Ed on spoons makes for a fun evening. During the breaks is like an open mike night and you never know who is going to show up!
Sunday's Rib Night host the Rhythm Roosters playing easy to dance to rock and roll,
Meatloaf Mondays with tasty homemade meatloaf and all of the fixins with the band "The Good Stuff", who plays classic rock and roll like Pink Floyd and Led Zepplin..and a lot of other favorites! Barry and Ana (owners of Ana Banana) are always there to meet and greet you! Friends gather at Ana Banana. Why not stop on by and meet up with your friends…or make some new ones! It's always La Cruzin with the best of live La Cruz entertainment at Ana Banana Bar and Grill!
La Cruz Real Estate
With all of the new tax laws that have come into effect this year of 2014, its wise to find an real estate broker you can trust, and who is informed about all of the new information concerning purchasing or selling your property. Take a look at these local brokers below, who have great long standing reputations in the Banderas Bay communities.
La Cruz Real Estate
Royal Club Real Estate
Click here to contact Aaron Fisher directly
Aaron Fisher
Punta Esmeralda, Villa Paraiso 4
Price: 650,000
Sqft: 3,635
This incredible 3 bedroom 3 bathroom villa comes turnkey with custom designed wood parota furniture, granite counter-tops, vaulted ceilings and wall to wall panoramic sliding windows. The deck features a commanding unobstructed view o the Bay of Banderas, the pergola provides a relaxing shaded area during the mid afternoon.


Link for more info: http://royalclubevent.com/mexico-property-listings/paraiso-4-punta-esmeralda/
Pacific Boutique Properties
Victoria Pratt / Broker
Click here to contact Victoria Pratt directly
La Cruz de Huanacaxtle
Casa La Kasbah $399,000 USD
Casa La Kasbah, beautiful Moroccan house in La Cruz de Huanacaxtle should be considered for it's ability to be developed;  696 m2 with CUC zoning.
It is just a few blocks to either of the two marina accesses and within easy walking distance to the town plaza. This single-level home was built with Moorish style detailing notable in the distinct exotic shapes of window and door frames. The living area has the feel of a Moroccan lounge and exudes comfort and coolness. A large patio and adjoining courtyard with a Cantera fountain form the fringe Between the home and the gardens and a large and inviting pool. Nicely designed for easy indoor-outdoor tropical living.
La Cruz All Inclusive Beachfront Rental for Valentines Day
Villa Amor del Mar / La Cruz Rentals
Romance and rejuvenate your loved one at Villa Amor del Mar!
This beautiful beach front location is perfect for a Riviera Nayarit valentines vacation. Enjoy our infinity pool, paddle board, kayak or just relax on the beach. Your time with us is an all inclusive vacation, leaving all of the details to us!

Selection of a room of your choice. WE will pamper the two of you with:
Champagne and chocolates in your room.
A beautiful and very romantic dinner on your private deck or on the rooftop with other guests.

Enjoy a continental breakfast in your room everyday.,
and one breakfast by the pool during your stay with us.
Our rates:
3 day rates starting at $425.00 for 2 people
($212.50 per person)
Book 7 days; rates start at $995.00 for 2 people
($497.50 per person)
Enjoy the service and ambiance that you deserve when celebrating your love!
At Villa Amor del Mar, we specialize in creating a very unique and special vacation!
Please Click Here to contact us for reservations; information and links to our Facebook page, YouTube videos, Website and phone number.
Villa Amor de Mar, in La Cruz de Huanacaxtle, Mexico....for a very special vacation!
Thanks so much for dropping in on the weekly La Cruz community news! If you have any La Cruz news to share, or would like to see your business here please write me at Cat@RivieraNayaritFun.com. Be sure to check out the La Cruz Community Calendar, as of course, not everything is listed on the weekly news!
Have a wonderful week.
Many Blessings of Loving Kindness
Cat Morgan