La Cruz Community Kicks off the Season
Hola La Cruz Community! A perfect way to kick off the season with a sold out Amigos de La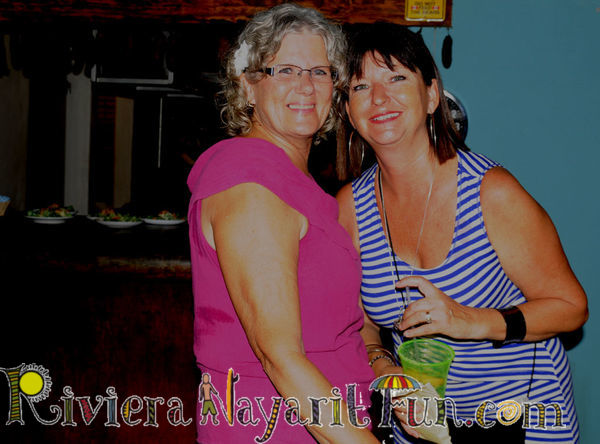 Cruz first fundraiser event with over 120 people in attendance at Oso's Oyster Bar and Fish Market. located on the La Cruz Marina. The event cleared (after all expenses) 19,000+ pesos.
The non profit organization  Amigos de La Cruz mission statement is "To contribute to the quality of life in the community of La Cruz de Huanacaxtle through cultural, educational, environmental and charitable assistance programs." and these funds will assist with those endeavors.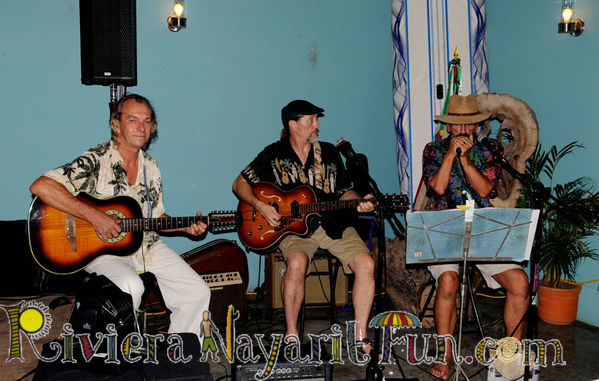 It all started off with local La Cruz musicians Randy, Russell and Wendy's Roots, Blues and Americana music and the dancing a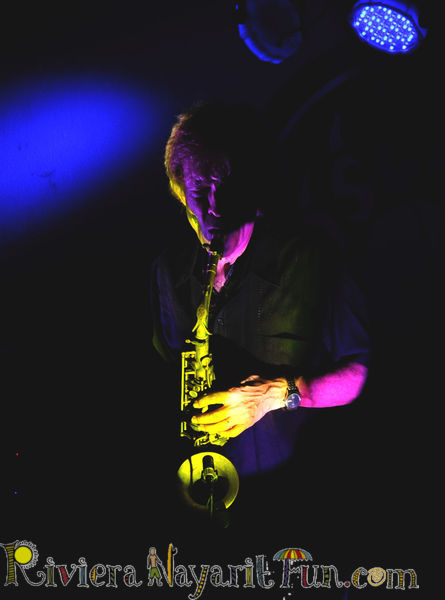 nd partying began! The amazing Sax and flute jazz musician Bryan Savage kept the crowd dancing for the rest of the evening!!  Coordinating an event is a lot more work than meets the eye, and hats go off to the coordinators Cindy Bouchard, (Villa Amor del Mar) Lori Wilson (Amgios coordinator) (top photo) and of the owner of Oso's Oyster Bar  Ángel (el Oso) Rivas Matos. Chris Brochard (Villa Amor del Mar), did an excellent job of MC, who kept the crowd going and the show running smoothly and on course with fun, humor and style. Kudos!!!
The raffle winner won over 3000 pesos, (I was the lucky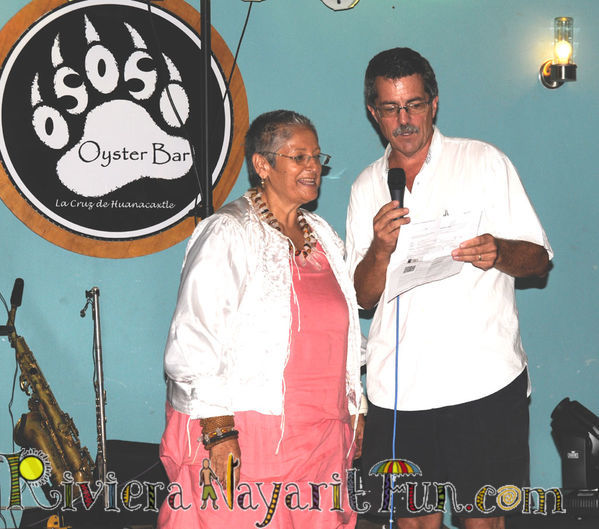 participant chosen to pick the ticket) and folks bid and won items at the silent auction. Dinner was splendid; I had the fish pastor, which was excellent! and a good time was had by all. I took a ton of photos!! Click on these photos. They are linked to the RivieraNayaritFun.com Amigos photo gallery, as there are about 65 photos!  I sincerely tried to get everyone..sorry if you were missed! You may also view another article at the Amigos webpage at http://amigosdelacruz.org/about-aperch/
Way to go Amigos!

Oso's Oyster Bar Music Schedule

If you missed the Amigo event and the fabulous Bryan Savage, not to worry! Bryan Savage is playing every week at Oso's Oyster Bar on Thursday at 7:30. Other weekly live  music is The Traveling Band Duo, playing classic rock 'n' roll favorites every Friday, starting at 7:30.
Come on in and enjoy live music, terrific food with daily specials for breakfast lunch and dinner,  and the ambiance of the La Cruz Marina.
Cruzin Around La Cruz
The La Cruz Sunday Market is better than ever this year and Is in full swing. Cruz on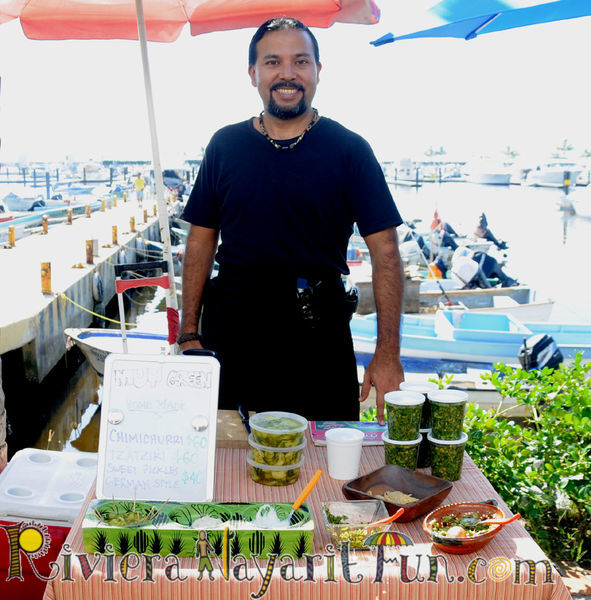 in for fun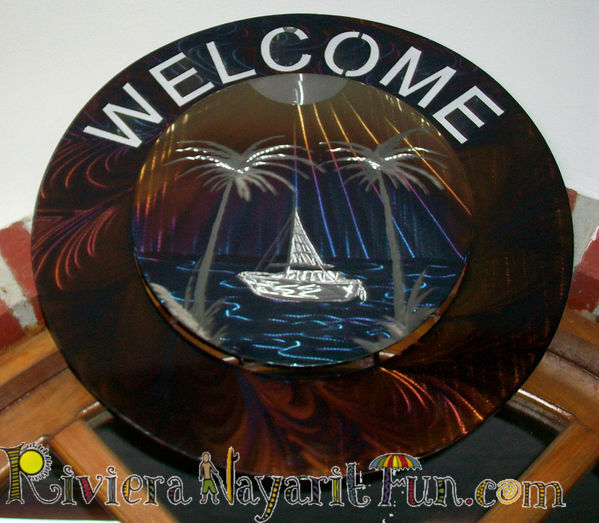 and shopping as this is the largest market around. If you feel like spending the night or weekend, check out the amazing Villa Amor del Mar beachfront rooms right next door for a fun weekend get-away!
Live music fills the air as you discover all of the fun booths and see friends, or make new ones! Starting from the walkway by the La Cruz Fish Market, find home made foods like MuyGreen with Chimichurri and German pickles, (really good!) and Organic Coffee with Cafe Dundee..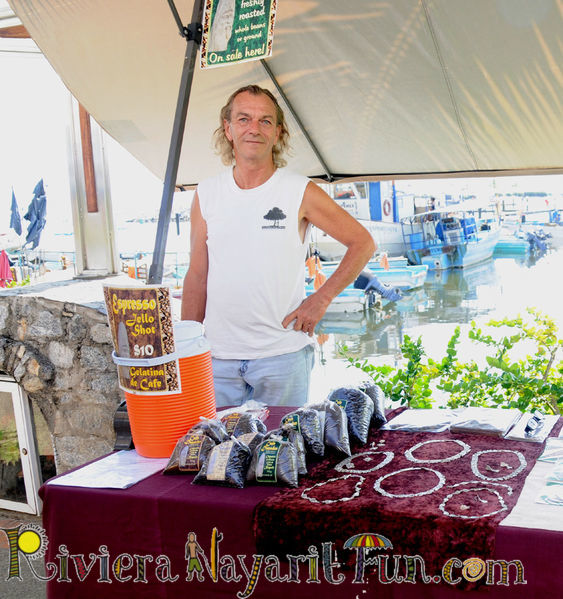 Wendy makes the best coffee beans. I love his coffee…rich and gourmet.
As you continue walking over by the Fish Market you can find A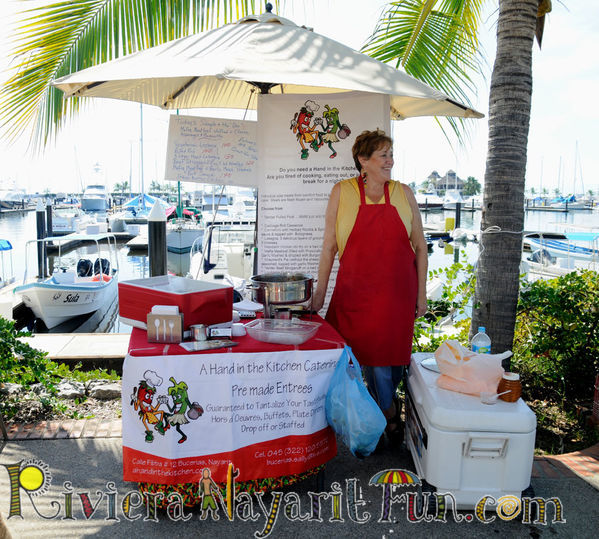 Hand in the Kitchen for frozen entree' dinners, which are excellent!
Stop by her booth for a test taste! They are all homemade and Sandi has different cuisine every week.

Also down that way you will find delicious Organic sunflower honey from Guadalajara, as well as fabulous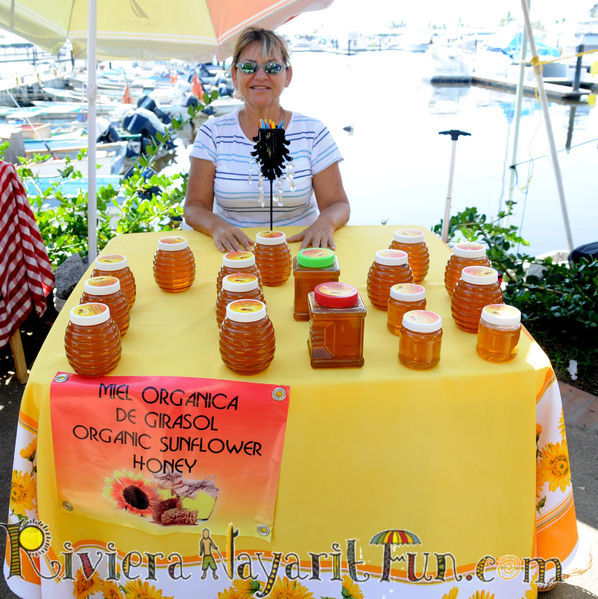 jams and jellies…you can't miss he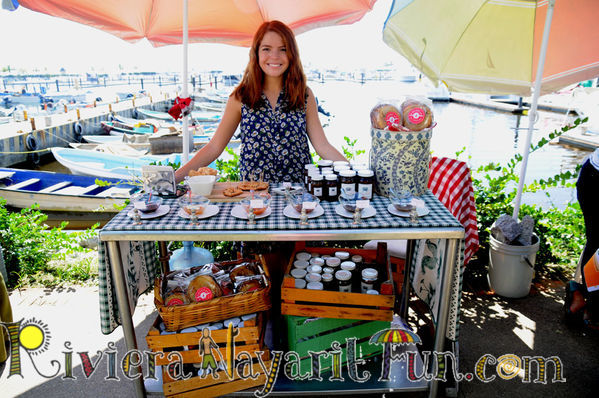 her booth..ti looks like a picnic waiting to happen! and she is just as cute as a button!
As you walk over towards the jetty stop by and say hello to Chelow.
Chelow jewelry is fun and stylish, and she creates everything herself by hand. Right next to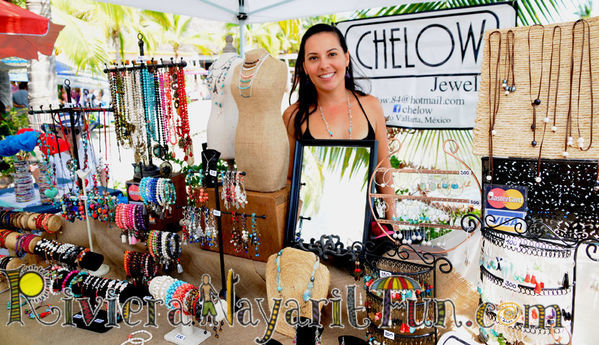 her is Chantel booth with her jewelry made from spoons!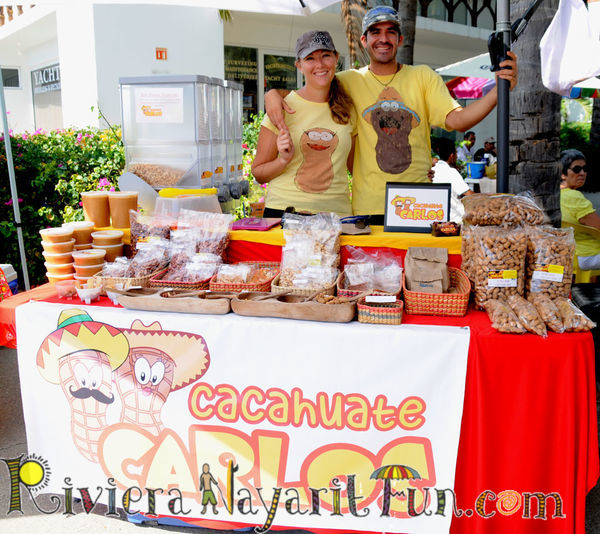 Directly across from Chelow and Chantel is the Carlos Cacahuate (the peanut booth) with organic peanut butter, peanut brittle and all sorts of peanut goodies. The freshest peanuts around!
Down onto the jetty, check out Lo Hecho en Mexico bakery and pasteleria.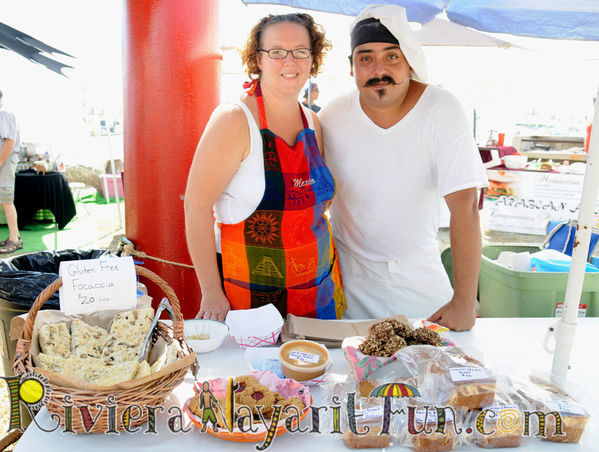 You can't miss them…he has a fabulous mustache! They are making gluten free products this year! and have super delicious orange cinnamon style rolls, cookies and other bakery goods that melt in your mouth. Also at that end,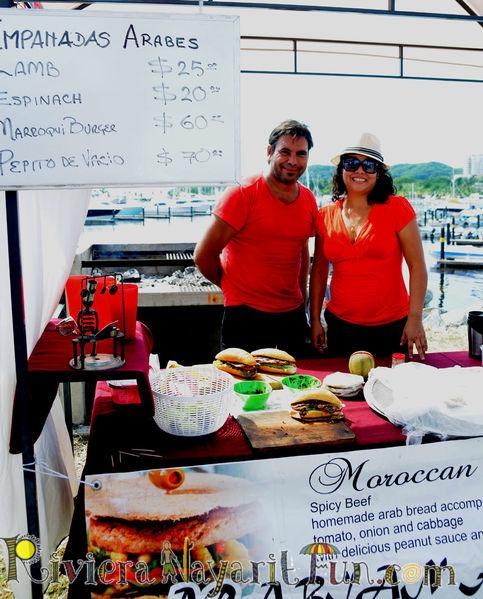 over on the right, you must try a steak sandwich, hot off the Argentinian grill from the La Patagonia Restaurant Super delish! Also fresh squeeze orange juice is on that end which gives you a nice pick-me-up!
In the opposite direction, over where the band is playing find on the right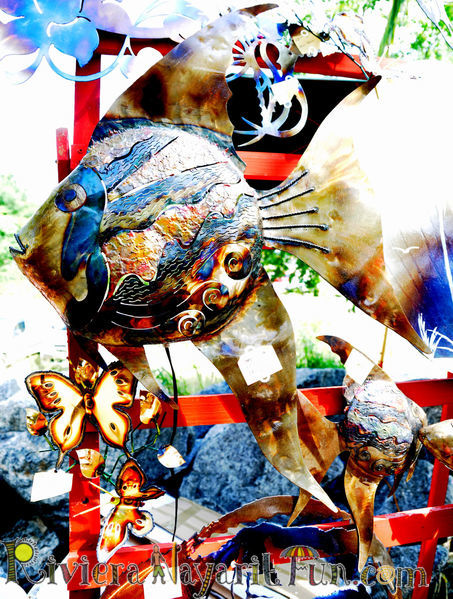 side Arte Metalico. Ron's metal art is beautifully created. Some with lighting in the back. There are many different selections for decorating your home and garden. Right across the way is Oxnard Country House Soaps. Creator Greg Oxnard creates special blends, not only of soaps, but face and body butters and creams, chap sticks…some creams and butters with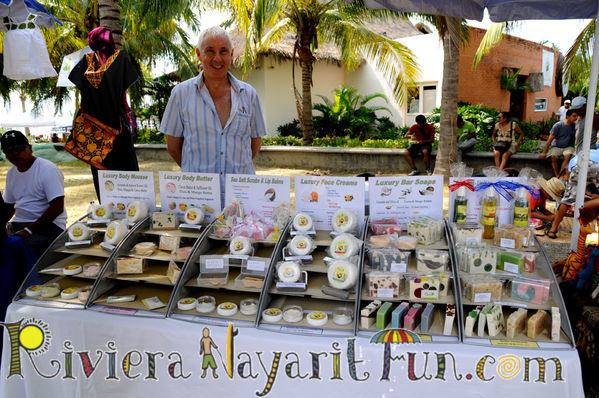 aromatherapy oils. He really knows his stuff! Stop by to find out more and try some of the testers to find which one you like the best. These booths and so much more can all be foun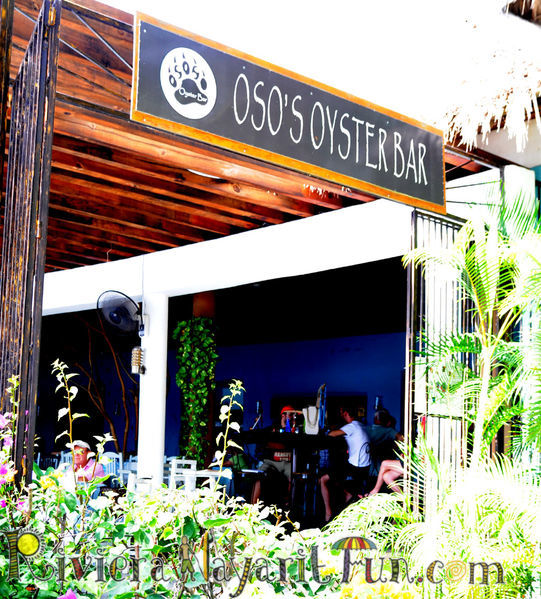 d at the La Cruz de Huanacaxtle Mercado!
Easy to find…come from the 200 road to Punta Mita; La Cruz de Huanacaxtle and go left at the Oso's Oyster sign…(Oso's is right on the Marina at the La Cruz Market..stop in for a beer!)..drive to the end and go left, then right, and down to the marina and market area. There is a lot of parking there, but you will need to be early for a space! The market starts at 8 and ends at 2pm. See you there!
"Funny Bones"is a comedy night fundraiser to be held at Yaya's Cafe,located right of the
glorieta or round-a-bout (22 Coral St, La Cruz), starting at 6pm on Tuesday, December 3rd.  The cost is only 120 pesos advance purchase of tickets, or 140 pesos at the door.  There will be an All-You-Can-Eat Mexican Buffet, live music by Tatewari and Geo and Cheko.  There will be a comedy roast of Leon Keefe, the popular washboard player from Philos Bar in La Cruz.  Both a live and silent auction will allow guests to bid on art, dolphin tours, boat trips, hotels, and other donated items from local businesses.  We will also feature "Pinatas for Pups," the "Puppy Luv Hugging Booth," and the "Kitty Cat Scratching Post," for your fund and entertainment. There will be a no-host bar.
Funds raised will go to PEACEanimals.org, a new organization (that has nothing to do with the old Peace organization), that shows all of their accounting of funds on there website peaceanimals.org. This organization is completely transparent.  All financial transactions are
posted on their website.  This organization arranges mobile spay/neuter clinics to reach communities in the Banderas Bay.  Their costs per one spay/neuter operation for one dog or cat is $15 USD.  Their clinics run Wednesday through Saturday during which they take up to 100 animals for the week.
"Funny Bones" hopes to raise $3,000 USD to support two weeks of this free spay/neuter clinic coming to La Cruz.  This financial goal will grant 200 cats and dogs to be sterilized.Any additional funds raised over the $3,000 goal will go toward supporting a clinic in Bucerias,
So come on over to YaYa's Cafe, their new location right of the Glorieta on December 3rd for an excellent time and a good cause!

Villa Amor del Mar / La Cruz Beachfront Rental

At Villa Amor del Mar it our pleasure to create, for YOU, our guest the vacation of your dreams! Villa del Mar La Cruz Boutique Hotel is located on the La Cruz playa; overlooking the La Cruz Marina which brings a very special ambiance for your stay.
Perhaps a special romantic surprise for Christmas or Valentines Day for your special someone? Ask us about our 4 & 7 day romantic rendezvous packages! Let us know your needs and we will provide a quote.
We can provide:
Private, deluxe accommodations, romantic dinners ~ on the rooftop, in your room
, on the beach or other. Meals; with family or business guests ~ on the rooftop, in your room, on the beach, at local  restaurants or other. On-site services, massage, manicure/pedicure, and more.
Booking of excursions; from sailing/boating charters to tours, horseback riding..you decide!
We would love to be your hosts for Weddings, family reunions, or any special occasion, retreats, parties or business meetings.
Ask us and we'll help to create the vacation of your dreams. info@VillaAmordelMar.com
Black Forest Restaurant
We are celebrating our 15th Anniversary German Style with a keg of FREE draft beer for everybody. (as long as its lasts! )
Come and celebrate with us our 15th Anniversary on Tuesday, December 3rd.

Enjoy some real German Gemütlichkeit and hospitality while your hosts Andrea and Yvonne will serve you in our traditional Dirndls. Schnitzel, Bratwurst, potato salad, sauerkraut, pork hog and German Apple Strudel are among the German foods available. In addition there will be bread dumplings, salads and other delicacies. Nonalcoholic beverages, wine and water will also be sold.
Come and celebrate with us!
We highly recommend reservations. Please call 01 329 295 5203 or email reservations@blackforestpv.com.
Ana Banana Bar and Grill

It all started a long time ago at Ana Banana's Bar and Grill. Back in the day, before the La Cruz Marina was built, this La Cruz Bar and Grill was all beachfront property! "This is where folks like Philo (from Philo;s) got started in playing their music, and many others" states owner Barry. Come in and meet Barry and Ana…have they got some stories to tell you from many La Cruz years gone by!

Ana Banana Coffeehouse Friday, fun guitar music and singing with Ben and the Dinner Special…. Thyme 'n' Lime Pork Tenderloin, rice, mixed vegetables and red wine gravy… 100 pesos. Coffee and Kahlua 30 pesos, bucket of beer 5 for 100 plus regular menu.
Sundays stop on in for Ribs and Rock 'n' Roll dance music with the Rhythm Roosters…
And when your really ready for some Led Zepplin and ROCK & ROLL come on in  for the "The Good Stuff" band at Ana Banana every Monday starting at 6:30 for dinner from our regular menu,  and enjoy drinks and dancing!
Masala Bar and Grill

Every Thursday Masala has a three course meal for only 200 pesos! This Thursday's special is going to be Baja Black Mussels. Yum! The band Tatewater will be playing their amazing Flamigo Latio music while you dine.This trio is truly talented musicians.
Daily breakfast specials like veggie omelets, Mexican eggs with house potatoes or Banana Pan cakes. served with fruit, bacon and s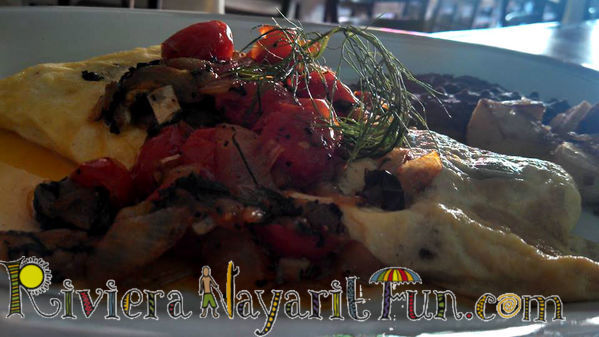 trawberry coulis and are all fabulous served with coffee or orange juice for only 55 pesos.
Chef Julio creates divine layered flavor cuisine with an unbelievable presentation that keeps you returning. With friendly and professional staff, Masala is perfect for that special occasion, and also for your every day enjoyment. Stop in and say hello!

Octopus's Garden
I'd like to be…under the sea,,,in an Octopus's Garden…with you!

Wow..the Octopus's Garden is really swinin' this year all week long! Be sure to check the La Cruz Calendar for all of the events and classes. Jazz Trio ever Friday Night with the very talented "Pulpo Fusion" starting at 7:30 for the dinner show – the three musicians are well known in Vallarta where they play together at Vitae Restaurant on the Malecon: Carlos on Piano, Beata on Flute and Enrique on the Congas, creating the perfect music for dining.  We are now serving our own delicious thick and creamy Ice Creams for dessert! Open for breakfast, lunch and dinner, 7 days a week. Come and enjoy the lovely garden area.
The Dancing Exhibition went so well last week that every Wednesday Hugo will be leading a
dancing performance.every Wednesday!  There will be more dancers, and outrageous costumes!  It is  ending with everyone invited onto the floor to join the fun! It will be arranged as a dinner-dance show with no cover charge. Dancing starts at 8 pm. Reservations recommended. A very fun time for everyone on the new dance floor upstairs!
Also the Movie Night is in full swing Monday's at 7:30 with "No One knows about Persian Cats" on Dec. 2nd. People have been enjoying the cinema; a great way to spend a Monday evening!
The Drama Club is getting going as well. Come sign up and discover all of your hidden emotions and learn how to express them.
Spanish classes are on the calendar with Octavio….so much going on at the Octopus's Garden! 
Pacific Boutique Properties
Victoria Pratt  of Pacific Boutique Properties is all about making the buying experience enjoyable, fast-tracking the
possession and move-in process and getting owners connected with all aspects of the area—people, places, services—so you can be enjoying the community to its full extent right away.
Casa La Kasbah $399,000 USD
La Cruz de Huanacaxtle
Casa La Kasbah, beautiful Moroccan house in La Cruz de Huanacaxtle should
be considered for it's develop-able lot of 696 m2 with CUC zoning.

It is just a few blocks to either of the two marina accesses and within
easy walking distance to the town plaza. This single-level home was built with Moorish
style detailing notable in the distinct exotic shapes of window and door frames.
The living area has the feel of a Moroccan lounge and exudes comfort and coolness.
A large patio and adjoining courtyard with a Cantera fountain form the fringe
between the home and the gardens and a large and inviting pool.

Nicely designed for easy indoor-outdoor tropical living.
Contact Pacific Boutique Properties to find out more about this and other properties on the Banderas Bay and PV areas. Contact us here.
La Cruz Yoga

For your preference we changed the schedule to 7:15 – 8:15, Tuesdays, Fridays and Saturdays at 9am.
Receive your morning with a nice stretch and keep the peaceful state of mind for the day under the big tree of Huanacaxtle tree at the Octopus's Garden.