La Cruz Community is La Cruzin into the Season!
La Cruz Community is kicking off the high season with more live music happening around town along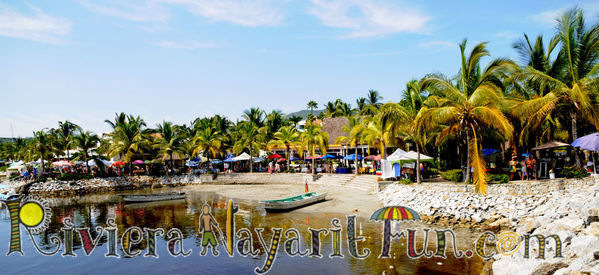 with and dinner specials. More folks are coming into the Riviera Nayarit and the La Cruz community is La Cruzin into the season. The La Cruz Sunday Market (click to find out more about the vendors) seemed much busier than the opening week as I walked around visiting the vendors and boppin to the rock music from Expiral.
I watched a lot of vendors selling their products which was good to see.  Oso's restaurant seemed pretty packed, and the La Cruz Fish Market was busy as well; all very nice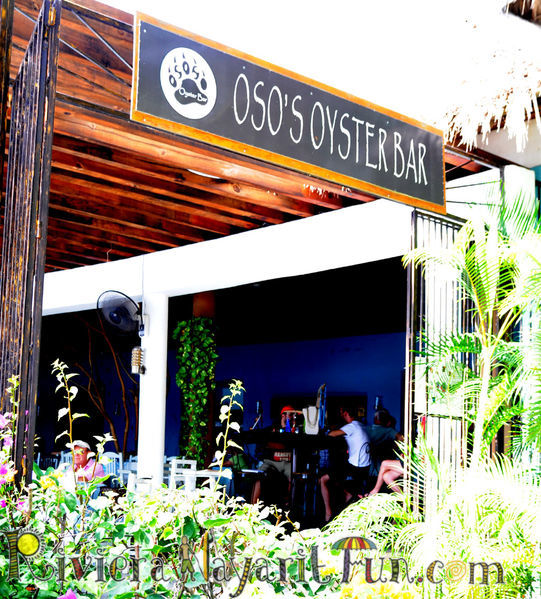 after the long summer.
We would like to welcome to our town site ( allLaCruz.com ) Ana Banana Restaurant and Bar. The owners Barry and Ana; truly
two of the nicest folks I have ever met!
They always have fun music throughout the season, as well as dinner specials with their Rib Night starting this Sunday. We also welcome Masala Restaurant. Layered flavorful food, with an excellent presentation. Stay tuned for their pages coming soon, with their weekly news and specials! We also look forward having La Cruz Yoga coming onto the site!
Ready for a terrific workout? Check out Bev's Strength Training Classes!at the Octopus's Garden.

We also look forward having La Cruz Yoga with Yoga Maestra  MaryCarmen coming onto the site! She is teaching yoga classes at the Octopus's Garden. Check the Bucerias Community Calendar for days ad times, and stay tuned for her new page coming soon!
Restaurants and music venues are kicking it up so check out the La Cruz Community Calendar for class schedules and music events. Latcho & Andrea start off this new high Season this Friday Nov. 16th! at the Black Forest Restaurant! Call now!! (see below)
Ana Banana Restaurant and Bar

Ana Banana is open every day for breakfast starting at 8:30, and every evening for cocktails.
The Rhythm Roosters and Ribs are kicking off the season this Sunday, and every Sunday starting at 6:30. Come on over for some great tasting Ribs, served with cole slaw, baked potato and garlic bread all for only 125 pesos.
Dance it all off to the Rhythm Roosters playing the easy rock 'n' roll while enjoying a few beers or drinks.
Fridays "Ben and His Guitar" Ben has a terrific singing voice and plays all of the favorites. A great time to relax and enjoy the regular food menu,  enjoying the company of friends, or meeting new ones over a few drinks or beers.
Every Monday evening stop by and enjoy the classic rock 'n' roll of "The Good Stuff" band playing tunes form Pink Floyd, Led Zepplin and more! starting at 6:30. Stop in to get your groove on!
Masala Bar and Grill
Masala Bar and Grill is open for breakfast, lunch and dinner, with daily breakfast specials. A special time of year to be grateful is Thanksgiving. We invite you to come and celebrate with us.

Thanksgiving Dinner
Join us for Thanksgiving with a wonderful holiday feast.
Enjoy our Menu:
Soup
Lobster Pumpkin Bisque with shrimp mouse
Appetizer
Scallop Stuffed Squash Blossom with beet reduction
or
Pumpkin Ravioli with Frangelico hazelnut sage butter sauce
Entree
Butter Herb Roasted Turkey with homemade sausage stuffing, brussel sprouts, sweet potatoes adn cranberry sauce
or
Poached Bay Lobster Tail with saffron risotto and scallop wine sauce
Dessert
Pecan Pie with sun-dried fruit
or
Pumpkin Cream Brule with Biscotti
We look forward to seeing you. 
Please call for your reservations:329-295-1131 or 322-101-8884
Octopus's Garden

Breakfast under the shade of the giant Huanacaxtle with a delicious cup of Nayarit coffee and fast WIFI; join us for an exercise class or sign up for Spanish lessons with Octavio on Tuesday and Thursday afternoons, or the Drama Club at Monday midday, or simply drop in for an ice-cold beer in the upstairs bar.
On Monday, Tuesday and Wednesday Happy Hour is 6 – 7 pm; we are open every day except Sunday.  On Friday the 15th Nov. we have live Jazz with the trio "Pulpo
Fusion" starting at 7.30 pm. and they´ll be playing by the fountain.The dinner menu special will be Ginger Glazed Mahi Mahi with Jicama Salad for $95 pesos, and be warned that the Octopus's Garden chocolate ice-cream is on the menu!  Saturday is Dance Night with Cumbia, Merengue and Salsa playing upstairs. The new dance floor is waiting for you, as are the favourite house cocktails – margaritas, caipiriñas and mojitos.

Movie Nights are starting on the 18th Nov. at 7.30 pm. with three Middle Eastern Films: the first is The kite Runner, the second is Babel on the 22nd. and the third is No One knows about Persian cats on Dec. 2nd.
You may also check out the La Cruz Community Calendar for classes and schedules.
I'd like to be…under the sea…in an Octopus's Garden…with you!
Thank you and see you at the Octopus's Garden.

Black Forest Restaurant
Starts off the Season with Latcho and Andrea!

Because of popular demand we are happy to announce that Latcho & Andrea start off this new High Season earlier than previously announced. The first Live Concert of Latcho & Andrea at the Black Forest will be
This Friday, November 15th at 7:30 pm. If you have not made your reservation yet, do so now!!!

Don't miss the opportunity to experience this passionate Gypsy Flamenco Duo. Their lively and then sometimes melancholic tunes reminds us of Flamenco in the Gypsy Caves of Sacromonte (in Granada, Spain), of campfire romantic where songs and dances replaces the storytellers.
Place is limited and we highly recommend reservations to secure your seating.
Click here for our menu.
Please call 01 329 29 55203 or email reservations@blackforestpv.com
Amigos de La Cruz

The Amigos de la Cruz is thrilled to announce that saxophonist and flutist Bryan Savage is joining us to welcome back our friends from the frozen north. Bryan has toured the U.S., Europe, Japan, and Canada with Al Stewart, The Nitty Gritty Dirt Band, The Amazing Rhythm Aces and John Denver, and has opened for Bonnie Raitt, Mick Fleetwood, Santana, Glen Frey, Eddie Money, Journey, Gary Burton, Rick Braun, Chuck Mangione, and many others.
Join Bryan and the Amigos at Oso's Oyster Bar at the Marina del Mar on Nov. 22 for a fun-filled start to the season! The evening kicks off with a 2×1 Happy Hour from 5:30 – 7:00 followed by a 3-course dinner of Caesar Salad, your choice of Chicken Fajitas OR Fish Filet al Pastor OR Fish and Chips, and wraps up with Flan for desert. In between eating, drinking, and dancing we'll have a 50/50 raffle and a silent auction with fabulous auction items. Two-hundred-fifty peso tickets for this action packed event are available at Philo's, Oso's, Octopus's Garden or through Cindy Bouchard (Villa Amor del Mar) or Lori Wilson. You can also email to: lacruzamigos@gmail.com.
Thanks for checking out the La Cruz Community News Splash! If you would like your business or rental seen here please contact Cat Morgan for more information at: Cat@RivieraNayaritFun.com

See ya around the La Cruz Community!